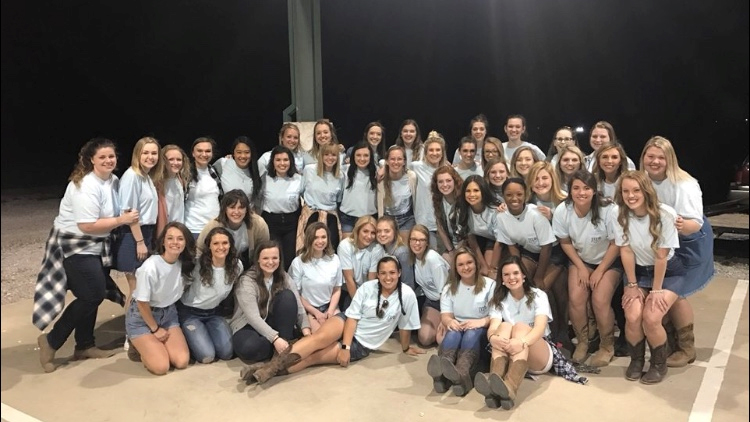 Purpose
Pi Sigma Phi is a Christian sisterhood at Oklahoma Baptist University. The women of Pi Sigma Phi, commit to love God and love others by meeting them where they are and enriching the lives of our members through: Compassion, Commitment to each other, and Outreach to the community and to our campus.
Officers 
President: Erica Watkins 
Vice President: Rachel Kelley 
Secretary: Sarah Tener
Treasurer: Sally Berry
New Member Mom: Sidney Stover
Service Chair: Hannah Hooks
Social Chairs: Rayven Gallardo & Jillian Smith
Chaplain: Kira Spoo
Parliamentarian: Lorin Barnhouse
Historian: Makena Williams
Greek Life Assistants: Mackenzie Miles & Cassidy McGehee
Current Activities
New Member Retreat 
Barn Dance
Big/Little Reveal 
Sisterhood Events
Prayer Retreat 
Moms Day
Induction 
Tailgating, Dad's Day, Homecoming/Alumni event, Christmas Party 
Membership Information

Our philanthropy: C-Bar Ranch
Our colors: Navy Blue, Blush and Gold
Our verse: Proverbs 31:25-26 "She is clothed with strength and dignity, and she laughs without fear of the future. When she speaks, her words are wise, and she gives instructions with kindness." 
Our symbol: Wings 
Our stone: Pearl 
Our flower: White carnation
Our motto: "Together our hearts grow as one in Christ." 

Compassion. Commitment. Outreach.

If you have the chance to be incredible, why not take it?
Make the decision now, and come join us in our sisterhood!