The McDowell Family Intramural Program
     The McDowell Family Intramural Program at Oklahoma Baptist University is designed to provide an opportunity for every student, employee, and alumni to participate in organized recreational competition. 982 different individuals participated this last year with over 3000 participants in over 33 different events! Structured leagues and tournaments are offered in a diverse array of activities including traditional sports like; flag football, softball, basketball to not so traditional; Spikeball, Wallyball, or even a Spades Tournament. The majority of games are played on Monday, Tuesday, and Thursdays; some occasional Wed. nights are possible or even a weekend tournament. General game times during the week start at 7pm and can play through 11pm. You will have the opportunity to select several time slots in which you can not play. Even if you don't think sports is your thing, remember, we are Sports AND Recreation. If you want to see something on campus that we aren't offering, just let us know and we can work to see it happen. We look forward to seeing you at the events. It's easy to sign up and get started, see you out there! In His name we play...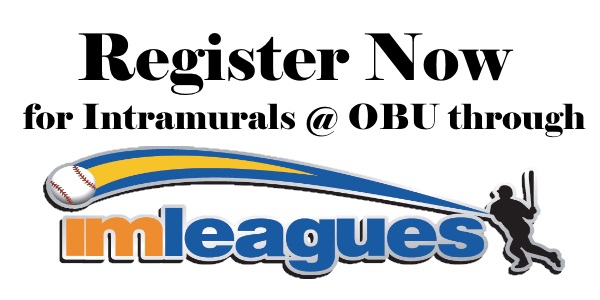 For questions or comments, contact David Gardner at intramurals@okbu.edu or call 405-585-5227 or 405-250-7828 cell.