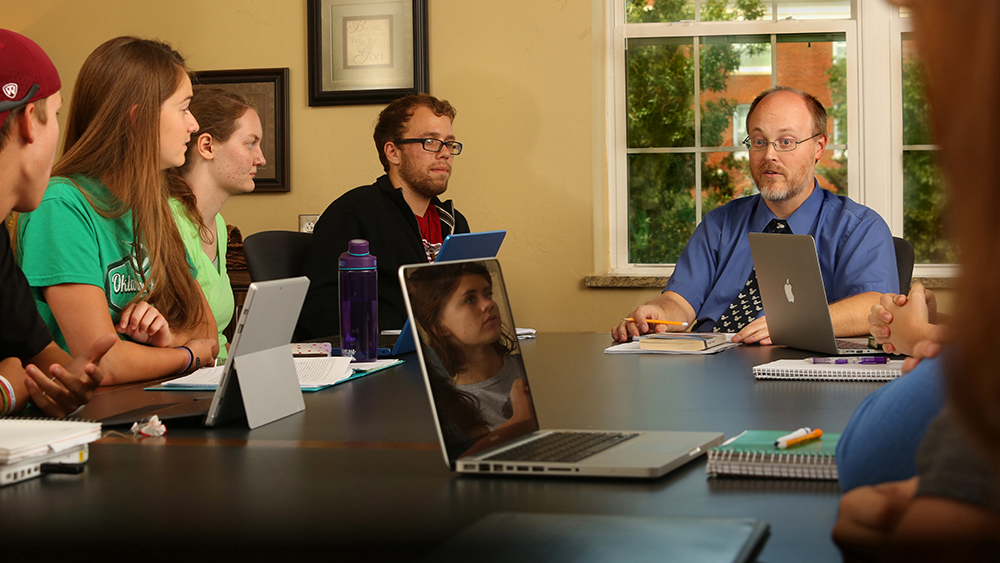 At Oklahoma Baptist University, an enhanced and life-changing undergraduate experience is waiting for you -- if you qualify, if you choose.
---
The Idea of Honors
Looking for something special in your undergraduate education? The OBU Honors Program may be your answer. Honors aims to offer OBU's most outstanding students a range of opportunities to study and explore -- with other similarly qualified and motivated students and with some of the University's best faculty.
The point of the Honors Program is not to make your academic life more difficult. It is to enhance your studies, to give you more chances to ask questions, more time to pursue special issues, and more ways to learn and use what you know. As a member of the Honors Program, you will be a part of a special community of learners -- capable and inquisitive students and faculty -- dedicated to taking education outside of its conventional settings and into a broader world of experience.
Participation in the program carries some prestige and may serve you well in the future. Completion of the program will set you apart as a "Graduate with Colleges Honors" at Commencement. But please don't come along simply for the prestige. The real rewards of our program come in the special relationships with other students, with faculty members, with campus visitors, and with ideas. And be warned: such relationships are likely to change your life.
---
The Program
The Honors Program builds on the foundation of OBU's basic liberal arts curriculum. This means that participation in the program adds some obligations and perhaps a few hours to your normal degree plan. What is the value in that? We believe it is a richer, fuller experience of study and academic achievement.
Courses taken in common by Honors Program students are spread out across the years at OBU. Critical Skills in the Liberal Arts (HON 1013) and English Composition and Classical Literature (HON 1163) are taken in the first year. At least one of four required colloquium courses is taken in the second year, and others follow as interest and time allow. Biblical Ethics (HON 3037) and a contracted studies project usually come in the junior year. Each of these courses aims to offer extended seminar discussions related to course topics.
In addition to these courses, all Honors Program graduates will be expected to complete at least two of three "capstone" activities. These include study abroad, a service practicum, and a senior thesis. Each of these is individually arranged through the director of the Honors Program and is supervised by one or more faculty members or a designated outside expert.
Honors Program courses will be taught by some of OBU's most outstanding faculty members, and as an honors student, you are provided careful advisement and supervision by both the director of the Honors Program and a faculty member in your major field of study.
If you qualify and if you choose to be part of the Honors Program, you won't limit yourself to a life of classrooms and laboratories. The experience of past Honor graduates suggests wide involvement in all sorts of activities. But you will be electing something a little out of the ordinary, something a little better than the norm. If that appeals to you, come along for the challenge and for the fun of serious learning.
---
Qualifications
Applicants must have a 3.5 high school grade point average and a score of at least 27 on the ACT or 1200 on the recentered SAT.
---
For Information Contact
Director of the Honors Program
405.585.4224
lindsey.panxhi@okbu.edu
Assistant Director of the Honors Program
405.585.4437
tawa.anderson@okbu.edu
---
More Information