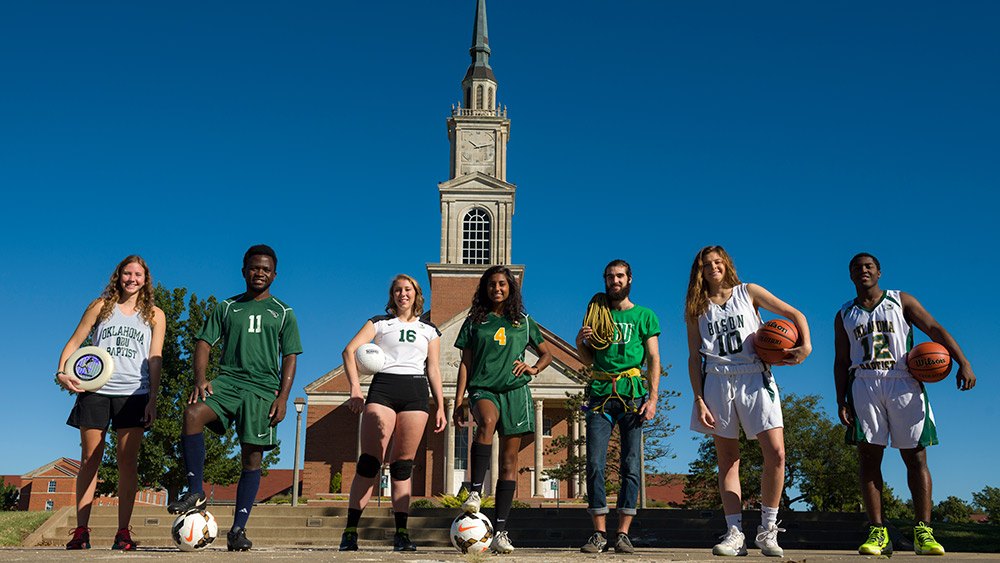 Club sports is a way groups of students with similar interests come together to organize and participate in a specific sport and / or recreational sporting activity.
We have 6 active club sports that compete in local, regional and intercollegiate competitions. Whether you have been playing a sport for years or want to try something new, we encourage you to join a team!
Active Club Sports
Men's Basketball
Men's Club Basketball strives to be competitive, build community, and ultimately have fun.  We exist to present a competitve opportunity for those who want a chance to exceed the normal competition found on the OBU campus.  We also want to build community within the team by traveling together, grabbing meals together, and also engaging in activities outside of the club.  Finally, we want to have fun.  We want to create a fun atmoshphere and have a great time playing a sport we all care about.  A normal season for the club looks like 10-15 games between November through March.
Women's Basketball
Women's Club Basketball is a competitive team, participating both in Fall and Spring. We compete against various universities and colleges in and around Oklahoma. Alongside the competitive basketball environment, the team provides an atmosphere of Christian fellowship and sportsmanship. This team does not require a large time commitment, as we practice twice a week and play about ten games throughout the spring and fall seasons. We strive to create a fun and encouraging atmosphere while competing at a higher level in the game of basketball.
Women's Volleyball
Women's Club Volleyball is the perfect and fun way to do what you love, without the huge time commitment.  Club volleyball is competitive.  We travel to several tournaments in the Spring to universities such as TCU, OU, Texas State, and more!  Each member has a special contribution to the team- everyone is very important.  We integrate fun with hard work, but faith is also a large part of this organization.  We get together for devotionals and bond through the Word of God.  Special relationships are made here and we cannot wait to make more!
Men's Soccer
Men's Club Soccer is a competitive team. We compete in the Oklahoma College Club Soccer League both fall and spring.
Women's Soccer
Women's Club Soccer is a competitive team, participating both in fall and spring. We compete against various local competitive teams in Oklahoma.
Rock Climbing Team
Climbing Club provides a community where students, faculty and staff can climb and compete in a fun and challenging environment. No experience is needed and all levels from novice to expert are welcome. Competitions are not mandatory for all members. 
Inactive Club Sports
Archery
*Archery Club is currently INACTIVE. If you wish to be a part of re-activating this club, email clubsports@okbu.edu.*
Archery Club invites all students, regardless of prior experience, to join and learn about the art of archery. It will still have a competitive level for those who wish to expand their skills in the arena of competition.
Disc Golf
*Disc Golf Club is currently INACTIVE. If you wish to be a part of re-activating this club, email clubsports@okbu.edu.*
Disc Golf Club provides an opportunity to spend leisure time trekking around a disc golf course while honing those skills of accurately throwing a disc into the basket. We are open to all levels and will have opportunities to compete against various colleges and universities in and around Oklahoma. Practices will normally occur on OBU's very own Disc Golf Course (/student-life/disc-golf-map).
Shotgun
Shotgun Club is a competitive team open for all levels of experience or lack thereof. Whether you would like to learn how to shoot trap or fine tune or marksmanship, Shotgun Club is for you. Practices will be held at a local trap club. For information on storing a shotgun on campus, email clubsports@okbu.edu.
Bass Fishing Team
This is BRAND NEW as of the 2017-2018 school year. During this first year, they will work to fundraise and compete in a few local tournaments.  If you have a boat and would like to spend some quality time competing in tournaments, come join the Bass Fishing team!
Men's Lacrosse
Men's Lacrosse is in it's second year and working to better organize to go compete in area tournaments. Currently looking at playing 7v7, they would like to grow and compete full-sided. 
We are committed to developing students in accordance to the Mission of OBU by stimulating spiritual, intellectual, social, cultural and physical development.
Use your existing sporting skills to develop leadership, budgeting, and teamwork skills. Our club captains will develop a team budget, fundraise, schedule games and practices, promote their teams and increase the number of competitive opportunities for OBU students.
If you're passionate about sports, we encourage you to become a leader within our program!
Ultimate Frisbee
Club Ultimate is a fun and competitive team sport. It is a crazy mixture of soccer and football in nature except it requires throwing and catching a disc.  Previous experience obviously helpful, but those looking to find a sport to compete in against other universities are more than welcome to come and learn the sport! Overall this is a club for those who enjoy playing the sport because our biggest goal is simply to play.  (Go to http://www.usaultimate.org/about/ultimate/how_to_play.aspx for more information) 
Club Ultimate will compete in the Spring.  Teams potentially will be comprised of a Women's, Men's and Coed- depending on student interest and participation. Come join us! 
Men's Volleyball
*Men's Club Volleyball is currently INACTIVE. If you wish to be a part of re-activating this club, email clubsports@okbu.edu.*
Men's Club Volleyball is a competitive team. We will begin competing in a regional collegiate league.
Contact
For more information about a specific club, or if you're interested in starting a new club sport, please contact the Office of Club Sports at clubsports@okbu.edu or 405.585.5227.