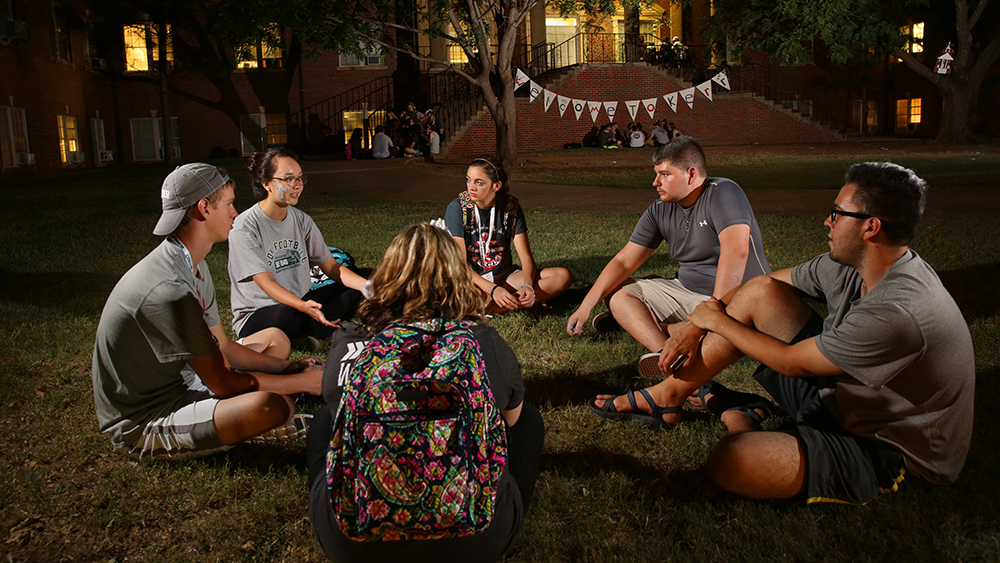 CONNECT Groups
Discipleship is the heartbeat of OBU's Student Ministry. And at the heart of discipleship are Connect Groups that meet in dorms, apartments, athletic buildings, specific university colleges, the GC, and on the grounds of campus each week.  Learn more about Connect Groups through Welcome Week and Connect Chapels throughout the year.
FCA
Fellowship of Christian Athletes happens Wednesday nights at 8pm in the Mabee Suite, with weekly Huddle meetings (small groups) and a monthly large gathering event. All athletes are invited to join us for a time of fellowship and study.
Refuge
Refuge Women's Ministry, open to all women on campus, is designed as an opportunity for the in-depth study of God's word as well as a place of genuine community. Refuge is held on Sunday nights at 8pm in Stubblefield Chapel. Contact student.ministry@okbu.edu for more information about Refuge.
Men's Ministry
Men's Ministry, open to all men on campus, serves as a place for discipleship, community and outreach. Functioning on a three-week rotation of small groups, large group meetings and service projects, Men's Ministry seeks to impact all areas of life. Men's Ministry meets every other Thursday at 7pm in the Montgomery Hall Lounge. For more information contact student.ministry@okbu.edu.
Chaplains
Chaplains provide spiritual encouragement through prayer time and activities for each club, organization and athletic team on campus. Chaplains also plan activities for their organization to minister within itself and in the community.
NOONDAY
Noonday offers free lunch, fellowship and a brief spiritual insight. Student Ministry co-hosts Noonday, along with local churches, on Wednesdays at 12pm in Montgomery Hall Lounge. Contact student.ministry@okbu.edu for more on Noonday.