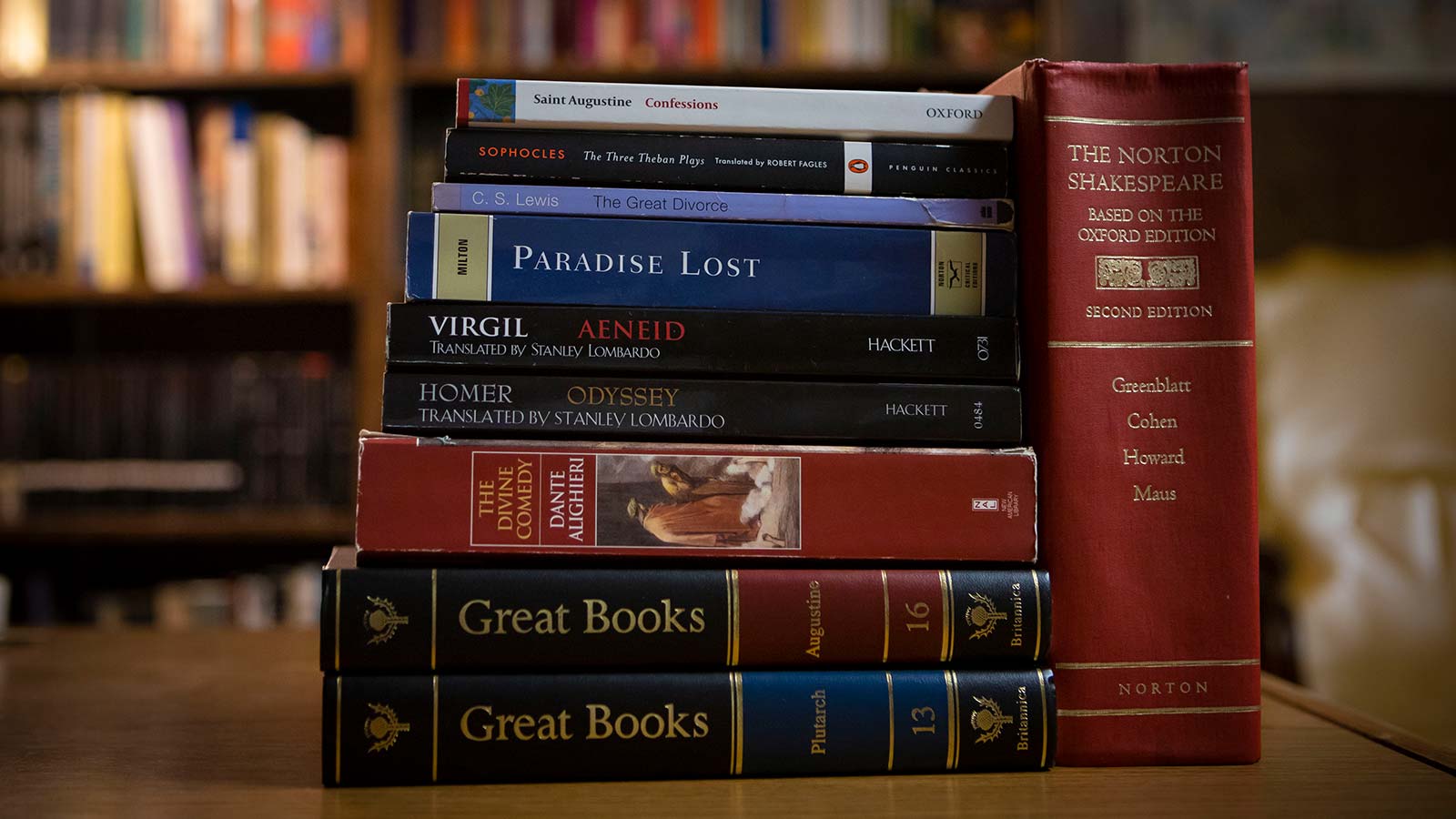 The Honors Program Curriculum
The Honors Program is designed to fit smoothly within your four years of study at OBU. It will not slow down your ability to graduate in the least. Many Honors students even manage to graduate in four years with a major and one or two minors, or with a double major. (And a few have even finished in three or three and a half years!) The engaging, transformative courses and experiences the OBU Honors Program has to offer are outlined in detail below.
24 Hours of Honors Core Classes
Honors classes are team-taught by three Honors professors from fields such as philosophy, literature, history, fine arts, and theology, creating a dynamic, discussion-based learning environment based on the Great Books Tradition. The Honors courses do not add extra hours of work to your chosen degree; instead, they simply replace classes in the regular core curriculum that all OBU students must complete.
Freshman Fall: HON 1013 and HON 1113, "The Ancient World (4000-175 B.C.)"
Replaces REL 1013 and ENGL 1163 in Common Core. 
The 6 hours of courses focused on The Ancient World encompass a study of the foundations of Western civilization in the Ancient Near Eastern and Mediterranean cultures, with particular emphasis on the politics, literature, and philosophy of the Athenians. Key texts include the Old Testament, the Homeric epics, Plato's Republic, and Greek dramas such as Agamemnon, Oedipus Rex, Antigone, and Medea.
Freshman Spring: HON 2043 and HON 2143, "The Classical World (500 B.C.- 410 A.D.)"
Replaces HIST 2013 and ENGL 2013 in Common Core.
The 6 hours of courses focused on The Classical World encompass the study of the Roman world from the early Republic through the collapse of the Empire, including an emphasis on the life of Christ, the ministry of the apostles, and the early church. Key texts include Virgil's Aeneid, the New Testament, and the writings of Augustine. 
Sophomore Fall: HON 2543 and HON 2643, "The Medieval and Early Modern World (410-1700 A.D.)"
Replaces FNAR 2063 and HIST 2023 in Common Core.
The 6 hours of courses focused on The Medieval World & Early Modern World encompass a study of European culture between the collapse of the Roman Empire and the onset of the Renaissance, with particular emphasis on the Christian civilization of the High Middle Ages. Key texts include Aquinas' Summa Theologica and Dante's Divine Comedy, along with works by Luther, Calvin, and Shakespeare. 
Sophomore Spring: HON 3013 and HON 3113, "The Modern World (1700-2019 A.D.)"
Replaces REL 3073 and ENGL 2023 in Common Core.
The 6 hours of courses focused on The Modern World encompass a study of the distinctively modern conception of reason arising in the 18th century and of the subsequent challenges to that conception. Topics include the Scientific Revolution, the American and French revolutions, liberalism and its discontents, and Romantic literature. Key texts include Mary Shelley's Frankenstein, Frederick Douglass's Narrative of the Life, Joseph Conrad's Heart of Darkness, and Cormac McCarthy's The Road.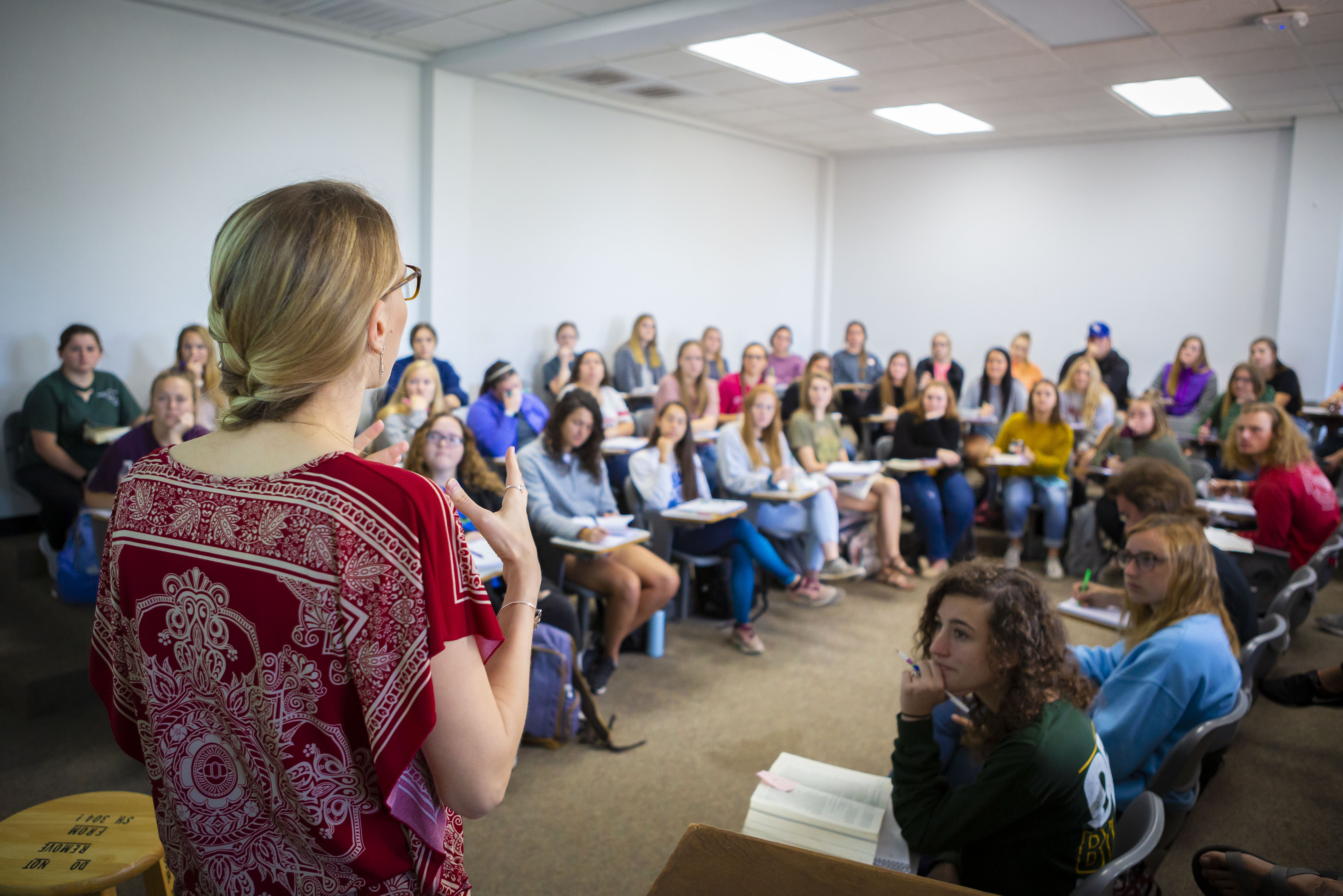 Colloquia
Honors colloquia are small, seminar-style classes on specialized topics. OBU professors offer different colloquia each semester, based on topics they are passionate about. Students can enroll in colloquia for 0-1 credit hours, so they add no tuition cost. Colloquia only meet 15 hours across the course of the semester (instead of the regular 45 hours for a 3-credit-hour course). Honors students must complete at least 4 colloquia at some point in their years of study at OBU (but many students take more than 4, simply because colloquia are so enjoyable!) Previous colloquia include The Theological Animation of Veggie Tales; The Seven Capital Vices; The Roaring Twenties; The Myth of The American West; Faith and Science Fiction; "The Best of All Possible Worlds:" Utopian and Dystopian Literature; The Medieval Roots of The Lord of the Rings; Plagues, Pandemics, and Biowarfare; Musings on the Multiverse; and Logical Paradoxes. 
Contracted Study or OSLEP
Contracted Study (HON 3779) is a 1-2 credit independent study course, arranged by the student with their chosen faculty advisor. The student will work through a reading list or independent research, meeting regularly with the advisor for input and guidance. The Contracted Study is specifically designed to serve as the foundational research course to be completed before writing an Honors Thesis.
OSLEP (Oklahoma Scholar-Leadership Enrichment Program) is a unique intercollegiate interdisciplinary program designed to develop the scholarship and leadership abilities of Oklahoma's outstanding college students. Past courses have ranged in focus from American foreign policy to the history of marriage and family, to advancements in stem-cell research. OSLEP classes are held on various university campuses in Oklahoma (most frequently OU's Norman campus). Costs for lodging, textbooks, and meals are fully covered for students who are accepted to the OSLEP seminar. An OSLEP course can be taken in any semester, and the 3 credits can be counted towards the student's major.
Honors Capstones
All Honors Program students must complete at least two out of three capstone activities. These include study abroad, a service practicum, and a senior thesis. Each capstone is individually arranged through the Honors Program Director and is supervised by one or more OBU faculty.
Study Abroad: The study abroad capstone requires Honors students to live and learn in a country outside of North America for at least four weeks (28 days). The study abroad is usually done during summer or J-Term semesters so as not to interfere with regular semester courses. Each summer, two OBU faculty plan and lead a month-long study abroad trip exclusively for OBU students. Students will receive OBU credit for the classes they take while studying abroad (3-10 credit hours possible), and faculty work to keep the trip costs low and affordable ($4,000-4,800 all-inclusive.) Faculty have taken students to England, Scotland, Wales, France, and China thus far; future trips may go to Peru, Ecuador, the Galapagos Islands, Italy, Austria, or Greece.
Students are also welcome to pursue semester-long overseas experiences if they desire a prolonged stay in another country. Honors students in previous years have networked with external study abroad programs and universities to study for a full semester in Barcelona, Lima, Prague, or Oxford.
Service Practicum: The service practicum capstone allows the Honors student to plan, propose, perform, and report on a project of volunteer service, often related to their major or career interests. The service practicum consists of at least 80 clock hours dedicated to the aid of individuals, a community, or an organization or agency. The course (HON 4770) is a zero-credit-hour course and can be taken any semester. Students keep a journal during their practicum and submit the journal along with a reflective essay to the Honors Director upon completion of their practicum.
Honors Thesis: The Honors thesis capstone is a 3-credit-hour course of rigorous research and writing done in the student's major area of study. Successful completion of an Honors thesis sets the student apart from most other applicants when applying for jobs and graduate programs. Thesis students present their finished thesis project to the campus community in the spring of their senior year.
In sum, being an Honors student does involve additional work, there is no question about that. However, each Honors learning opportunity is so meaningful, instructive, and transformative that it would be worth doing no matter what, even if one were not an Honors student.