With a rich history dating back more than 100 years, it should be no surprise that OBU has many traditions to enjoy.
When you think of traditions, you may get those warm, fuzzy feelings or a sense of nostalgia. What traditions do you have that you look forward to every year? Traditions are an integral part of the OBU community and help students make memories to last a lifetime.
OBU Traditions to Remember and Celebrate
Welcome Week
Welcome Week, the first week of every fall semester, includes many OBU traditions. Tri-W's (Welcome Week Workers), upperclassmen, faculty and staff welcome each incoming freshman's car with cheers and celebration, giving everyone a warm welcome. Tri-W's and upperclassmen shake incoming students' cars and help carry every last item to the students' dorm rooms so that the new freshmen and transfer students can move in quickly and prepare for life at OBU.  Throughout the week, current and returning students mix and mingle with special activities, like Ka-Rip Wars and The Walk.
"Every new year when incoming students arrive on campus, I remember when I was a Tri-W," says Kimberly Coe, transfer admissions counselor. "Being one of the workers was an honor and something I love to look back on."
The Walk
The Walk takes place on Tuesday night during Welcome Week and features all new students walking silently from the Oval to the steps of Raley Chapel. It symbolizes the walk that will be taken in four short years on graduation day. Upperclassmen, Tri-W's, faculty, staff, alumni and members of the community greet the new students outside the chapel.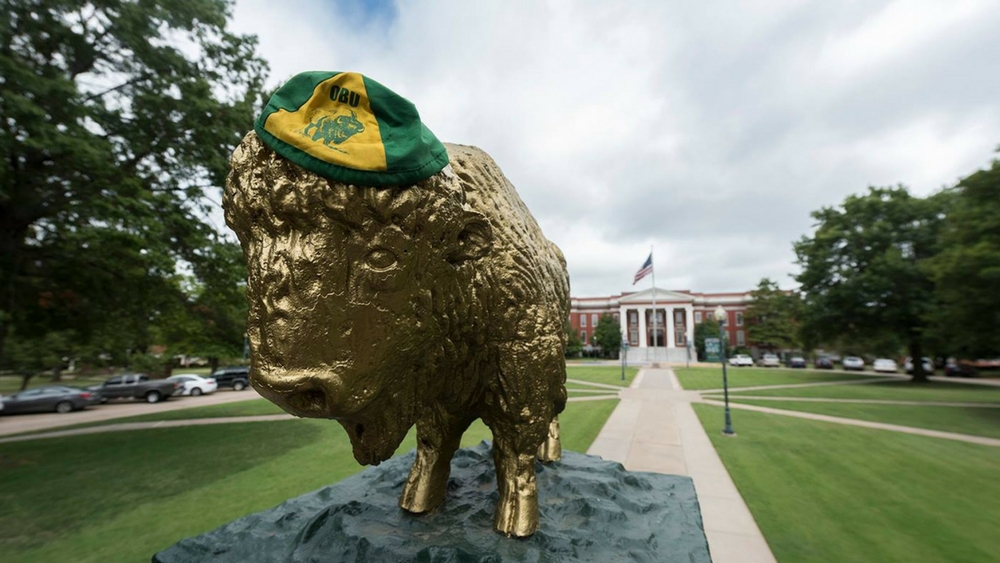 Spirit Chant
Ka-Rip is a tradition that has been booming since its creation in 1918. A fun spirit chant, Ka-Rip is often heard at sporting events and other large gatherings, where the students recite the chant in unity, with great enthusiasm and intensity.
OBU alumna Andrea May told OBU student newspaper "The Bison" that hearing Ka-Rip makes her smile every time because it brings back so many good memories.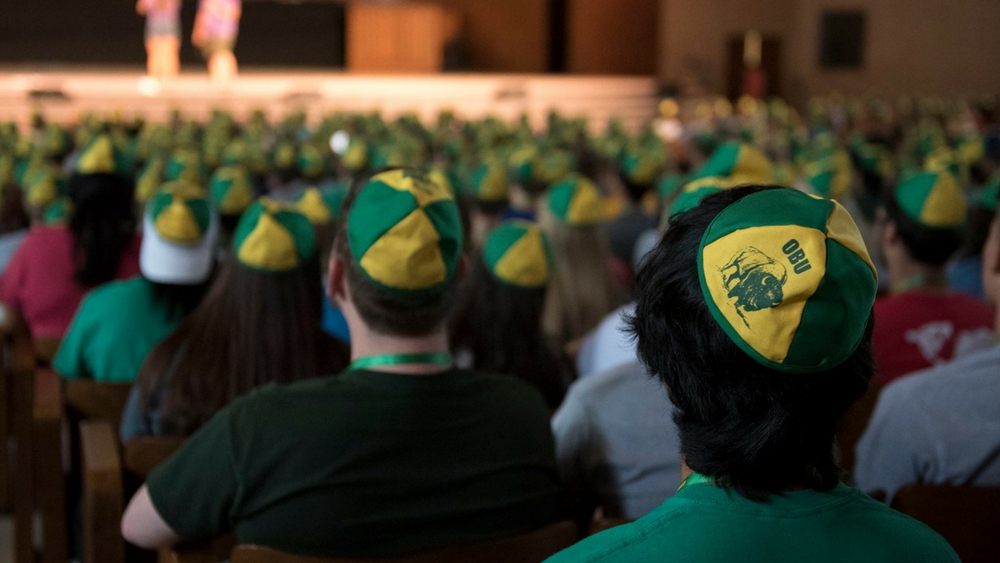 The Beanie
The Beanie is worn to distinguish new students from returning students during Welcome Week. This green and gold beanie has been worn for a century by incoming students. It serves as an announcement to returning students to help new students when they seem uncertain about directions, the chapel schedule, or other important questions that upperclassmen can help answer.
Homecoming
Homecoming is a special time for alumni and students to interact and meet one another. Alumni love homecoming because they can go back to their college town, and reminisce and catch up with long-lost friends.
David Gardner, program coordinator for intramurals and recreation, has many fond memories of OBU and homecoming. His grandparents worked at OBU for 50 years, so Gardner has been involved at the university since he was a child. Now, it's his time to contribute to OBU and create new traditions for current students and alumni.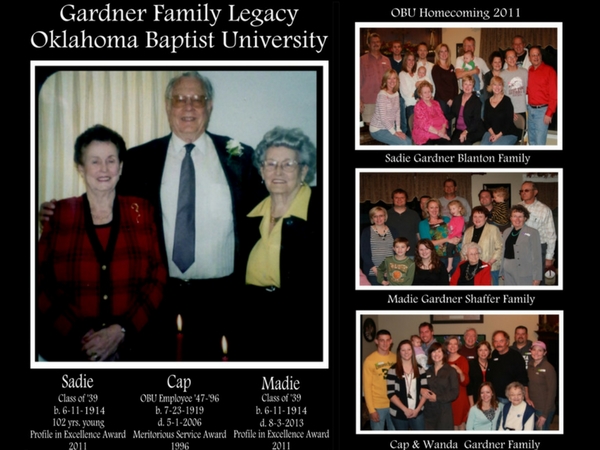 Five years ago, Gardner started an intramurals competition during Homecoming that has since been increasing in scale. It is a 3-on-3 intramural basketball team competition, available for students and alumni. He promotes it to alumni and encourages them to create their own teams to compete with current students. Alumni who have participated love to play against their fellow Bison.
Not only does this competition get students and alumni involved, but it encourages the students to stay for other homecoming festivities.
The rest of the Gardner family has since dispersed from Shawnee, but they make it a point to come back for Homecoming. It's a tradition for their family to return to OBU, enjoy Homecoming, relive happy memories, and spend time together.
"My favorite memory was easily Homecoming 2011, which was the year my two twin great aunts were honored with the Profile in Excellence Award given out during Homecoming," says Gardner. "Almost all of the family was able to attend and we had a great time getting together and sharing memories of OBU and family."
The People
While it may or may not classify as a tradition, it's important to mention nonetheless. What makes our campus and college so special is the people and the community they create. It's a tradition for this university to cultivate joyful people that attend and graduate from OBU.
"One of the things I love about OBU is the community, and how that special sense of community never goes away," says Coe. "I made lifelong friends at OBU who are now miles and miles away, but every time we come back together, it really feels like just a short time ago when we were talking about boys in our dorms, or out on the fields playing flag football, or worshipping together."
Are you ready to become a Bison and experience these traditions first-hand? Apply to OBU today. We can't wait to meet you.