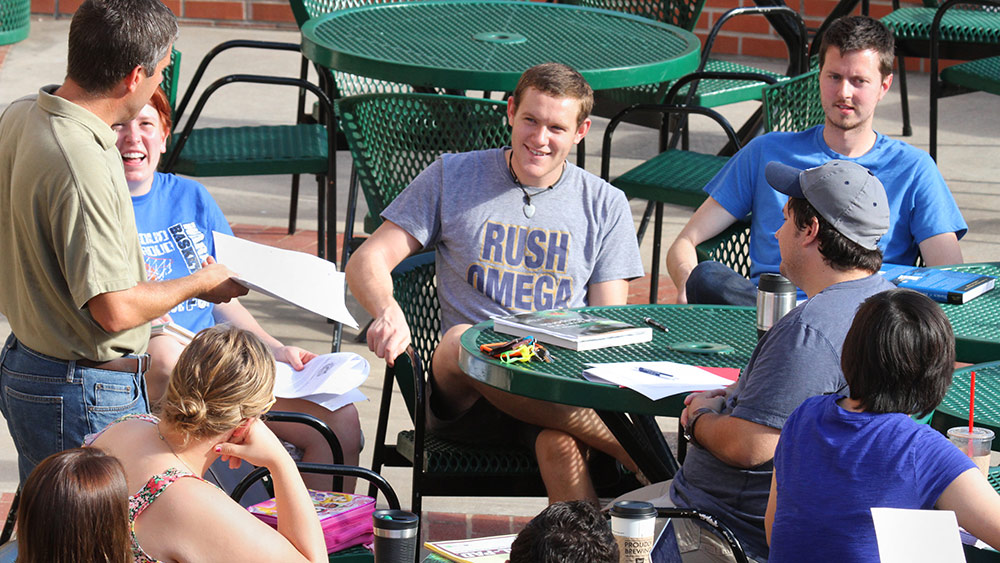 J-Term 2021
Friday, January 22, 2021
| | |
| --- | --- |
| Class Time | Examination Time |
| 8:00-10:00am or any class Beginning between 8:00am and 10:00am | 8:00 a.m.-10:00 a.m. |
| 10:00am-12:15pm or any class Beginning between 10:00am and 12:15pm | 10:15 a.m.-12:15 p.m. |
| 12:15-3:00pm or any class Beginning between 12:15pm and 3:00pm | 1:00 p.m.-3:00 p.m. |
| Classes Beginning 3:00pm or later | 3:15 p.m.-5:15 p.m. |
Spring 2021
Monday, May 10, 2021
| Class Time | Examination Time |
| --- | --- |
| Common Exams for HON 1113, ENGL 1153, 1163, 2023, 2033 HIST 2023, 2033 | 8:00-10:00 a.m. |
| 2:00-2:50 MWF | 10:15 a.m.-12:15 p.m. |
| 3:00-3:50 MWF | 1:00-3:00 p.m. |
| 9:00-9:50 MWF | 3:15-5:15 p.m. |
Tuesday, May 11, 2021
| Class Time | Examination Time |
| --- | --- |
| 3:30-4:45 TR | 8:00-10:00 a.m. |
| 12:30-1:45 TR | 10:15 a.m.-12:15 p.m. |
| 8:00-9:15 TR | 1:00-3:00 p.m. |
| 11:00-11:50 MWF | 3:15-5:15 p.m. |
Wednesday, May 12, 2021
| Class Time | Examination Time |
| --- | --- |
| 12:00-12:50 MWF | 8:00-10:00 a.m. |
| 11:00-12:15 TR | 10:15 a.m.-12:15 p.m. |
| 8:00-8:50 MWF | 1:00-3:00 p.m. |
| 1:00-1:50 MWF | 3:15-5:15 p.m. |
Thursday, May 13, 2021
| Class Time | Examination Time |
| --- | --- |
| 2:00-3:15 TR | 8:00-10:00 a.m. |
| 9:30-10:45 TR | 10:15 a.m.-12:15 p.m. |
Summer 2021
Session I, Friday, June 25, 2021
| Class Time | Examination Time |
| --- | --- |
| 8:00-10:00 a.m. or any class Beginning between 8:00 a.m. and 10:00 a.m. | 8:00-10:00 a.m. |
| 10:00 a.m.-12:15 p.m. or any class Beginning between 10:00 a.m. and 12:15 p.m. | 10:15 a.m.-12:15 p.m. |
| 12:15-3:00 p.m. or any class Beginning between 12:15 p.m. and 3:00 p.m. | 1:00-3:00 p.m. |
| Classes Beginning 3:00pm or later | 3:15-5:15 p.m. |
Session II or 8-week courses, Friday, July 23, 2021
| Class Time | Examination Time |
| --- | --- |
| 8:00-10:00 a.m. or any class Beginning between 8:00 a.m. and 10:00 a.m. | 8:00-10:00 a.m. |
| 10:00 a.m.-12:15 p.m. or any class Beginning between 10:00 a.m. and 12:15 p.m. | 10:15 a.m.-12:15 p.m. |
| 12:15-3:00 p.m. or any class Beginning between 12:15 p.m. and 3:00 p.m. | 1:00-3:00 p.m. |
| Classes Beginning 3:00 p.m. or later | 3:15-5:15 p.m. |
Fall 2021
Monday, December 13, 2021
| Class Time | Examination Time |
| --- | --- |
| Common Exams for HON 1013, ENGL 1153, 1163, 2023, 2033 HIST 2023, 2033 | 8:00-10:00 a.m. |
| 9:30-10:45 TR | 10:15 a.m.-12:15 p.m. |
| 2:00-2:50 MWF | 1:00-3:00 p.m. |
| 3:00-3:50 MWF | 3:15-5:15 p.m. |
Tuesday, December 14, 2021
| Class Time | Examination Time |
| --- | --- |
| 9:00-9:50 MWF | 8:00-10:00 a.m. |
| 3:30-4:45 TR | 10:15 a.m.-12:15 p.m. |
| 12:30-1:45 TR | 1:00-3:00 p.m. |
| 8:00-9:15 TR | 3:15-5:15 p.m. |
Wednesday, December 15, 2021
| Class Time | Examination Time |
| --- | --- |
| 11:00-11:50 MWF | 8:00-10:00 a.m. |
| 12:00-12:50 MWF | 10:15 a.m.-12:15 p.m. |
| 11:00-12:15 TR | 1:00-3:00 p.m. |
| 8:00-8:50 MWF | 3:15-5:15 p.m. |
Thursday, December 16, 2021
| Class Time | Examination Time |
| --- | --- |
| 1:00-1:50 MWF | 8:00-10:00 a.m. |
| 2:00-3:15 TR | 10:15 a.m.-12:15 p.m. |
All evening classes will have their final exams at the regularly scheduled class time during the final examination week.
Classes beginning at odd times or running across two periods will have their final exams at the time slot during which the class begins.
Examinations for all laboratories will be given during the last meeting of the class.
All examinations will be given in the regular classroom unless a room change is announced in class by the instructor. Instructors, please clear room changes in advance with Allison Cade, Executive Offices.
Final examinations may not be waived or given out of schedule without the written prior approval of the Dean of the College administering the course; this includes the rescheduling of an entire class as well as individual exams.
Students with three or more final examinations on the same day may petition the Dean of the College which administers the course for possible rescheduling of one examination with the permission of the instructor.
Petition forms are available in the Office of the Deans and must be submitted to the appropriate Dean no later than:
Spring: Monday, May 3, 2021
Fall: Monday, December 6, 2021