The mission of OBU is to "transform lives by equipping students to pursue academic excellence, integrate faith with all areas of knowledge, engage a diverse world and live worthy of the high calling of God in Christ." For Oklahoma Baptist University students, this purpose does not end at graduation. After completing either their undergraduate or graduate degree at OBU, many alumni express a desire to continue serving the local community with their vocation.
Investing in the Regional Food Bank of Oklahoma
Across the state, one in six Oklahomans has inconsistent access to food and one in four children has inconsistent access to food. A study conducted by the Hunger in Oklahoma Report revealed that 72 percent of the clients the Regional Food Bank of Oklahoma assists have to choose between paying for food or paying for utilities.
Established in 1980, the Regional Food Bank of Oklahoma is the largest private, domestic hunger-relief organization in the state of Oklahoma. In the last fiscal year, the organization distributed 52 million pounds of food and products through a network of more than 1,300 schools and charitable feeding programs in 53 central and western Oklahoma counties. The organization provides enough food to feed 126,000 Oklahomans every week, and yet, this number is still not enough.
With this information fueling their decisions, OBU alumni Karen Paul and Ryan Abernathy have pursued a career and a calling serving others through the Regional Food Bank of Oklahoma.  
Karen Paul – Class of 1998
Karen Paul, previously an English literature major at OBU, serves as the manager of foundations and grants at the Regional Food Bank of Oklahoma. In her role, she works with some of the state's largest foundations on a series of grants and direct gifts.
"I'm proud to work with a diverse group of donors who are united in their desire to end hunger in our state," Paul says.
When asked how she came to the Regional Food Bank of Oklahoma, her story is a compelling one. "I joined the Regional Food Bank in 2010 after nearly eleven years in non-profit marketing, where I previously served as the director of marketing for a statewide membership association," she says. "In 2010, I made a career change to social service fundraising because I saw the growing needs in our community and wanted to help."
Hunger is often something that many of our friends and neighbors go through silently.  – Karen Paul
"I've been fortunate to work with our donors on the initial funding for the Regional Food Bank's School Pantry Program and our Food & Resource Centers, which are helping thousands of Oklahomans have the resources they need in these tough times. I leave work every day knowing that the work that we do truly is making a difference in the lives of Oklahomans."
Ryan Abernathy – Class of 1997
Ryan Abernathy graduated from OBU in 1997 with a Bachelor of Arts in applied ministry with a concentration in pastoral ministry, and has been with the Regional Food Bank of Oklahoma since 2011, first as the senior feeding coordinator and now as the senior director for programs and nutrition. With a background of service, working as a student minister, a church planter, and a bi-vocational pastor, it is no surprise that his path led Abernathy to the Regional Food Bank of Oklahoma.
"I have always – no matter what kind of ministry I was involved in – worked with people who were in need," Abernathy says. "The working poor, people in marginalized communities and the homeless. A friend of mine, who was a member of my church, told me about a position at the Food Bank … I was really excited because it was an opportunity to serve people on a daily basis by meeting a basic need, but also to work toward expanding that service to more people. Plus, I got to work with people in the community, raising awareness about senior hunger and the plight of the elderly in our state."
As the senior director of programs and nutrition, Abernathy works with four amazing teams. Each team specializes in a different area:
Backpack Program, School Pantries and Senior Adults – This program serves kids in schools as well as the mobile pantries for seniors.
Kids Cafes - This after-school program focuses on partnering with churches, community centers and non-profits who serve children and teens by providing meals and safe spaces for learning and mentoring. This team also runs the Summer Feeding program, which is the largest program in the state that partners with communities to help them feed children who will have a nutritional gap in the summer due to schools not being available to provide meals.
Hope's Kitchen – Opened in November 2015, Hope's Kitchen is a production kitchen that allows the Regional Food Bank to produce their own meals that are delivered to the Kids Cafes and Summer Feeding sites. They produce fresh meals and are working on developing frozen meals for delivery to sites outside of the OKC metro area.
Urban Harvest - The Urban Harvest program grows food for distribution to clients served by the Regional Food Bank's nutrition initiatives and likewise educates children on where the food they eat comes from. They also consult on urban gardening programs.
Abernathy also works with the process improvement team at the Regional Food Bank, helping the organization find new and innovative ways to streamline and improve their work to allow them to better serve their clients and agencies.
Volunteering at the Regional Food Bank of Oklahoma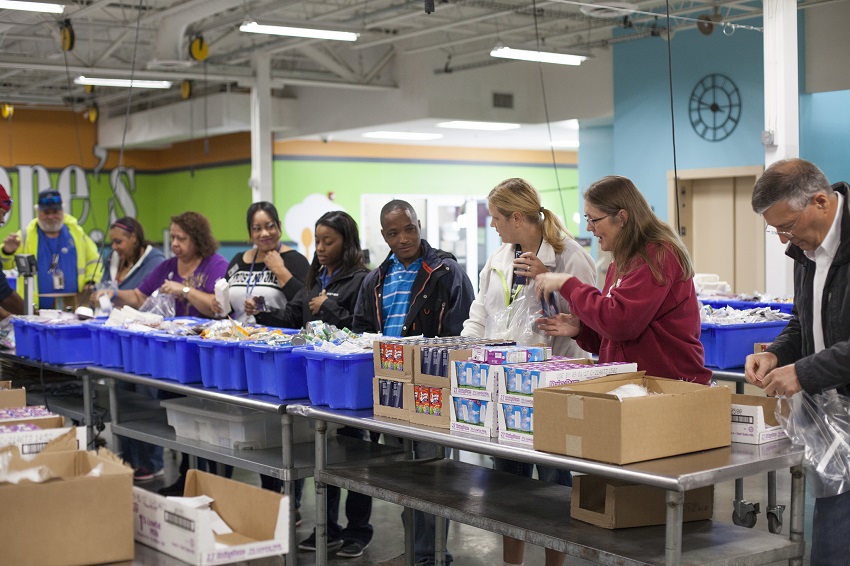 Paul and Abernathy are just two Bison alumni who are choosing to make a difference with the talents they are given. This holiday season, there are many ways you can support local organizations in need of your help, like the Regional Food Bank of Oklahoma.
Angie Doss, director of marketing and communications at the Regional Food Bank, encourages people to donate or volunteer this season. Thanks to a generous matching challenge from APMEX.com, the Cresap Family Foundation and Chesapeake Energy Corporation, every gift to the Regional Food Bank between now and Jan. 15, 2017, will be matched dollar for dollar, up to $600,000, for a total impact of $1.2 million. To make a tax-deductible donation, visit regionalfoodbank.org.
In addition to financial donations, volunteers are always needed and welcomed at the Regional Food Bank. Volunteer tasks may include bagging and boxing food products, assembling Food for Kids sacks, preparing fresh food distribution in Hope's Kitchen and more. Volunteer days are Monday through Saturday, morning and afternoon. If you're interested in impacting your local community this season, consider giving the gift of your time by volunteering at the Regional Food Bank of Oklahoma. 
OBU and a tradition of giving
When asked how OBU has influenced their careers and led them to the Regional Food Bank of Oklahoma, both Paul and Abernathy stress that OBU taught them about giving to the community and letting their actions speak louder than their words.
"OBU is where I learned that faith is more about what you DO than what you SAY," Abernathy says. "I had amazing professors who challenged my preconceived notions about what it meant to be a follower of Jesus."
Citing specific professors like Dr. Roark, Dr. Evans, Dr. Wilks, and Dr. McWilliams, Abernathy says OBU helped shape his desire to listen and care for people.
"Beyond all of that, the surprising diversity of the OBU student body in the '90s shaped me," Abernathy says. "My friends at OBU were not all Christians, they were not all Baptists, and they fit no mold. I wasn't prepared for that, but it was a welcome surprise. To this day, the people who I met at OBU remain some of my closest confidants and most trusted advisors. They also remain some of my sharpest critics and most vocal challengers, and that's a really good thing. We need people who are different from us to make us better people. Not going to school in an echo chamber, but in an environment that counted education and diversity as a strength, made me a better Christian, husband, father, friend, pastor and Food Banker."
Paul shares a similar sentiment as Abernathy.
"OBU has a wonderful tradition of giving back to the community, which is something that I've always tried to carry with me in my career," Paul says. "At the end of the day, it's about putting aside our differences and coming together to help others in their toughest times."
With its campus in Shawnee, locations in Oklahoma City and Broken Arrow, as well as online graduate degrees, OBU has many options to enhance your career. If you're interested in learning more about how OBU can shape your future, schedule a campus visit today.