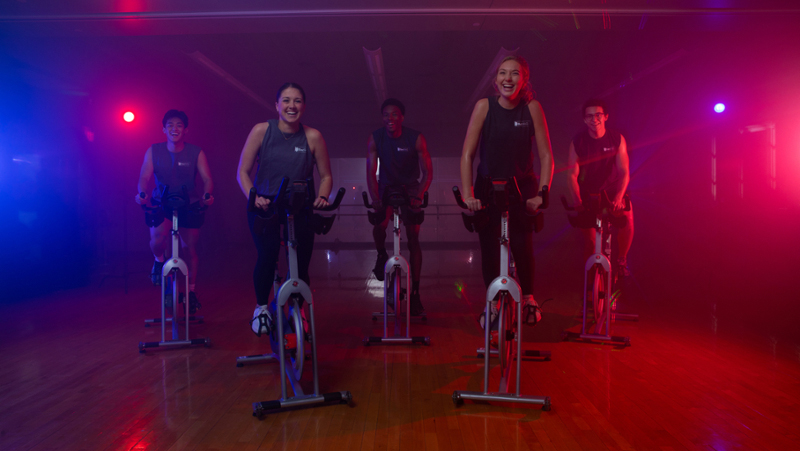 Wellbeing. Community. Fun.
From Dance Cardio and Spin to Strength Training and Yoga, group fitness is the perfect way to exercise while having fun with other students, faculty, and staff! Trained instructors lead our group fitness classes at the Bison RecWell Facility. Click below to see the list of group fitness classes offered this semester.
Group Fitness Prices 
Our group fitness classes are provided to Oklahoma Baptist University students, faculty, staff, and RAWC members at no additional charge.
The semester Group Fitness Pass fee is $60 for community members. If you attended three classes each week for 13 weeks, that's less than $1.53 per class-cheaper than a cup of coffee!
 REGISTER FOR GROUP FITNESS MEMBERSHIP
Registration & Policies
Registering for Classes 
To attend a class, reserve your spot at IMLeagues.com. Registration for each class opens 24 hours in advance, and reserved spots are held up until 5 minutes before the start of class. Walk-ins are accepted on a first-come, first-serve basis 5 minutes before the start of class.
Canceling Registration 
You can cancel class reservations at  IMLeagues.com. If you can no longer attend a class you've registered for. Be sure to cancel before the class starts to allow additional patrons to book the class.
Policies
Before registering for group fitness classes, community members must pay the group fitness fee. The group fitness fee can be paid via credit card at the Bison RecWell Facility or by calling 405.585.5225. All Patrons attending classes must follow the dress code during the entire class. 
Types of Group Fitness Classes
Cardio
Spin: A heart-pumping endurance class set to hit music with an instructor that leads you through multiple drills is a sure fire way to get your cardio in for the day.   
Dance Cardio: A total body dance style workout in a Latin flavor. Fusing hypnotic Latin rhythms and easy-to-follow moves to create a dynamic workout system that will blow you away. 
POUND: Instead of listening to music, you become the music in this exhilarating full-body workout that combines cardio, conditioning, and strength training with yoga and pilates-inspired movements. 
Strength
Barre: A hybrid workout class focusing on high repetitions and low weight, pulling moves from ballet, Pilates and strength classes. A great way to strengthen and tone your muscles. 
Total Body: A resistance training class targeting major muscles groups using various equipment, movements and timing. Incorporates bursts of cardio to help you tone all major muscles! 
Rise 'n Grind: A total body resistance workout utilizing all types of equipment so that you can leave feeling strong and ready to take on your day. Come get your early morning sweat on! 
Circuit Cycle: A combination of your favorite spin and total body resistance classes! Get ready to work your cardiovascular endurance on the bike and build some muscles off the bike.
Mind-Body Connection
Yoga/Yoga Flow: Align your mind with your body by developing strength and flexibility, mental concentration and focus, stability and confidence, all thanks to our yoga instructors. 
Yoga in the Oval: Get outdoors and be present in nature! Located on the Oval off of university Street on the Oklahoma Baptist University campus, this class encourages you to slow down and enjoy the little things in life!