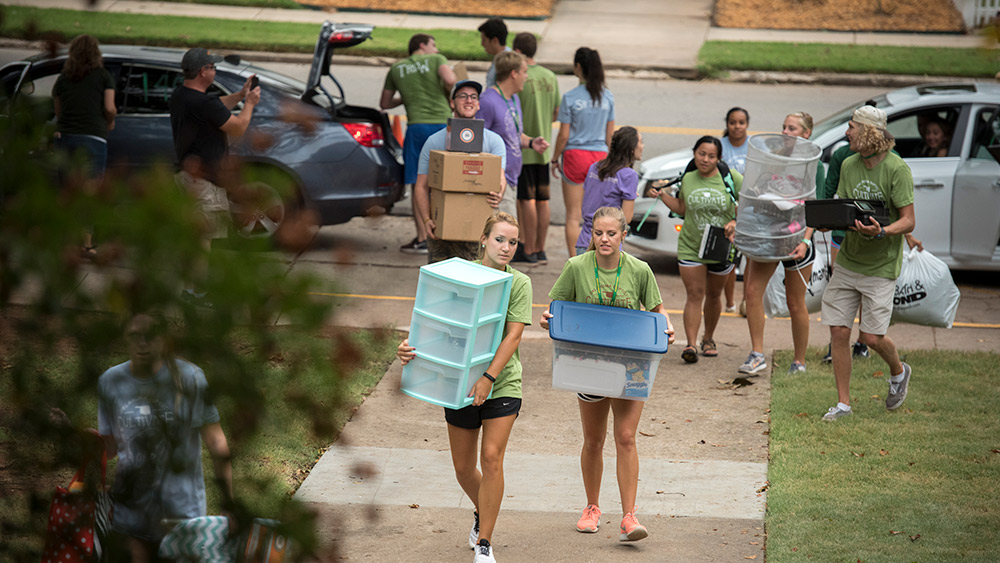 Make a packing list. It is a good idea to do this at least a couple of weeks before move in day to make sure you have everything you need. We have provided a basic list of things to consider and you can find that here.
Bring your favorite snack or drink. This can be a fun thing to have during unpacking and to keep everyone from getting hangry! But it is also a nice piece of home to leave with them for their first evening of residence hall life.
Dress accordingly. While the ResHalls do have air-conditioning increased movement during move in day will make anyone a little hot and will increase the temperature inside the building. Wear comfortable clothing and bring a fan to set up if you think you will need it!
Bring cleaning supplies. All spaces will be cleaned by our professional cleaning team. However, a quick wipe down with familiar cleaning supplies and scents can really make a student feel more at home.
Label luggage. We will have plenty of support to help move your belongings in! This has been a longstanding tradition at OBU and we are excited for you to witness it. Please make sure all your luggage and boxes are labelled with your name, building and room number. If you would like to move some or all of your items by yourself you are welcome to do so. Please just let a staff member know and we will be happy to communicate that to the move in team.
Tape closed boxes and drawers. This minimizes spills and clean up when items are being moved.
Pay attention to signage. There is a lot happening on campus on Move In Day and we have been busy all summer rebuilding and renewing campus after the severe weather earlier this year. Please respect directional signage and barriers. This is for your own convenience and safety.
Plug in your fridge. Place and plug in your fridge early so that it's cold when you need it. Remember: fridges must not exceed 5 cu. feet.
Consider hanging clothing. If there are items you know you want to hang in the closet right away consider putting them on hangers and in a garbage bag. These can just be placed right in the closet!
Get comfy! A new space may take a little bit to feel like home but we want you to feel at home on Bison Hill as soon as possible. Bring items from home that you know you will enjoy and that will make you feel at home. This may be posters, pictures, etc. Remember: don't use nails or damage the wall when hanging items. There are several brands of hooks and hanging materials that are intended to be used without damaging the wall. Just remember to follow the instructions as any damage done to the walls will be charged at check out.
Meet your ResLife Staff Member. We are here to serve you and to help you adjust to life on Bison Hill. You can find us at the front desk or making rounds throughout the building. At the First Night Meeting your RA (Resident Assistant) will get your number and learn your name!
Take pictures. This is such a fun and important time to remember! Take lots of pictures and we will even have photo booths and opportunities for you to take photos in your new space. Don't forget to tag @obunews.
Say "See you later." We would love for you to join us at the Parents' Goodbye to take pictures and pray prior to your departure from campus. This can be an emotional time and it's important to set aside time to enjoy campus and time with your student. The ResHall front doors will be closed to ID access only starting at 5 p.m. on Move In Day.