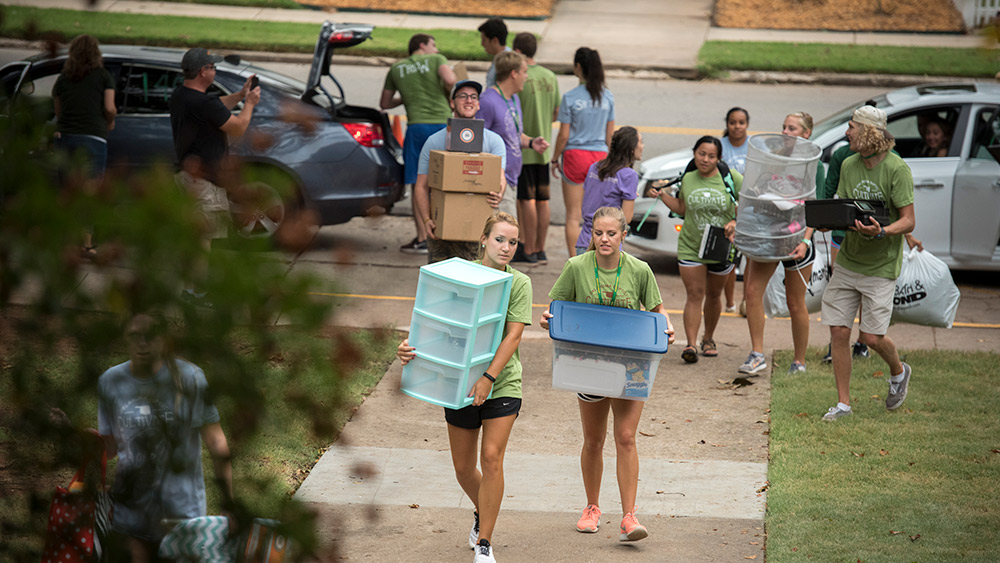 Open a move in checklist so you don't leave anything at home!
Below is list of our policies concerning some of the items you can and cannot bring to campus.
Accidents/Emergencies
Students who find themselves in a life-threatening/emergency situation or observe such an incident should immediately contact the appropriate agency (9-911), followed by a call to the Residence Director (RD) or resident assistant (RA). In minor emergencies the resident should contact the RD first and let him/her decide if the police, fire department, and/or ambulance service should be involved.
Appliances
In the residence halls, you can have a small refrigerator (3 to 5 cubic feet). Microwaves and ice machines are available in each residence hall. Hall residents are not allowed to bring a microwave, toaster oven, space heater, halogen lamp, electric skillet, deep fryer, crock pots, hot pots, or any other coiled electrical or heating appliance. Apartments are equipped with a refrigerator and oven. Additional appliances must be provided by the residents. It is important to note that multi-plug adaptors and extension cords cannot be plugged directly into the room outlets. Surge protectors must be used to plug multiple items into an electrical outlet.
Aquariums and Fish Bowls
Fish are the only pets allowed in the residence halls and apartments. Fish must be taken home during vacations. The presence of any other animal in the facilities will result in a $50 fine per incident.
Cinder blocks and Loft beds
OBU prohibits the use of cinder blocks in all university owned housing. This policy is in place to protect the safety of the students and the property of the university. In addition, OBU limits the height of loft beds. The sleeping surface of these beds must not exceed 6 feet. Furthermore, students are not permitted to remove the university provided bed (or any other university provided furniture) from the room. The university discourages the use of loft beds and reserves the right to inspect and reject any loft bed placed in university owned housing. In addition, the university DOES NOT provide plans for building loft beds.
Floors
All residence halls are carpeted.
Furnishings
In Agee Residence Center there are two extra long twin size beds, two desks, two chairs, two dressers, and two closets. Kerr and WMU have two twin size beds, two dressers, two desks, two chairs, and a sink. Kerr also has two closets and WMU has two wardrobes and one closet. The apartments consist of four twin beds, four dressers, four desks, and four chairs. The apartments are fully furnished and are only available to returning OBU juniors and seniors. We also provide telephone, internet, and cable television service in each room/apartment. All furnishings in your room at the time of check-in are your responsibility and are not to be removed from the room. All residence halls and apartments have air conditioning and heating.
Guest Rooms
There are guest rooms available to families of residents and university guests. Call (405) 585-5250 for information. Reservations are not accepted until September 1 for Fall and January 2 for Spring.
Illness
If a resident becomes ill, the RD and/or RA should be notified immediately. In case of illness, it is possible to obtain a sick tray from the cafeteria. If a resident contracts a communicable disease, the continuation of the person in the residence hall during the period of contagion must be approved through the Dean of Student's office in consultation with Campus Health Services.
Laundry
Each residence hall and apartment complex has laundering facilities. Laundry costs are built in to your housing fees and can be accessed whenever needed at no additional cost.
Linens
Each resident should bring a comforter and/or blanket, pillow, mattress pad (required for each resident), twin sheets (females) XL twin sheets (males), and pillow cases.
Living on campus
A long-standing tradition of Oklahoma Baptist University has been the provision of a residential campus. This position has been affirmed through research, which reveals that if students remain in campus housing they are more likely to complete their college education, develop a strong spiritual formation, participate in campus activities, adjust to various social situations, and establish lifelong friendships with students and faculty. Oklahoma Baptist University shall continue the commitment made to Oklahoma Baptists to provide a residential campus. While traditional students are rarely given permission to live off campus, the university remains sensitive to those few unusual circumstances which make living off campus necessary for the student's well-being.
All unmarried students enrolled in 8 or more hours must reside in university housing, except students who:
reside with parent(s) or immediate family;
secure employment for which payment is, or includes housing;
have attained the age of twenty-one (21) or shall during the semester for which the request is made; or,
have attained senior status (a minimum of 90 credit hours) prior to the semester for which the request is made.
The amount of financial assistance that a student may receive from the university is affected by the living status of that student. Prior to pursuing off campus housing, all students should visit with their Student Financial Services Counselors to determine exactly how their financial aid and scholarships will be affected.
Miscellaneous items you may need
Pencil sharpener, clock radio, computer, calculater, paper, stapler/staples/scissors, cleaning products, umbrella/raincoat, flashlight, sewing kit, surge protector, small plastic bucket to carry toiletries to the shower, towels, first aid kit, etc.
Overnight Guests
Residents are permitted to have overnight guests of the same gender. All overnight guests must be 15 years of age or older and must be signed in at the front desk. A charge of $5 per night is assessed for all visits over two nights. The student host must be present in the room/apartment where the guest is visiting. Babysitting is NOT allowed in OBU residence halls or apartments. Visitors of the opposite gender are not allowed in residence hall rooms, apartment bedrooms, and restricted areas except during specifically designated times.
Privacy and Property Issues
The university defines the procedural aspects of the right of housing residents to privacy in the Room Search and Inspection policy statement which each resident receives upon arrival. The university reserves the right to periodic inspection of room conditions and refrigerator contents. Without written permission from the resident, an RA or RD cannot let anyone (friends/family) into that resident's room. The university is not responsible for the loss or damage of money, valuables, or personal items. Residents should keep their rooms locked at all times. Any loss of property should be reported in writing to the RA or the RD immediately. The university highly encourages all students to obtain renter's insurance or to assure that their parents' homeowners insurance covers their belongings.
Private Rooms
The resident's room charge is based on double occupancy (two per room). Private rooms are usually unavailable at the beginning of the fall term. When available, private rooms are charged a higher rate than double occupancy. All students who are living in a double occupancy room by themselves must be charged the private room rate. It is the responsibility of the student to secure a roommate or pay for the private room. The Residential Life Office and their Residence Director (RD) will assist them in this process.
Room Changes
Students may request room changes by submitting the online form (Housing Change Request form). Every effort will be made to accommodate requests. After opening day, students must stay in their assigned room with their assigned roommate for at least three weeks. The Student Development Department of OBU seeks to educate its students concerning the responsibility of adults to resolve conflict. The principle of living in a community with roommates provides students with opportunities to learn how this spiritual posture is lived out on a daily basis. When a problem arises amongst roommates, we believe that we must seek to surround those in conflict with opportunities that possess reconciliation as the end goal. Please understand that changes in roommates will not be considered until the three week deadline has passed. Should students desire to pursue the possibility of a room change, they must first participate in the reconciliation process. The RA, Residence Director, and the Director of Residence Life are committed to make every effort to reconcile the situation and assist students as they continue to live in community together.
Storage
Some OBU residents have access to minimal storage space in their residence halls. All items in storage must be labeled with identification. Key security is maintained by the Residential Life staff, but residents are reminded that the university does not assume any responsibility for personal belongings. The university requires students who need to leave their belongings in Shawnee during the summer months to either rent a storage facility in town or secure other off campus storage.
Telephones
While many students use cell phones as their primary means of communication, a limited supply of telephones are provided and can be checked out at the front desk of each facility.
Walls
Be aware that items may be hung on the wall using WHITE plastitak (nails, tacks, adhesive tape, masking tape, screw-in hooks, carpet tape, bolts, and staples are NOT to be used).
Windows
The windows in each room have blinds. Each window has a screen that may not be tampered with. If you wish to hang curtains, you will need to bring a spring suspension curtain rod.