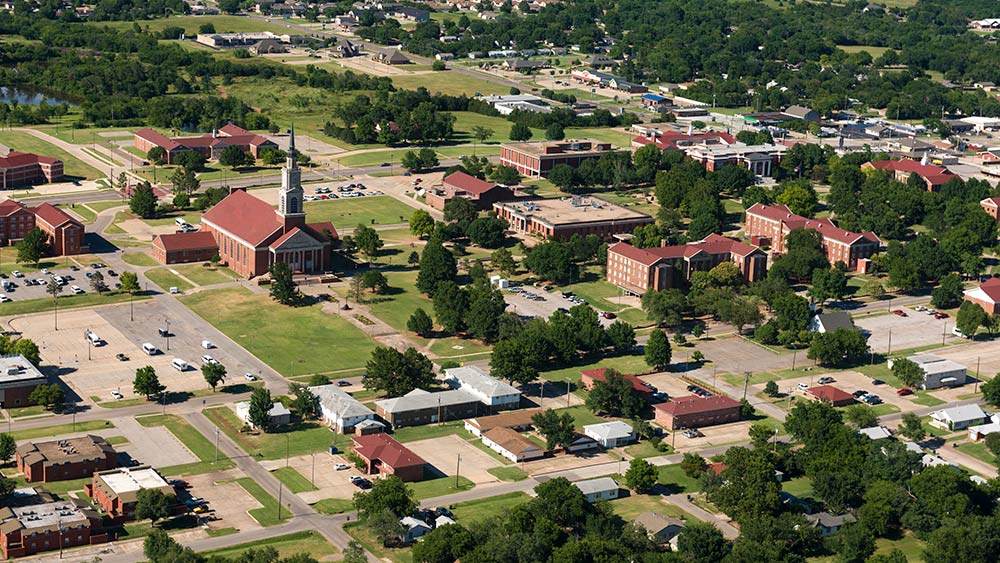 Residence life at OBU is more than just a bunch of buildings placed on a campus. It's about the relationships you create with brothers and sisters in Christ. OBU intentionally provides opportunities for students to live around peers and mentors. The progressive independent living model recognizes that students grow and change through their university experience. As they mature, they should be given more independence. The goal is to create an environment that encourages personal, spiritual, and academic growth that fosters the basic values of Christian community. We understand life is messy, but this is why we do it together -- to help build each other up in Christ.
Residence Halls
Most recently renovated in 2018, Agee Residence Center is the largest housing facility on campus. This four-story building is home to 365 freshman and sophomore men. The building was originally named Brotherhood Dormitory when it was built in 1948, but was renamed Agee after the University's 13th president, Bob R. Agee.
WMU was built in 1928 by the Women's Missionary Union of the Baptist General Convention of Oklahoma and houses freshmen women. The building underwent renovation in 2009 and 2017 and provides a cozy, welcoming atmosphere for freshman women. 
Located on MacArthur Street, Taylor Residence Center was built in 1997 and houses sophomore women. Taylor has two levels, each with a spacious public lobby, as well as a centrally located laundry room on the second level. Each hallway provides a common area furnished with tables and couches for study, Bible studies, and community enjoyment. Each wing contains a kitchenette.
Kerr opened in 1956 and is infamous for Kerr Christmas and Trick-Kerr-Treat. Renovated in 2008, Kerr is one of the most historic residence halls on campus. Kerr boasts kitchenettes with common rooms on the 1st, 2nd, and 3rd floors. Kerr houses mostly freshmen and sophomore women.  It has traditional dorm style rooms.
Completed in Fall 2015, The Lodge is the newest housing facility on campus. It houses men in suite style rooms, meaning two bedrooms connected by a bathroom. The Lodge features various study rooms and kitchenettes on each floor.
Apartment Living
West University Apartments are located just south of Noble Complex. The center building houses the front desk and laundry and is also the community space for the apartments. Each apartment building has eight apartments that each house four junior or senior women. These housing units are made up of five buildings, with each apartment containing two bedrooms, two bathrooms, a living area, and a kitchen.
MacArthur Apartments consists of two buildings that house junior and senior women in the east building and junior and senior men in the west building.They underwent remodeling in the summer of 2008. Each apartment has two bedrooms, with two students per bedroom. Mac houses a total of 32 men and 32 women and is reserved for Junior and Senior men and women. 
In 2013, OBU opened the Apartment Village. Each three-story building has apartments that house three to four junior or senior students. Each apartment is equipped with three or four bedrooms, full kitchen, living room, two bathrooms, and the option of a washer and dryer inside of the apartment. Each building contains two laundry rooms for students who do not have a washer and dryer inside their apartment.
Married Housing