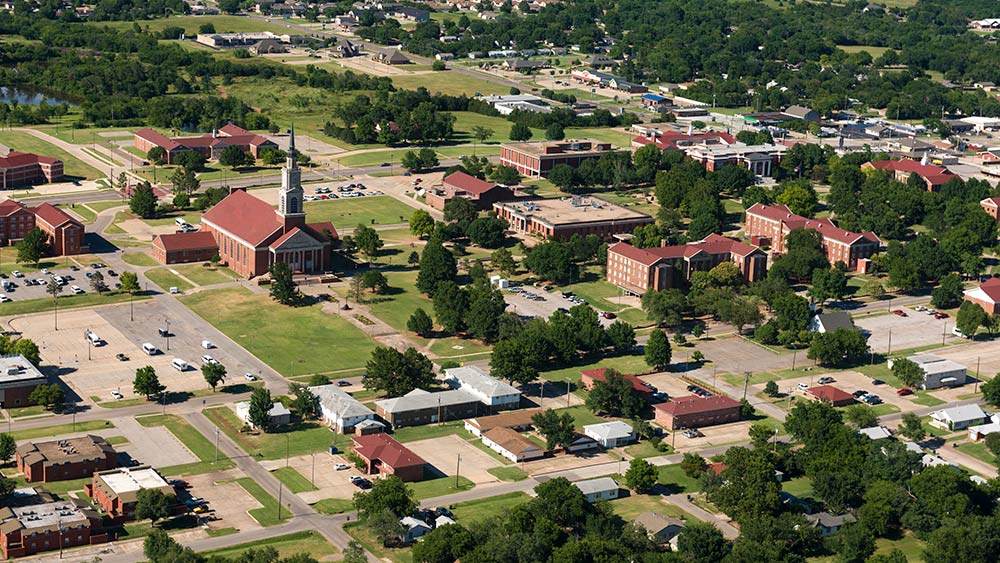 Residence life at OBU is more than just a bunch of buildings placed on a campus. It's about the relationships you create with brothers and sisters in Christ. OBU intentionally provides opportunities for students to live around peers and mentors. The progressive independent living model recognizes that students grow and change through their university experience. As they mature, they should be given more independence. The goal is to create an environment that encourages personal, spiritual, and academic growth that fosters the basic values of Christian community. We understand life is messy, but this is why we do it together -- to help build each other up in Christ.
Residence Halls
The largest occupancy building at OBU, Agee houses 365 freshmen and sophomore men. Agee has 4 levels, 2 spacious common areas, a work-out facility, and several suite style rooms.
Since 1928, WMU has contained everything from a swimming pool, to soldiers, to the University Art Department. WMU is reserved for freshmen women to enhance the first year experience.
Taylor houses sophomore women in suite style rooms. Taylor has two levels, each with a spacious public lobby as well as a centrally located laundry room. Each hallway provides a common area with tables and couches for community enjoyment.
Kerr opened in 1956 and is infamous for Kerr Christmas and Trick-Kerr-Treat. Kerr boasts kitchenettes with common rooms on the 1st, 2nd, and 3rd floors with couches, chairs, tables and wall mounted flat panel TV's. Kerr houses freshmen and sophomore women.
Howard House
An Intentional Living Program, the purpose of Howard House is to encourage and support a community of sophomore women to become Christ-like. Howard House is focused on teaching students to live a disciplined life with time, studies, a relationship with God, relationships with others, physical health, and well-being.
Completed in Fall 2015, these male housing units are suite style, meaning two bedrooms connected by a bathroom. It will contain public lobby areas and a laundry room.
Apartment Living
West University Apartments are located just south of Noble Complex. These housing units are made up of five buildings, with each apartment containing two bedrooms, two bathrooms, a living area, and a kitchen.
Each MacArthur Apartment has two bedrooms, with two students per bedroom. Mac houses a total of 64 upperclassmen.
Howard Apartments sit directly across from Raley Chapel. These women's housing units each have two bedrooms and one bathroom (upstairs) and a living room and kitchen (downstairs).
East Devereaux (East Dev) Apartments are single level and houses 21 men and also provides a laundry facility and a pleasant outdoor common area.
Built just last year, The Village houses male and female students. Each unit has two bedrooms, two bathrooms, a living room, and a kitchen. Apartments with washers and dryers are also available.
Married Housing