Career/Major Planning
"I have NO idea what I want to major in!" That statement is extremely common among freshmen and sophomores … even juniors and seniors, at times. Many times students have erroneous beliefs on how the career planning process works -- making it more difficult than it needs to be! Let Career Services make the process a little easier. Individual counseling, assessment, and other services are available. Take the link below to research opportunities within many different degrees.

Career Assessment
Career Assessments are very useful tools for matching values, interests, abilities and skills to possible career options. Various career assessments are available from no cost to a small fee. Please contact the Career Services office for more information.
Free Career Assessment Tool
To make sure you are on the right track towards planning your career view the checklists below:
Résumés, References, Interviewing, and More
The goal of a resume is not to get you a job. Seriously! The goal of a resume is to land you an interview! Keeping that fact in mind can help relieve some of the pressure usually associated with creating a resume.
Click on the card to order your student business cards. Be ready to impress prospective employers!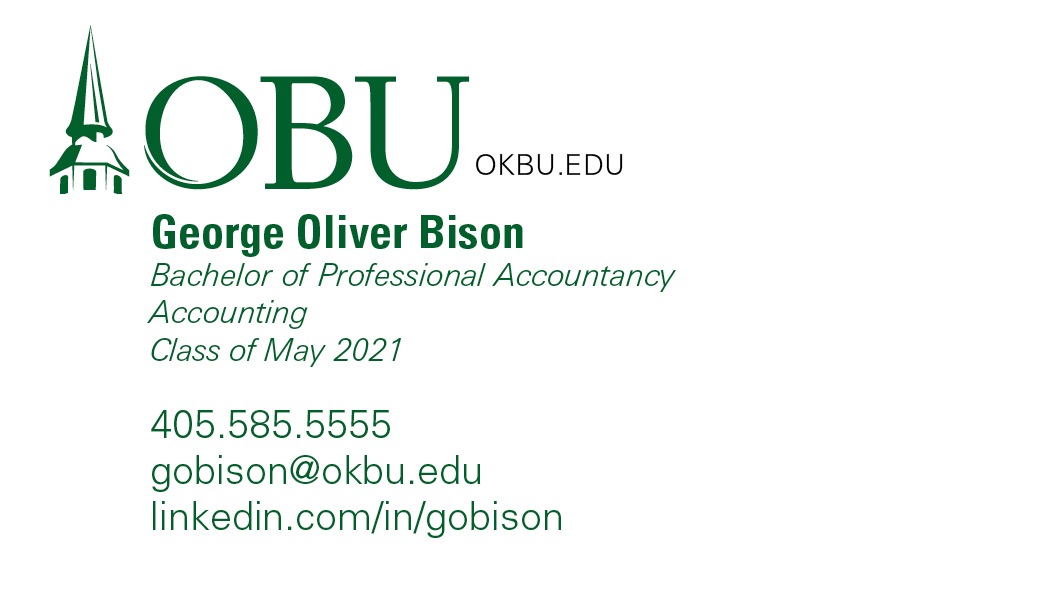 Job Search Tools
The OBU Career Portal is Oklahoma Baptist University's online recruitment system for jobs and internships. OBU Career Portal is provided through the Symplicity Corporation and is the official job listing service that provides employers, OBU students and alumni the ability to directly interact with each other.
Register today to begin searching and applying for positions, registering for career fair events, take an interest assessment and more!
To view positions more specific to your field of interest, check out the links below.