Career Fairs
We are going virtual for fall 2020!  Learn more and register or sign into your Career Portal account. Be sure to RSVP so the employers know you are attending.

Summer Camp Recruitment Fair, October 6, 10 am - 2 pm
Fall Career and Internship Fair - all majors, October 7, 11 am - 2 pm
Graduate School Fair, October 8, 10 am - 2 pm
Career/Major Planning
"I have NO idea what I want to major in!" That statement is extremely common among freshmen and sophomores … even juniors and seniors, at times.  Take the link below to research opportunities within different majors.

Résumés, Cover Letters, Interviewing and More
The goal of a resume is not to get you a job. Seriously! The goal of a resume is to land you an interview. Keeping that fact in mind can help relieve some of the pressure usually associated with creating a resume.
Use Optimal Resume to build yours. Tutorials and samples are available for reference, including that all important list of action words.
Class Plans
To be sure you are on a successful career track, view the checklists below for suggestions of what to do each year.
Freshman     Sophomore     Junior     Senior
Student Business Cards
Click on the card for more information and to submit your order. Be ready to impress prospective employers.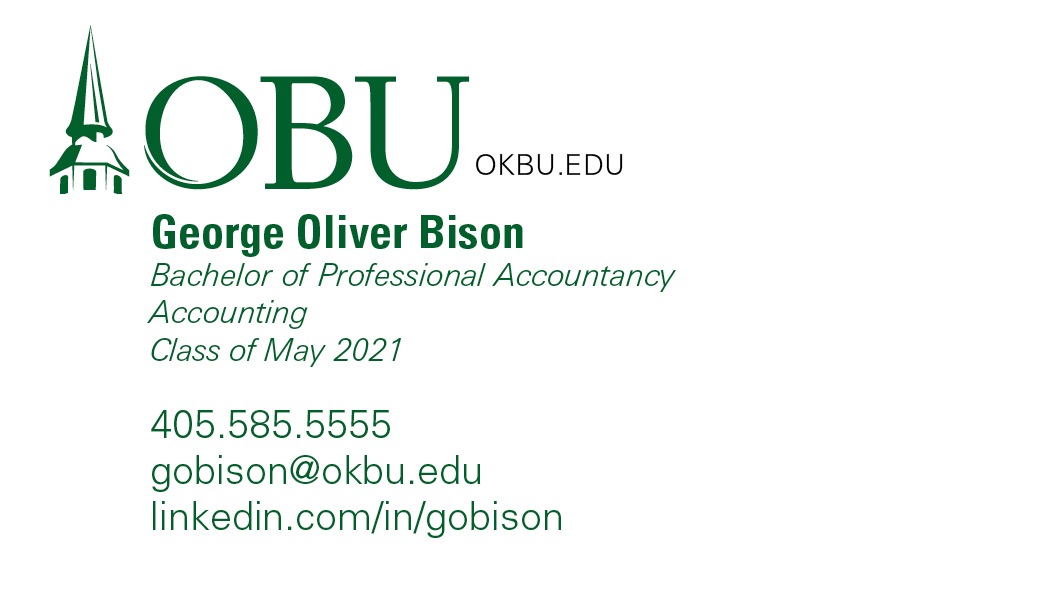 Job Search Tools
OBU Career Portal - Oklahoma Baptist University's online recruitment system for jobs and internships; the official job listing service that provides employers, OBU students and alumni the ability to directly interact with each other.

Register today to begin your search and application process for positions, register for career fair events, connect with employers, take an interest assessment and more. Once you have a great resume prepared, be sure to upload it to use for employer review and applying for jobs.

Use LinkedIn Jobs to harness the power of your network to uncover insights such as whom you know at a company, providing you an edge in your job search. Leverage the world's largest professional network to build relationships and connect with opportunity.

Be sure to check out the Alumni tab on the Oklahoma Baptist University page.
Check out LinkedIn for Education for great "how to" resources.
Other links:
Careers in Education(OSSBA)

These sites are not all encompassing; do nationwide research by school name, district, or location.

Student Athletes - NCAA Career Site
CCCU Career Center - Opportunities in Chrisian Higher Education (Faculty & Administration), Church Ministry, Faith-Based Nonprofits (CCCU - Council for Christian Colleges and Universities)