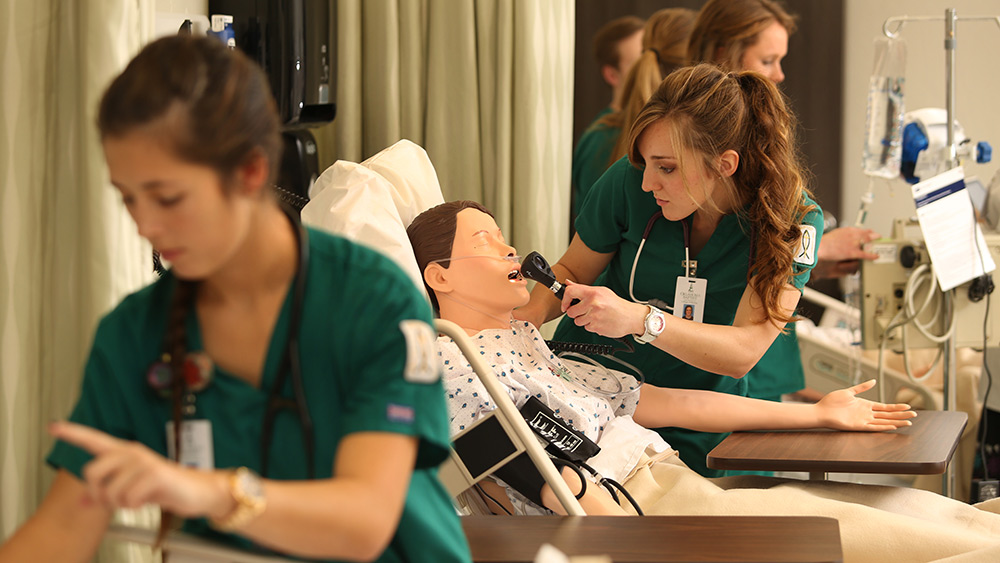 Karyl James
Karyl James serves as the chief nursing officer for Mercy Hospital Oklahoma City, recently named one of the nation's 100 Top Hospitals® by IBM Watson Health. During her tenure with Mercy, Ms. James has fulfilled multiple leadership roles in both critical care and administration. Karyl's current role as Mercy's CNO includes responsibility for the nursing practice at Mercy's hospitals in Oklahoma City, Logan County, Kingfisher, Watonga and El Reno. In addition to receiving her bachelor's degree in Nursing and Biological Sciences from Southwestern Oklahoma State University in 2001 and her master's degree in Nursing Education from Oklahoma Baptist University in 2010, Karyl is currently pursuing her Doctor of Nursing Practice in Nursing Administration from Oklahoma City University. Her own doctoral work led to the creation of a drug and alcohol-free response team to curb co-worker diversion of controlled dangerous substances, with an enhanced focus on early recognition and intervention. Ms. James lives in Yukon with her husband Marc, daughter Markayla, and beloved dogs Tilly and Maggie. 
Rebecca Jones
Rebecca Jones states, "I am a transforming work in progress" who grew up in Wagoner, OK. She graduated from Northeastern State University in 1990 with a BS in Tourism emphasizing in Convention and Meeting Management. After college, she worked at Leggett & Platt Corporate office in Carthage, MO. She left there to join Sam's Whole Club in Joplin, MO., in the outside sales and marketing team. After 10 years in Missouri, she returned to Oklahoma and became a full time Mom in order to focus on family and run her own Domestic Engineering Services. She volunteered in the community as a Girl Scout Leader, Homeroom Parent, church Youth Leader and through Hospice Organizations. She is a philanthropist of the arts and enjoys creating her own shabby to chic art. She recently returned to her home town of Wagoner, OK.  She is working on establishing a business to serve the needs of the community and be an active member of change for the betterment there. She has enjoyed remodeling and renovating properties.
Angie Kamermayer
Dr. Angie Kamermayer is the Chief Nursing Officer of INTEGRIS Health Edmond.  As CNO she is the clinical executive with responsibility for the operational performance, clinical coordination, and delivery of patient care in emergency, surgery, medical surgical, intensive care, and women's services. Dr. Kamermayer has executive oversight of the patient experience, quality, safety, performance improvement, infection prevention, risk management, case management, and informatics.  Angie is responsible for the facilities regulatory compliance including Joint Commission and CMS.  She serves as mentor to nursing and quality leaders in the organization. Dr. Kamermayer began her career at INTEGRIS Baptist Medical Center where she served in many roles including staff, instructor, and Clinical Nurse Specialist.  She later worked at Renaissance Women's Hospitals at Midwest Regional Medical Center and in Edmond as Nurse Executive.  Prior to her current role she served as Chief Nursing Officer at INTEGRIS Southwest Medical Center.  She has served on a number of Nursing Clinical Advisory Boards including the University of Oklahoma, Oklahoma City University, and the University of Central Oklahoma. Dr. Kamermayer continues to precept a number of domestic as well as international nursing graduate students at the University of Oklahoma, University of Central Oklahoma, University of Texas at Arlington, and Oklahoma City University where she is also Adjunct Faculty for the Masters of Nursing Administration Program.  She is a graduate of the University of Oklahoma, where she earned a Bachelor of Science Degree in Nursing, Master of Science Degree in Nursing, and Doctorate of Nursing Practice Degree in Nursing.  She is board certified through the ANCC as a Nurse Executive, Advanced and holds Oklahoma licensure as an APRN-CNS.  She is member of the American Nurses Association, Oklahoma Nurses Association, Association of Nurse Executives, Oklahoma Organization of Nurse Executives, Association of Healthcare Executives, and the Association for Women's Health and Neonatal Nursing.
Lawrence C. Kirk
Dr. Lawrence C. Kirk is the Director of Christian Education, for the St. John Missionary Baptist Church in Oklahoma City, where Dr. M. L. Jemison is pastor. He accepted this position in 2002. Kirk was born in Oklahoma City and graduated from Northeast High School. As Director of Christian Education at St. John, his administrative duties include: coaching, teaching, writing, and supervising the children's, youth, singles, marriage, grief, and men's ministries, Vacation Bible School, Sunday School, and Wednesday Noonday and Evening Bible Studies.  He directs the Johnson Memorial Bible Institute, where he is also an instructor. He is an adjunct instructor for Mid-America Christian University. At St. James Baptist Church in Spencer, Oklahoma, Dr. Kirk answered his call to the ministry and preached his first sermon in 1979. He was licensed and ordained by Pastor W. B. Parker, and eventually worked as full-time assistant to Rev. Parker, beginning in 1991. At St. James, he enthusiastically served as a Sunday School teacher, evangelism leader, prison fellowship facilitator, and men's and marriage ministries leader. He earned an undergraduate degree from Oklahoma Baptist University in 1988. In 2002, he graduated from Southwest Baptist Theological Seminary in Ft. Worth, Texas with a Masters of Divinity degree. On December 8, 2017, he received his Doctorate of Ministry degree from Midwestern Baptist Theological Seminary in Kansas City, Missouri. Dr. Kirk maintains a busy schedule facilitating leadership and teacher training conferences, marriage enrichment seminars, and speaking engagements throughout Oklahoma. His counseling sessions are Bible-centered and tackle the most common problems facing families in order to provide them with sound practical advice. His objective is to glorify God through his personal life and family, to serve the local and extended church, and to witness to the world about Jesus Christ as Lord and Savior. He married the former Beverly Huggins after their high school and college courtship; they have been married for 45 years. They have three adult children: Lawry Shabazz (Kornell), Kandaace Kirk, and Anthony Kirk (Shareese). They are blessed with six grandchildren. Rev. Kirk is a member of the Alpha Phi Alpha Fraternity and the National Center for Fathering.
Pam Malloy
Pam Malloy, MN, RN, FPCN, FAAN is an oncology clinical nurse specialist with over 45 years of experience in clinical oncology nursing, staff development, education, program development, and administration.  Ms. Malloy is currently the national Director and Co-Investigator of the End-of-Life Nursing Education Consortium (ELNEC) Project and Special Advisor on Global Initiatives at the American Association of Colleges of Nursing (AACN) in Washington, DC. She serves as faculty for all the national ELNEC courses and has presented ELNEC in 12 international countries. In addition, she has developed palliative care nursing leadership curricula, taught, and mentored current and future nursing and physician leaders throughout Eastern Europe, Kenya, and Asia. Ms. Malloy directed the California Endowment project for AACN on developing cultural competencies for undergraduate and graduate nursing students.  In addition, she collaborated with the US Department of Veterans Affairs to develop the ELNEC-For Veterans curriculum, which was presented to over 500 nurses, representing every VA hospital across the nation. Ms. Malloy serves on the Board of Directors of Living Room International—which provides hospice/palliative care services in Kipkaren, Kenya. She has also served on the Board of Directors for the Leukemia, Lymphoma Society/Washington, DC Chapter and the Hospice and Palliative Nurses Foundation (HPNF). Ms. Malloy is a Florence Wald Fellow, a Fellow in Palliative Care Nursing (FPCN), and the American Academy of Nursing (FAAN).  She has written and had published numerous articles in peer-reviewed journals, has written chapters for various textbooks, and currently consults on two palliative care grants.  She was recently presented with a Lifetime Achievement Award from the MD Anderson Cancer Center.  Ms. Malloy is a graduate of Oklahoma Baptist University and the University of California, Los Angeles (UCLA).
Linda Merkey
Linda Merkey is a seasoned nurse executive who has recently retired from her position as the System Chief Nursing Officer for INTEGRIS  Health.  Prior to being appointed to this role,  Ms. Merkey served as the Vice President for Patient Care Services and CNO for INTEGRIS Baptist Medical Center. For ten years under Linda's leadership, INTEGRIS Baptist achieved the ANCC's highly coveted Magnet designation, the ONA's "Excellence in the Workplace Environment Award" and Oklahoma's "Great Places to Work" recognition. As a tenured member of the Oklahoma Organization of Nurse Executives, Ms. Merkey has held the positions of Secretary, President Elect and President. She was recently recognized by Oklahoma Baptist University with the Alumni of Distinction award. After graduating from OBU, Ms. Merkey received her MBA from Oklahoma City University.  She is married to Dr. Michael Merkey, a practicing Neurologist, and has one daughter, Madalyn.  She is currently working as an independent nurse executive consultant, assisting healthcare organizations achieve nursing excellence.
Robert Morris
Robert Morris is an entrepreneur and business owner whom is passionate about being a high impact Christ follower in the global marketplace. His 25-year business career has included corporate roles in Project Management, Sales, Business Development and Executive Administration as well as time spent in small business ownership.  Mr. Morris is passionate about being a leader worth following through exhibiting and living as a Servant Leader.  A significant part of his career includes time in various parts of the Energy segment including with companies such as Tower Tech, Inc., Braden Manufacturing & Global Power Equipment Group, and T.D. Williamson, Inc.  He's had experience working in Mexico, S.E. Asia, China, India, Australia, Europe, Russia, the Middle East and has lived abroad as an expat in Russia (1 year) and Singapore (5 years).  Mr. Morris leveraged his international business experience along with his business partner and started Energy Bridge Partners, LLC (EBP).  EBP seeks to connect companies primarily in the Energy Segment that are looking for international partners, new technology or entrances into new markets.  He and his wife Traci are owners of two Home Instead Senior Care franchises in the OKC metro area that provide non-medical, private-duty Senior-Care services to clients and their families.  He also is an equity partner in the Flying J Ranch & Hunt Club near Grand Lake in NE Oklahoma. Mr. Morris is a 1993 graduate of Oklahoma Baptist University with a B.S. in Management and obtained his MBA from the University of Oklahoma with an emphasis in International Business in 2000.  He also completed the Advanced Management Program for Oil/Gas Executives at Thunderbird in December 2012. Mr. Morris currently serves on the boards of the Christian Ministry "Spring Valley Ranch," The Oklahoma Partnership for HomeCare, on the advisory board of OBU's School of Nursing in addition to serving as a trustee member for Oklahoma Baptist University. Mr. Morris and his wife have an 18 year old daughter (Carington) and 11 year old son (Brady).  They are active members of FBC Tulsa where he serves as a Deacon and a youth worker. Mr. Morris and family reside in Bixby, OK.
Kim Swyden
Kim Swyden is currently the Executive Director of the Ministries of Jesus, a 501c3 charitable ministry healing spirit, soul, and body and located in Edmond, Oklahoma. Prior to joining Ministries of Jesus he was the Executive Pastor at Henderson Hills Baptist Church. He has been a resident of Edmond, OK since 1990. Prior to joining Henderson Hills in 2002, Kim spent 27 year in the oil and gas business, serving in several positions with companies, including his own consulting business. He attended the University of Oklahoma and graduated with a BBA in 1972. Immediately after college he spent time in the United States armed forces, before transferring to the army reserve where he served until 1979. Mr. Swyden currently serves on the board of Integris Health Edmond, Christ Community Health Coalition, he is vice Chair of the Oklahoma Charitable Clinics Association, and consults with non-profits on board governance. He is married to Julane Swyden, she is a marriage and family therapist practicing the Director of Counseling for the Ministries of Jesus. They have three daughters and three grandchildren and two great grandchildren all of whom live in the Oklahoma City area.
Jerod Waters
Jerod Waters (MSN, RN) is currently serving as the Chief Nursing Officer with First Physicians Capital Group. Previously, he was the Executive Officer of Nursing Chickasaw Nation Department of Health, the director of Critical Care Services Valley View Regional Hospital, and the Chief Flight Nurse of EagleMed Air Medical Transport. He is the father of 2 beautiful daughters and is married to Mandy Waters, APRN, Nurse Practitioner. He currently lives in Ada, Oklahoma.  Mr. Waters received his Masters of Science in Nursing (Nursing Administration) from Liberty University, his BS in Biology / Exercise Science from East Central University and Murray State College in Tishomingo, OK.