OBU Theatre to Present New Works Festival Sept. 12
September 5, 2014
OBU students will showcase their creative talents at the New Works Festival Friday, Sept. 12, beginning at 7:30 p.m. The event will feature short plays written and directed by OBU students. The one-night-only show will take place in the Black Box Theatre located in Sarkeys Telecommunications Center. The price for admission is $5 for adults and $3 for students. Tickets will be available at the door. The community is invited to attend. This production is most appropriate for those ages 12 and up.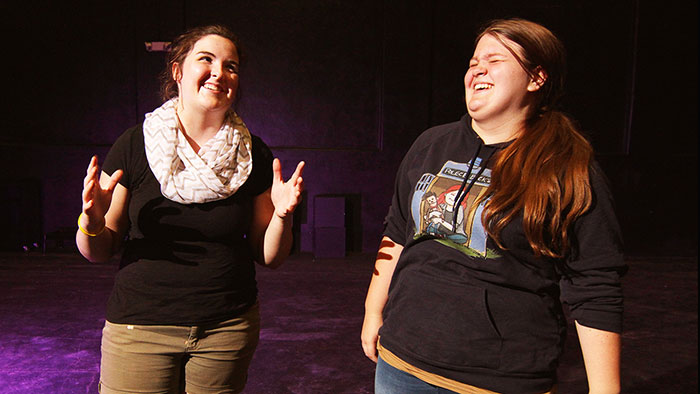 OBU students Rachel Lowe (left) and Emily Underberg (right) rehearse a scene from Samantha King's script "The Park Bench Play."
College Players, an OBU organization which exists to promote an interest in theatre, will present five original short plays. These plays are presented in "workshop" format, which means attention is placed on the audience hearing the written word rather than upon viewing spectacle. At the end of each play, the audience will have the opportunity to share feedback and ask questions of the student playwright.
The plays will consist of "The Last Goodbye," written by Julie Studstill, a senior from Arlington, Texas, and directed by Conner Gilbert, a sophomore from Shawnee, Oklahoma; "Teach Your Children Well," written by Bethany McWilliams, a senior from Shawnee, Oklahoma, and directed by Nina Longhofer, a sophomore from Wichita, Kansas; "The Park Bench Play," written by Samantha King, a sophomore from Burleson, Texas, and directed by Trevor Rodman, a junior from Tulsa, Oklahoma; "An Adventure to Remember," written by Stephen Kerr, a senior from Moore, Oklahoma, and directed by McWilliams; and "What It's Worth," written by Cherish Parker, a sophomore from Tahlequah, Oklahoma, and directed by Taylor Lasseigne, a sophomore from Frisco, Texas.
OBU Theatre students, such as King, are excited for the opportunity to share their works. "When I found out my show had been picked for the festival I was practically jumping out of my seat for a week straight," she said. "There's just this indescribable feeling you get when words you wrote are brought to life, and even more so when there are people who want to hear them."
For McWilliams, directing Kerr's play presented a challenge. "My play has a child in it, and I was very nervous going into auditions because I knew I had to take a college student and help them portray a child on stage…and for it to be believable," she said.
The New Works Festival will kick off the 2014-15 OBU Theatre season titled, "A Season of Fragile Innocence." The remaining productions include "Much Ado About Nothing" by William Shakespeare, Nov. 6-15; "Radium Girls" by DW Gregory, March 27-29; and "The Glass Menagerie" by Tennessee Williams, April 30-May 3.
Season tickets for all four productions are available to adults for $27 and $12 for students. Learn more about this season's productions.