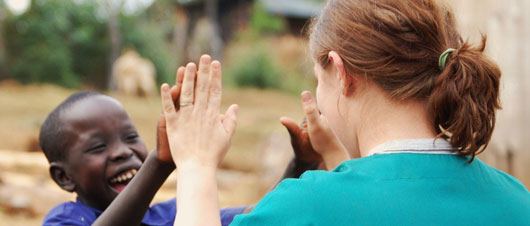 Global Outreach Trip Opportunities
Apply by October 21 for Spring Break and Summer 2022 trips. Priority will be given to early applicants. All dates are flexible and subject to change.
Spring Break 2022
Colombia*
Team of 6-8 students. March 12-20. 
This team will be serveing with our field partners, the local church and ministry providers to share the gospel with young people and their families through VBS, construction-type projects, soup kitchen and other outreach opportunities around Bogota. Spanish speakers will be extremely helpful. 
Ecuador
Team of 6-12 students. Mid-June - Mid-July. 
Spend a week working in Quito, the beautiful capital of Ecuador.  Our time will be divided between a local soup kitchen, a micro-business program for the local street vendors, and possibly a school or orphanage. We will also engage with college students on their campuses. Various projects could include feeding programs, children/teen programs and/or service projects.  Spanish speakers will be extremely helpful. 
New York City
Team of 12-25 students. March 12-20.
Develop a vision for reaching the nations by making a global impact through urban gateways. NYC is the most ethnically diverse city in the world. Students will work with the Let My People Go Experience, which allows students to fight for those most vulnerable to human trafficking. There will be several focus areas in which students can choose to participate, including at-risk youth, the homeless, and more. 
Summer 2022
Canada
Team of 2-4 students. 
Join our partners in Canada as they seek to reach individuals from multiple key unreached people groups and disciple them. Teams will help with on-the-ground research, evangelism, disciple-making, serving house church fellowships, ESL outreach clubs, coffeehouse meetings, campus outreach at different colleges/universities, and interfaith dialogues. Some activities could include winter sports and winter park ministry. 
Egypt
Team of 6-12 students. Mid-June – Mid-July. 
The GO team will work with the ministry called WellSpring in Cairo, Egypt. The team of students will help  WellSpring conduct several weeks of overnight and day camps for children ages 4-15. The camps are designed to encourage campers to explore their talents, acquire new skills, and to be exposed to Christian influence. Camp activities will include options for using GO team talents. These talents could include art, music, sports, or drama. The trip will also include cultural experiences by visiting places such as the Egyptian pyramids, Cairo Museum, Cairo Citadel, old churches, and a boat tour on the Nile.   
England
: Leicester
Team of 4 students. May 20 – June 20.
Assist local workers to reach out to the many different people groups living in the community. Students will utilize their gifts, talents, and passions to connect with people in the community and assist the local workers in planting gospel-centered communities which meet weekly, live life together, and exist for those who don't know Jesus. The team will also assist a local church's university ministry team engaging with university students based in Leicester and possibly a nearby city that also has a university. Participants must be willing to openly share their faith. 
England
: Leeds
Team of 4-6 students. May 20 – June 20.
Work alongside local ministry partners engaging in prayer walking, mapping, EV – park engagement, festivals, church outreach events – and larger projects including neighborhood clean-up after university students disembark. You will also learn from locals – how does university ministry work, different styles of church, church planting ideas, EV, and Bible study techniques, and Chaplaincy Campus Engagement. Participants must be willing to openly share their faith. 
Ethiopia
Team of 4-6 students. May – June.
This team will come alongside those serving in ministry to orphans as well as children and teenagers who live on the street. Students will minister both to the children living in transitional facilities and those living in foster care in their community.  We will come alongside the local church to provide help and training to foster families.  In addition, we will seek to encourage and strengthen local families in vulnerable situations. 
Greece
Team of 8-12 students. June – July.
As tens of thousands seek a new future in Europe, will you give some time to bring hope and healing to transient, vulnerable refugees? Work in refugee camps either on the island of Lesvos or in Athens. Both locations offer opportunities to serve in a variety of capacities including refugee care, feeding programs, and a women's center. Students with a range of giftedness and experience are needed on this team.  
Israel*
 Team of 15 students. August 3-13.
Travel to Nazareth to help with Potter's Wheel Camp at Nazareth Baptist School. This team will begin their journey in Jerusalem and travel to Nazareth, participating in sightseeing and educational excursions for the first part of the trip. Upon arrival in Nazareth, the team will be engaged in conducting an EV-centered VBS/day camp for students at the school. Apart from the GO Trip, summer internships are also available with this organization, so contact the GO Center if you are interested in learning more! 
Kazakhstan
Team of 4-6 students. May-June.
Take part in the International Servant Leadership Exchange Experience hosted by Kazakh-American Free University with the goal of developing servant leadership potential in students through community-building activities, serving opportunities, exposure to practical examples of leadership, and reflection and discussion on activities in a cross-cultural environment. You will visit local corporations, small businesses, non-profit organizations and other institutions; participate in team activities and discussions; implement service projects; and spend a weekend with a local host family and participate in events together. This team will also partner with KAFU students to host an English Youth Camp for high school students while mentoring them in servant leadership principles.
Mexico
Team of 4-6 students.
Make an impact in young people's lives this January by serving in Mérida, Yucatán, Mexico! Students will serve alongside elementary school teachers at a local Christian school and mentor youth at a high school. Students will also participate in relational evangelism and minister in rural Mayan villages to children and youth. With 85% of Yucatan professing to be Catholic, come spread the truth of Jesus and encourage local believers in one of the most beautiful and culturally rich cities of Mexico. 
Nepal*
Team of 4 students. May 20 – June 20.
This team's primary focus is reaching Himalayan Buddhist People. Team members must be extremely fit, relational, self-motivated, EV and prayer-minded, and able to share the truth and disciple those who already know. Trekking to remote villages may be a part of this trip and therefore applicants MUST be extremely physically fit or willing to get extremely fit to participate in this trip. 
North Africa
Team of 4-6 students. May 20 – June 20. 
Students will assist local workers in building new relationships and deepening existing relationships with a difficult-to-engage population, particularly among the younger generations. This trip will focus more on 'living life' with people than doing specific ministry activities; however, the trip will likely include vast amounts of prayer and teaching English. Learning about Muslim culture and sharing about our culture will be a huge platform for building relationships. If the team has people with some sort of sports background, that might also be used as a platform for ministry.   
Portland
Team of 2-4 students. Mid-June – Early-August.
Have you ever asked, "How can I integrate the gospel mission into all of my life?" Or, "What am I going to do after I graduate"? Or, "How can I live as an everyday missionary in my professional career and calling after school?"  If you are ready to find the answer to those questions, this is the experience for you and your friends. You'll be guided in taking leadership of your life, calling, and mission in a post-Christian world! This Spring Break Intensive or Summer Immersive project will train you to see your life, relationships, work and gospel mission as an integrated whole. You will embed with micro-churches (in homes and storefronts) to learn the rhythms of everyday mission. Your time will be spent in practicums across where you live, work, play and learn through nearly daily discipleship. You will receive accredited coaching on your vocational clarity and personal marketing strategy to enter the marketplace. Mentors in entrepreneurship, music, UX design, digital art, human resources, hospitality, and bi-vocational church planting are available. You can explore whether this is the right next step for you by participating in a virtual practicum for 4 weeks on Zoom.     
Uganda
Team of 4-8 students. May 22 – June 18.
This team will work with refugees from other African nations living in refugee camps in Uganda. This team will perform a variety of tasks. Because of the nature of the work, we have been asked to be very selective in who we place on this team. Team members need to be mature in their faith as well as mature emotionally. Team members need to have a servant's heart and a teachable spirit.  
*At this time, a COVID vaccine will be necessary to participate on this trip.