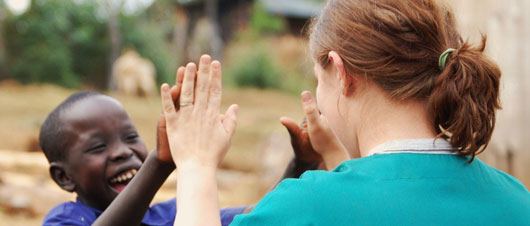 Global Outreach Trip Opportunities
Apply by October 22 for Spring Break and Summer 2021 trips. Priority will be given to early applicants. All dates are flexible and subject to change.
Spring Break 2021
Ecuador
March 13-21
Spend a week working in Quito, the beautiful capital of Ecuador.  Our time will be divided between local churches, an after-school program and possibly a school or orphanage. We will also engage with college students on their campuses. Vvarious projects could include feeding programs, children/teen programs and/or service projects.  Spanish speakers will be extremely helpful. 
Idaho
March 13-21
We have been invited to work in Idaho on the campuses of Boise State University & College of Western Idaho. During the week of Spring Break you will have the opportunity to work with a local college ministry team to facilitate campus outreach including surveying, service projects, luncheons, club night, etc. 
New York City
March 13-21
Develop a vision for reaching the nations by making a global impact through urban gateways. NYC is one of the most ethnically diverse city in the world. Students will work with the Let My People Go Experience, which allows students to fight for those most vulnerable to human trafficking. There will be several focus areas in which students can choose to participate, including at-risk youth, the homeless and more. 
Oklahoma
March 15-21
Bertram Bobb Bible Camp was founded in 1971 by Bertram E. Bobb, a longtime respected leader in the Choctaw Nation of Oklahoma. The camp is located in southeastern Oklahoma on Pine Creek Lake. The camp serves youth from the southeastern area of the state by blending a fun camp experience with Christ-centered worship and activities. Students desiring to join this team will engage with youth in grades 7 through 12. Activities include sports (paintball, basketball, disc golf, etc.), arts and crafts and worship services. We will need students to lead as camp counselors and worship leaders including preaching, singing and playing instruments. 
Peru
March 13-21
We will be serving with local pastors to spread the good news among the Peruvian people. We will be in the local city of Trujillo working at a public school doing skits, giving testimonies, and inviting them to a "VBS" style kids ministry. The community of Peru is very strong so we will spend most of our time building relationships with children and their parents and inviting everyone to a nightly evangelical service held in conjunction with local field workers. This is such a great opportunity to see the work of God and all that He can do through you. It is also a great opportunity to be engaged with a different culture by spreading Jesus' name to all the nations!
Summer 2021
Colombia
Team of 6-8 students. July/August.
Venezuelans are being dispersed through Latin America because of the devastation in their country. You can be part of meeting physical needs and sharing the gospel with hurting, desperate people. A mission opportunity exists close to the northern border with Venezuela in the city of Rio Hacha, about 40 miles from Venezuela and on the northern corridor for immigrants into Colombia. You will get involved with teaching and activities for the children on a daily basis.  This allows the parents to work or look for work. There are also ministry opportunities with the parents of the children.   
Ecuador
Team of 8-10 students. June/July.
Ecuador is a warm, welcoming, and colorful culture that will embrace you fully. We'll begin in Quito, the beautiful capital of Ecuador.  Our time there will be divided between a local church, an after school program and possibly a school or orphanage. Activities include painting murals, crafts, games, stories, teaching, and skits. We will also help a local ministry with various projects which could include feeding programs, children's programs and/or service projects.  Our last week could include working in the Jungle region or on the coast. We will use some photography as a means to reach out, so if you enjoy photography, you should sign up for this trip! Spanish speakers will be extremely helpful. 
Egypt
Team of 8-12 students. June/July.
The GO team will work with the ministry called WellSpring in Cairo, Egypt. The team of students will help support WellSpring conduct two weeks of overnight camps for children ages 4-12. The camps are designed to encourage campers to explore their talents, acquire new skills, and to hear the Gospel.  The camp activities will be designed based on the GO team talents. These talents could include art, music, sports or drama. The trip will also include a cultural experience by visiting places such as the Egyptian pyramids, Cairo Museum, Cairo Citadel, old churches and boat tour on the Nile.   
Ethiopia
Team of 4-6 students. May/June.
This team will come alongside those serving in ministry to orphans as well as children and teenagers who live on the street. Students will minister both to the children living in transitional facilities and those living in foster care in their community.  We will come alongside the local church to provide help and training to foster families.  In addition, we will seek to encourage and strengthen local families in vulnerable situations. 
Great Britain
Team of 4-6 students. May/June.
Assist local workers to reach out to the many different people groups living in a community just outside of London. Students will utilize their gifts, talents and passions to connect with people in the community and assist the local workers in planting gospel-centered communities which meet weekly, live life together and exist for those who don't know Jesus. This will include hosting social events for gospel purposes, finding creative ways to serve the community, drinking lots and lots of coffee and tea with people and praying for the Spirit to move!  
Greece
Team of 8-12 students. July.
As tens of thousands seek a new future in Europe, will you give some time to bring hope and healing to transient, vulnerable refugees? Work either on the island of Lesvos in a refugee camp or in Athens. Both locations offer opportunities to servee in a variety of capacities including refugee care, feeding programs and a women's center. Students with a range of giftedness and experience are needed on this team.  
Israel
Team of 12-15 students. August.
Travel to Nazareth to help with Potter's Wheel Camp at Nazareth Baptist School. This team will begin their journey in Jerusalem and travel to Nazareth, participating in sightseeing and educational excursions for the first part of the trip. Upon arrival in Nazareth, the team will be engaged in conducting an EV-centered VBS/day camp for students at the school. Apart from the GO Trip, summer internships are also available with this organization, so contact the GO Center if you are interested in learning more!  
Nepal
Team of 4 students. May/June.
Various opportunities for students including English teaching, sports camps, sharing in the local context, etc. There will also be the possibility to trek to local villages. Check back soon for more information. 
New Mexico
Team of 5-15 students. July.
This opportunity will give you experience working at a children's school. You will be able to engage in service projects in the community while building relationships with the children. Children's activities, Youth Camp, a Basketball Camp and more are just some of the ways you will serve this Native American community. 
Portland (GenSend)
Team of 2-4 students. June-August.
Woodstock Community Church is a new church in the Woodstock Neighborhood of Portland, Oregon.  Starting Summer 2021, we are launching a Summer Missionary Program where we invite young adults (ages 19-25) to serve alongside us from June 21 to Aug. 6 as we work to advance the Kingdom of God.  These summer missionaries will have the opportunity to gain some hands-on experience in exploring what day-to-day church planting looks like in the Pacific Northwest, how different types of ministries operate within church plants (including pastoral ministry, children's ministry, women's ministry and church administration) and actively spread the Gospel and the love of God into the community of Portland, Oregon.      
Russia
Team of 8 students. July.
Volunteer at an ESL camp in Ufa, Russia! You will be able to meet with students in small groups to converse and improve their language skills in the mornings. There will be great relationship-building and truth-sharing opportunities during the morning sessions, as well as using sports ministry in the afternoons by participating in activities with the kids such as mini-golf, volleyball, swimming, soccer, etc. This trip will include a couple of days in Moscow for sightseeing.   
Thailand
Team of 4-6 students. May.
This trip will be a unique mix of learning, cultural experience and ministry outreach. During the first four weeks of our time in Chiang Mai, you will be engaged in completing the Certificate in English Language Teaching to Adults (CELTA), an internationally-recognized certificate which allows you to teach English as a second or foreign language. Weekdays will be filled with study and hands-on practice in language teaching. Evenings will consist of completing homework assignments and debriefing with the team mentor. On the weekends we will get to know Thai culture through excursions, local activities and cooking lessons. Having successfully completed your certificate, you will then participate in two weeks of ministry and outreach at one or several local ministries. 
Uganda
Team of 6-8 students. May.
This team will work with refugees from other African nations living in refugee camps in Uganda. This team will perform a variety of tasks. Because of the nature of the work, we have been asked to be very selective in who we place on this team. Team members need to be mature in their faith as well as mature emotionally. Team members need to have a servant's heart and a teachable spirit.