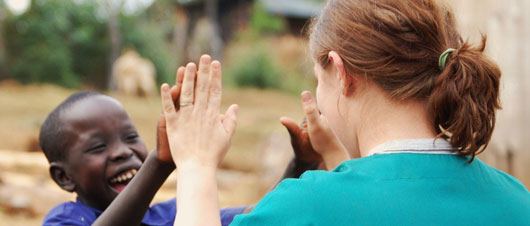 Global Outreach Trip Opportunities
Apply by March 26 for J-Term 2021 trips. Priority will be given to early applicants. All dates are flexible and subject to change.
J-Term 2021
Amazon: Brazil
January 6-24, Team of 8-10 students.
Students will spend one week trekking through the Amazon rainforest, and will have opportunities to form relationships with the people, share truth through storying, and demonstrate the love of Jesus. The next week will be spent in an urban area partnering with local believers who are reaching out to disadvantaged communities within the city. This is a very physically demanding trip with the potential of being far removed from modern society (i.e. hospitals, electricity, clean water), but it is one of the most rewarding trips you can ever experience!
East Asia: Cool Mountain People
January 2-22, Team of 4-5 students.
Students will come alongside church planters to further the ministry among an unreached people group. We will use passions, gifts, knowledge, and abilities brought by the team to strategically plug in to the work God is doing among these incredibly hospitable and accepting people. Some standard activities include Bible storying and other forms of EV, hiking out to spend a few days at a time in remote villages, and eating interesting food! This trip may be particularly appealing to students interested in art and/or backpacking, due to the remoteness of the villages and the beauty of the landscape. We especially need females on this team, in order to build relationships with women and children in the communities.
Greece
January 2-21, Team of 8-10 students.
As tens of thousands seek a new future in Europe, will you give some time to bring hope and healing to transient, vulnerable refugees? Work on the island of Lesvos in a refgee camp serving in a variety of capacities including refugee care, feeding programs, and a women's center. Students with a range of giftedness and experience are needed on this team.
Hawaii
January 3-18, Team of 6-8 students.
Activities include: welcoming arriving international students, participating in island tour activities with internationals, befriending students and being a Christian witness, and cleaning and maintenance of the International Baptist Centre. Participants will also have opportunities to increase their cross-cultural ministry experience, participate in a cultural awareness seminar, visit a Mormon Temple and other religious sites, eat food from different countries, and interview international students.
Kenya
January 3-21, Team of 4-7 students.
This team was designed for Nursing majors. Team members will have the opportunity to work in a patient facility, a children's home, and in-home care. Opportunities to serve in the various departments include: clinical, caregiving, cleaning, and kitchen, among others. This trip will include a hospice aspect. All volunteers will be encouraged to participate in home visits with the Tumaini na Afya (meaning "hope and health" in Swahili) outreach team. Visiting the sick and/or orphans and vulnerable children in their homes will be a life-transforming experience. The Kenyan culture is very relational and much time may be spent sitting in a hut, drinking chai, sharing life, and praying together. All applicants must be upper-classmen and be approved by the team mentor, Professor Smith.
Mexico
January 3-21, Team of 6-8 students.
Make an impact in young people's lives this January by serving in Mérida, Yucatán, Mexico! Students will serve alongside elementary school teachers at a local Christian school and mentor youth at a high school. Students will also participate in relational evangelism and minister in rural Mayan villages to children and youth. A weekend medical clinic will take place, so nursing & HHP majors are encouraged to apply! With 85% of Yucatan professing to be Catholic, come spread the truth of Jesus and encourage local believers in one of the most beautiful and culturally rich cities of Mexico.
Montenegro
January 3-23, Team of 4-8 students.
Students will have the opportunity to engage a lost culture by displaying the love of Christ. Students will work alongside those already doing ministry in many different capacities including prayer walking, one-on-one conversations, and service projects. Some projects involving hiking may be on the agenda as well. If you enjoy making new friends, and consider yourself an adventurous person, consider coming to Eastern Europe this J-Term.
North Africa
January 2-23, Team of 4-6 students.
Students will assist local workers in building new relationships and deepening existing relationships with a difficult-to-engage population, particularly among the younger generations. This trip will focus more on 'living life' with people than doing specific ministry activities; however, the trip will likely include vast amounts of prayer and teaching English. Learning about Muslim culture and sharing about our culture will be a huge platform for building relationships. If the team has people with some sort of sports background, that might also be used as a platform for ministry.
Panama
January 2-23, Team of 8-10 students.
This team will travel to El Valle, Panama to invest in a local church and community. Students should be prepared to facilitate a VBS, as well as other various activities for kids. The team will work on projects at the church. Students will serve in schools, community centers, construction and share the Gospel through door-to-door EV and the relationships they form with members of the community.
Uganda
January 2-26, Team of 6-8 students.
This team will work with refugees from other African nations living in refugee camps in Uganda. This team will perform a variety of tasks. Because of the nature of the work, we have been asked to be very selective in who we place on this team. Team members need to be mature in their faith as well as mature emotionally. Team members need to have a servant's heart and a teachable spirit.