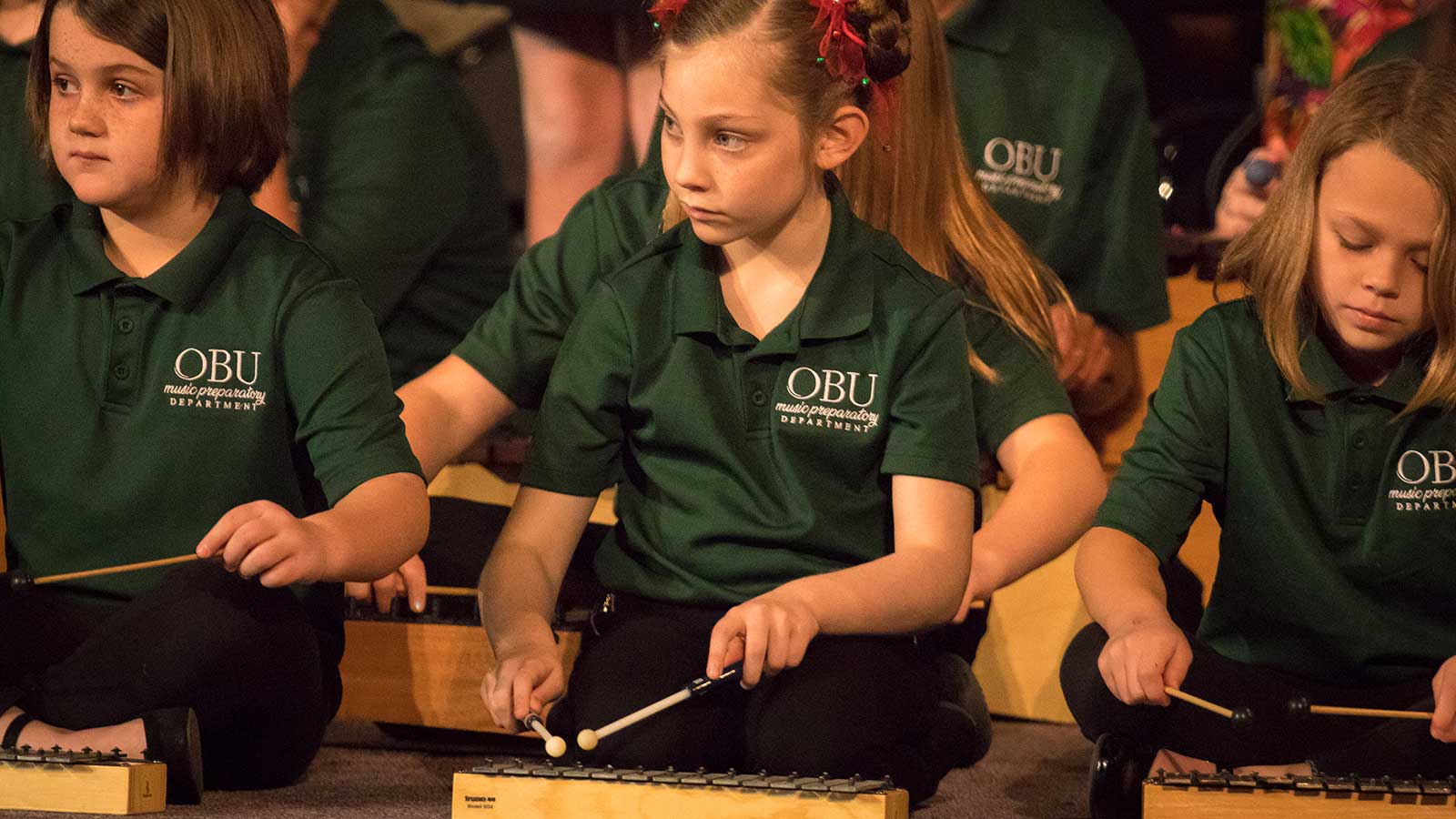 The OBU Music Preparatory Department currently offers private lessons and choirs.
Private Lessons
Private lessons are offered during the fall, spring, and summer sessions in the following areas:
piano
voice
strings
winds
brass
percussion
Private lessons are offered in 30-minute, 45-minute, or 60-minute increments. Fall and spring sessions include 14 private lessons plus a performance opportunity. Summer session includes 6 private lessons plus a performance opportunity. Please click on the side bar for more information about pricing, scheduling, and enrolling in lessons.
You can also view detailed information about our outstanding faculty for private lessons.
Private lessons are scheduled on a day and time that works for you and your instructor and are taught on the OBU campus.
Note: Some instruments may not be offered in all sessions, depending on teacher availability. Please call 405.585.4300 for the most current information.
Choirs
Shawnee Honor Choir is under the expert direction of OBU alumna, Brittni Bilyeu. This choir is by audition only and accepts students in grades 3 through 7 (ages 8-13). This choir meets once a week on Tuesdays 4:30-6:00 p.m. during the fall and spring semesters and includes at least one on-campus performance opportunity plus additional offsite performances. The Shawnee Honor Choir requires an audition for entry on the dates listed on our calendar. Auditions are by reservation only. Call 405.585.4300 or email prep@okbu.edu to reserve your audition slot. Cost is $100 for the semester (uniform cost not included). Monthly tuition payments available. 
Concert Choir, our most advanced choral ensemble, is by audition only and is for students in grades 8 through 12 (ages 13-18). This choir studies and performs a wide variety of classical, gospel, folk, and other standard repertoire at a high level while providing outstanding instruction for both male and female voice types. The semester includes at least one performance on the choir recital at the end of each semester and 14 weekly rehearsals on Thursdays from 5:00 to 6:30 p.m. Cost is $100 for the semester (uniform cost not included). Monthly payments available. For more information or to schedule an audition please contact us at prep@okbu.edu or 405.585.4300.