The Value of an In-Person Campus Visit
If you're a high school junior or senior, you're most likely in the middle of the infamous "college decision process." This can be a stressful time for students, but it's also one that will lead to the next, and perhaps greatest, chapter of your life. 
You've answered what seems to be endless ACT and SAT practice questions (not to mention Saturday mornings putting that practice to real use), you've written and edited college essays, met with your high school advisors and have updated your resume. Maybe you've even applied to several schools, received acceptance and rejection letters and started to narrow down your choices. 
What's next in the process? The campus visit. Stepping foot on your future campus could be the final decision maker. Luckily for you, Oklahoma Baptist University offers multiple options for students wanting to visit our Shawnee campus in person.
Benefits of Going on a Campus Tour 
The in-person campus visit can be a "make-it-or-break-it" experience for students. That puts a lot of pressure on campus tour guides, faculty, staff and the entire student body. However, most schools, including OBU, have an organization of passionate students who want to share their experiences and knowledge with future students and their families, to foster the legacy of their beloved university. Before you enroll as an OBU Bison, we recommend visiting our Shawnee campus to get an inside look at all we have to offer. Below is a glimpse of the benefits an in-person campus visit can provide.
Meet Real Students
When you have the opportunity to engage with real students in their own environment, you are able to look around, reflect and ask questions like, "Do I see myself fitting in with the students around me?" or "Do I feel comfortable walking around campus?" This first-hand experience is only one reason why so many people choose to attend an in-person campus visit. 
Kalyne Henrichsen, class of 2020, recounts her campus visits and attributes the welcoming atmosphere to her final decision to attend OBU.
"One of the main reasons why I chose OBU was because every time I visited, students would go out of their way to introduce themselves," she says. "I had random students come up to me to show me where buildings were on campus or to invite me to hang with them."
Visiting a college campus allows you to be physically present in your potential new home. It's also a great way to visualize your new life and meet some of the people you could one day call friends.

Ask Meaningful Questions
As you get to meet current students, whether it's your tour guide, the guy standing next to you at lunch or a group of people walking to the library, there is an open window for asking questions. It can seem intimidating to talk to upperclassmen, but they were once in your shoes and had the same looming idea of what college really is. They can provide some great tips for your first year on campus. 
There are only so many questions, answers and quick facts that websites and brochures can publish. Chances are your campus tour guide will cover any question you have and more. However, asking current students personal questions could provide an answer to everything you might be curious about. You could ask about the food, if they like to eat out or in the dining halls, if they have a car on campus or what clubs they're involved in. It just starts with a simple hello. 
Get a Feel for the University
At a campus visit, you have the opportunity to sort through those quick facts and dive on into the history of the school, learn about the influencers on campus and catch a glimpse of the many traditions unique to each college. 
At OBU, you can certainly read all about our traditions, but when you visit our campus, you are immersed in the excitement and appreciation that comes from our rich heritage. You can visit Raley Chapel and stand on the steps that mark the end of "The Walk" you'll take both as a freshman during Welcome Week and also as a final goodbye to the OBU Campus on your graduation day. Plus, you can head on over to the campus bookstore and pick up your first green and gold merchandise.

What If I Can't Visit Campus?
The college of your choice may be far away, and the cost and time of travel may make an in-person visit impossible for you. Don't worry; many schools have created virtual tours for you and your family to experience wherever you're located. OBU even offers tours and admissions visits via Skype or FaceTime for those not able to make it to Bison Hill in person.
Information is always readily available online, but the "feel" of a school is truly found on campus, where you can capture the spirit and culture as a whole. While you may not be getting a first-hand experience, you can still receive knowledgeable facts and great visuals pertaining to your future major and student life. 
When is the Best and Worst Time to Visit Campus?
Honestly, yes, there are bad and good times to visit college campuses. Schools will offer a full calendar of weekly tours and visits, so choose what works best with you and your family's schedule. However, keep these thoughts in mind.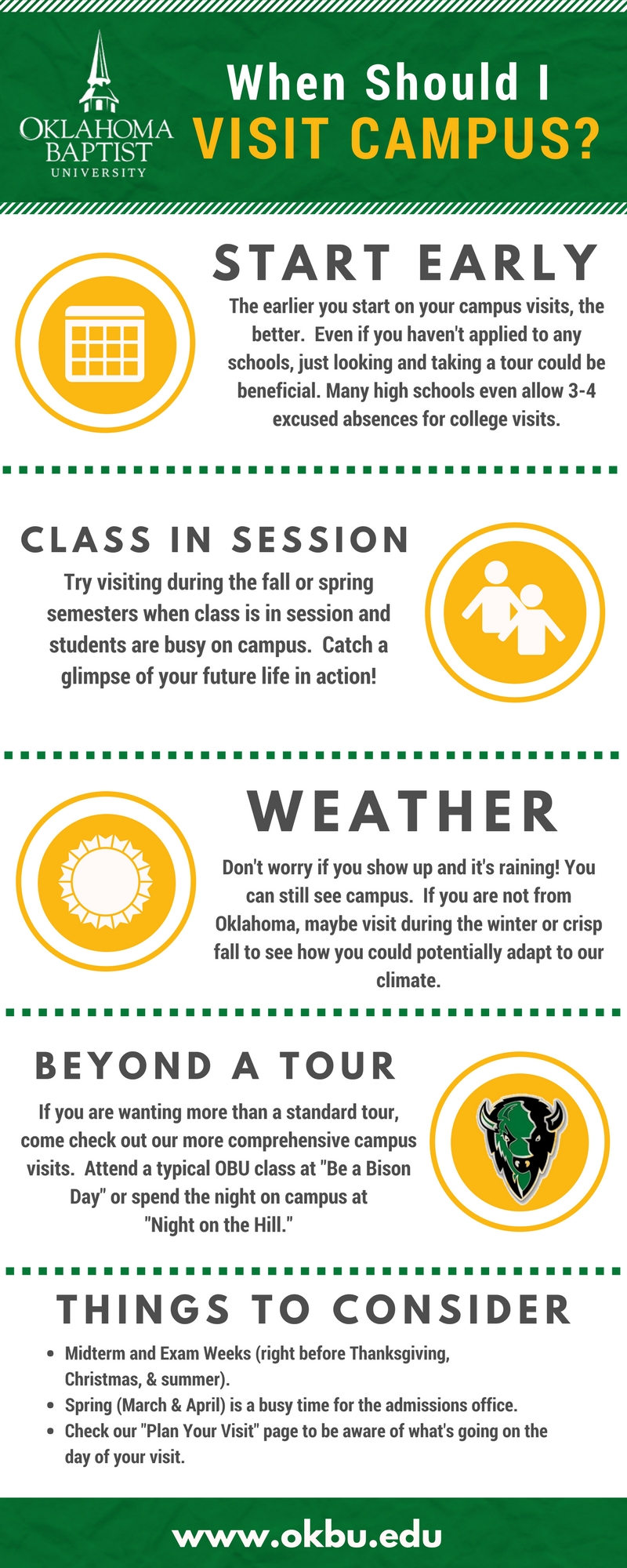 Making the Most of Your Campus Visit
Being fully present on a campus visit will go a long way and help you truly reap the benefits of experiencing campus life in person. Even if your visit solidifies that you aren't interested in a particular school, you'll come out of it knowing things you want and things you clearly don't want in your future university. Whatever the outcome, there is always an opportunity for the visit to be worthwhile. Here is a list of things we think can be helpful for you and your family to make the most of your OBU campus visit:
Ask questions and really listen to the answers.
Listen to others' questions that you may not have thought to ask.
Talk to the people in your tour group and get to know them.
Walk through a building and look at a classroom or other campus facilities.
Take any brochure that interests you.
Eat lunch on campus.
Talk to current students and ask for their opinions.
Find Your Place at OBU
Maybe you're in the middle of your college decision process and can't seem to narrow your choices down, or maybe you haven't even started, because you just don't know what you want in a school. Nonetheless, take some time to travel to a college you're interested in, go on a tour, engage with real students, learn about potential majors and see the campus culture. That way, you can imagine yourself in your potential future home.
Learn more about the options available for visiting us on campus, and start your journey toward finding your place at OBU.