OBU College of Nursing Provides a High-Tech Learning Experience
March 2, 2017
Oklahoma Baptist University is proud to have been the first university in Oklahoma to offer a bachelor's degree in nursing in 1952, but that's not the only way OBU has led the industry. With a new state-of-the-art facility, simulation lab, and dedicated professors, OBU nursing students continue to receive the finest education for a rewarding nursing career.
It has been nearly two years since OBU broke ground on a new nursing facility, the Jane E. and Nick K. Stavros Hall, complete with a cutting-edge simulation lab. More than $9 million have been invested in the development of this building.
Stavros Hall includes five classrooms, a 109-seat lecture hall and a computer lab, as well as spaces for students to study, meet and interact with faculty. The facility features six high-fidelity skills simulation labs, a medium skills lab, a health assessment skills lab, and a home health and bathing training room, totaling 24 beds. The high-tech simulation labs are equipped with the industry's most advanced medical simulation solutions.
Dr. Lepaine McHenry, dean of College of Nursing, expects to continue to see enrollment in the nursing program increase significantly with this new addition. McHenry is proud to forge the way toward improved learning and continues to be an advocate for advances in OBU students' education.
"Simulation science is a growing area in nursing and is one way we can best utilize technology to better equip our students entering the workforce," McHenry said.
"One of the biggest things OBU has to offer is the high-tech equipment," said Jessica Beach, a former OBU nursing student. Beach says the simulation lab is set up just like a hospital and is a wonderful advantage for OBU nursing students.
Benefits of Simulation
The high-fidelity simulation labs are equipped with the industry's most advanced medical simulation solutions. They include lifelike human patient simulators that can blink, accept fluids, and respond to a nurse's care. Instructors control the simulators and create changing symptoms for the students to respond to, ranging from fever, regurgitation, cardiac arrest and more. The high-fidelity labs even include a birthing suite, with a simulator that "gives birth" to a simulated baby, passing through all stages of labor.
The simulation lab has been an impactful tool for students. "It provides more opportunity to integrate technology and use it to impact teaching in new and different ways," said Nichole Jackson, assistant professor of nursing and simulation director. "This brings better experiences to the students."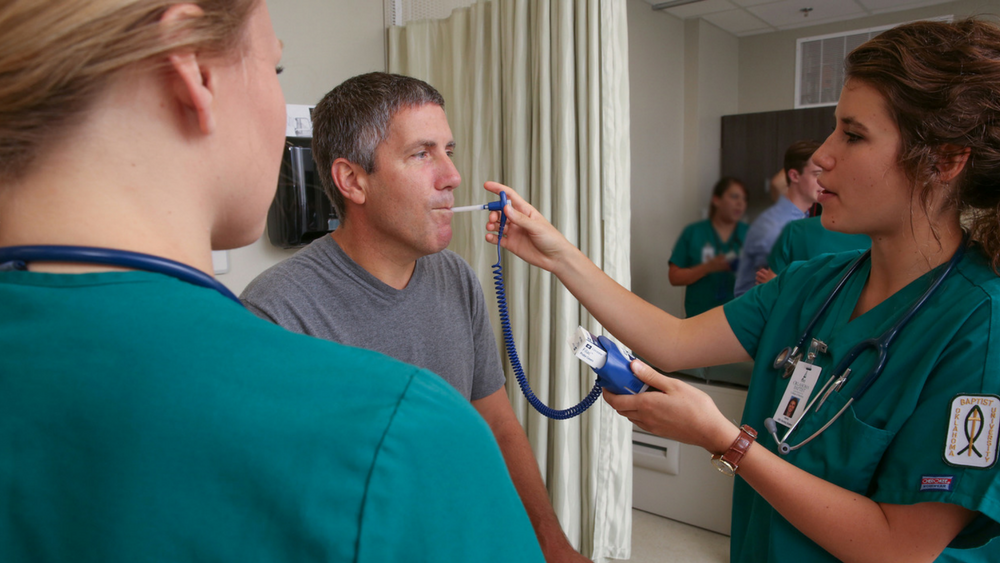 The simulation lab allows students to have the sense of being in a hospital room, while still being in a practice environment. The realistic scene provides a safe medium for students to explore and try new things. It contributes to a stronger confidence level, which in turn, provides better patient outcomes.
"The goal of simulation is to expose students to opportunities and develop skills and comfort levels before progressing into the practice setting," McHenry said. "Students gain a much higher level of confidence because of it."
In fact, a study found nursing students in a simulation group had a significant increase in self-confidence after an intervention in comparison to other groups, according to the Journal of Caring Sciences.
OBU Nursing Curriculum
There are four simulation courses built into OBU's nursing curriculum. This equates to 90 hours in the simulation lab. The lab work, alongside clinical training, produces a well-versed student prepared to enter the real world.
Jackson explained how the simulation allows students to move theory into practice. "The experience bridges the gap," Jackson said. "The profession is very fast-paced, with high-charge situations, and simulation is an opportunity to practice and use clinical reasoning. The textbook comes to life."
Although more interactive than reading from a book, the simulation lab is still a very structured process. A typical lab involves students receiving their assignment, understanding their objectives and the role they will serve for their "shift," and interacting with their patient. Students are assigned a patient with real-life problems and issues that need to be treated. During their shift, students are responsible for introducing themselves, assessing and monitoring their patient's health, calling in prescriptions, giving shift reports, working IV pumps, and handling monitors, among other duties.
Gracie Perkins, an OBU nursing student, explained the difference between clinical training and lab simulation. In clinicals, the student shadows a registered nurse, only taking action under direct supervision. In a lab setting, students are on their own with the patients.
There are usually two to three students in the lab at one time; the other students watch on camera and learn from the others.  At the end of the shift, students debrief and share what was most difficult for them. "We talk about what we did and could have done differently and the professors help promote discussion," Perkins said.
"We (the professors) are facilitators at that point and let them come to their own conclusions," Jackson said.
"The simulation lab is incredible, but it's the staff and faculty that make all the difference," Perkins said. The equipment is just a machine until the staff makes it come to life, she explained.
Perkins said she greatly appreciates learning in a nice building with high-tech equipment and knows it has impacted her education. "We could learn without it, but the simulation lab gives us an edge and a really cool environment to take ownership of."
"I love our lab and feel privileged and thankful for all those that donated so we can learn," Perkins said. "They invested into the future of the nursing profession and my future."
Interested in hearing more about job opportunities with a nursing degree? Learn how we equip students to achieve their goals.