Timberlake Receives Honorary Doctorate During Fine Arts Musical Gala
November 7, 2014
OBU conferred an Honorary Doctor of Music to Kathryne O'Bryan Timberlake Friday evening, Nov. 7, during the annual Fine Arts Musical Gala in Raley Chapel's Potter Auditorium. The event featured OBU students and alumni performing in concert during OBU's homecoming festivities.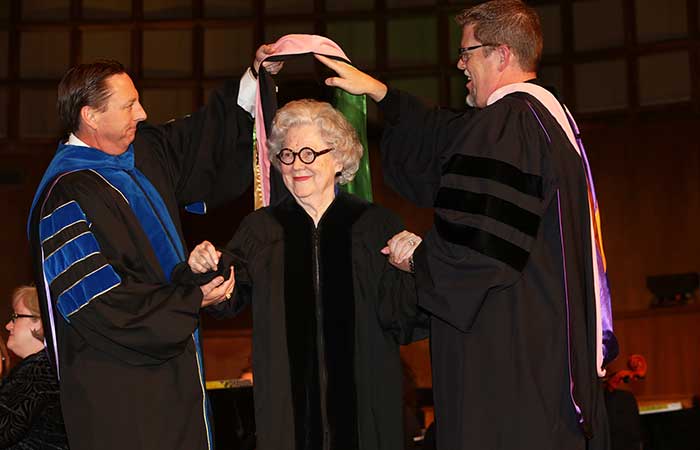 The presentation of the degree was made by Dr. David W. Whitlock, OBU president. He was assisted by Dr. Stan Norman, provost and executive vice president for campus life, and Dr. Ken Gabrielse, dean of the Warren M. Angell College of Fine Arts.
"Oklahoma Baptist University today honors Kathryne O'Bryan Timberlake for her outstanding service to OBU and to the Lord," Whitlock said. "Through her commitment to the students of OBU, her high standards of academic excellence, and her devotion to Christian education, she has sought to bring glory to God through her work."
"In honoring Kathryn Timberlake, Oklahoma Baptist University is keeping faith with the high ideals we have set for granting such degrees," he said. "Her life exemplifies high standards, excellence in achievement, and genuine concern for others."
Timberlake earned a Bachelor of Music from Baylor University and pursued graduate studies at the University of Oklahoma. She completed graduate classes in piano from the esteemed American pianist and harpsichordist Rosalyn Tureck and completed graduate courses at the University of Oklahoma. She joined the OBU music faculty in 1953 as an assistant and became an instructor just two years later. In 1979, she gained tenure and the rank of assistant professor, shortly after being awarded the Meritorious Service Award in 1978. She was named professor emerita of music in 1990.
Timberlake has been a member of the Oklahoma Music Teachers Association, the Music Teacher's National Association and the National Piano Guild.
She was born Aug. 17, 1923, in Sherman, Texas. Her husband, the late Dr. James Samuel Timberlake, was a longtime professor of Greek and Religion at OBU.
Professor Warren McWilliams, Auguie Henry Professor of Bible at OBU, offered insight into Timberlake's impact on her students and colleagues in his nomination letter for her honorary degree.
"Many students throughout the years have attributed their education success to her investment in them," McWillliams said. "Kathryne has an amazingly inquisitive mind. She reads widely and always wants to know what her friends think about a wide range of subjects. As a professor, she sought ways to see connections between different fields of study. She truly epitomizes the spirit of a liberal arts education and consistently explores the relation of her Christian faith to all facets of knowledge."