Bisonettes Host 60th Anniversary Reunion Concert with 140 Voice Choir
November 8, 2014
Since 1954, the Bisonettes, OBU's Women's Glee Club, have featured talented vocalists from all over the world. This year, the group celebrated their 60th anniversary with "An Enduring Joyful Noise," a reunion concert held Saturday, Nov. 8, in Raley Chapel's Potter Auditorium. The event took place as part of OBU's annual homecoming festivities.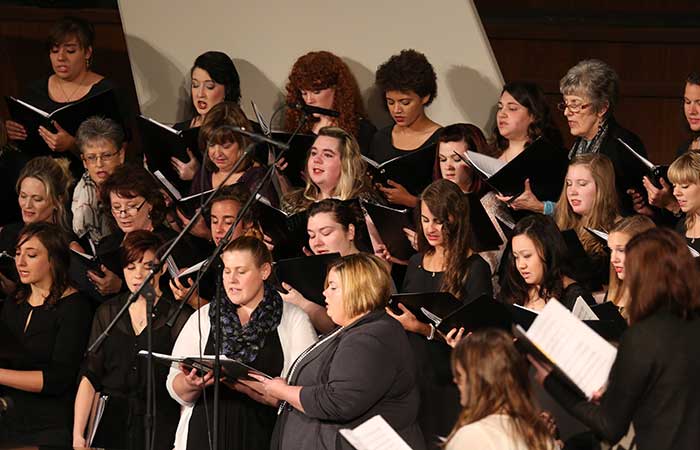 The choir has carried a reputation for excellence since its creation. In its first year there were 29 members. By its fourth year, the group had doubled in size, a testament to its growth and popularity at OBU and across Oklahoma. Early directors identified goals to ground the ensemble's mission: serve as entertainment in venues across the nation, develop and nurture the musicianship skills of its members, and spread the Gospel through their performances and daily lives.
Former directors Jack Pearson and Dr. Darla Eshelman returned to guest conduct the roughly 140 singers Saturday night. They, along with current director Dr. Jim Vernon, led the choir during the concert.
"It's so exciting to have these former Bisonettes come back to Bison Hill to celebrate 60 years of women's singing at OBU," Vernon said. "It's an honor to have former directors Jack Pearson and Darla Eshelman help lead us through this celebration."
Pearson was the longest tenured Bisonettes director to date. He served for 32-and-a-half years, over half of the choir's existence. For him, the Bisonette Glee Club's story is a lifelong and personal one, full of fellowship and memories. He personally knew members from the group's first year and can boast that his own three daughters were Bisonettes.
"After decades of directing and watching the group over the years, it's clear the history of the Bisonettes is a story of making beautiful music, a story of students and their relationships, and making lifetime friendships," Pearson said. "Having the opportunity to watch and participate in the fellowship and formation of the group's members was and continues to be rewarding for me."
Eshelman directed the Bisonettes from 2005-2009. She too was drawn to the choir for its reputation of meaningful relationships. Even more, Eshelman coveted her role as director because it meant leading young women as they ministered to others.
"I was humbled and honored to direct a choir so focused on drawing its members and audiences closer to God," Eshelman said. "I am thankful and blessed for the time I was able to spend making music and honoring Christ with these young ladies. They are forever in my heart."
The 2014-2015 Bisonette Glee Club opened the concert with "Jambo," a Kenyan song arranged by Jacob Narverud. Then, members of the club from 1954-2014 joined together to sing "Walk in Jerusalem," arranged by Rollo Dilworth and conducted by Dr. Jim Vernon, professor of music and current Bisonettes director. Eshelman conducted the reunion choir as they sang "Psalm 23," by Z. Randall Stroup; "And God Gave Music," by Eshelman; and "Holy is the Lord," by Jeffrey L. Ames.
The 2014-2015 choir returned on their own to sing "I Will Arise," arranged by Patti Drennen; "I am Thine, O Lord," by Nancy Hill Cobb; "Give Me Jesus," arranged by John Helgen; and "The Beauty of Your Dreams," by Joan Szymko. The reunion choir joined the women once more to be conducted by Pearson and sing "It Is Well With My Soul," by Mark D. Johnson; "He Keeps me Singing," arranged by Judy Wright Boukheir; "Rise Up, Ye Saints of God," arranged by Pearson and Vernon, showcasing Pearson on the trumpet; and "Reason to Sing," by Donna Butler.