Students Garner Honors at Broadcasting Competition
October 9, 2014
Eight OBU students were recognized for their work on five digital media productions. The students received various honors Saturday, Sept. 27, at the South Central Broadcasting Society's regional conference and competition in Edmond, Oklahoma. The SCBS is coordinated by nearly 30 broadcast programs at colleges and universities in Arkansas, Colorado, Kansas, Missouri, New Mexico, Oklahoma and Texas.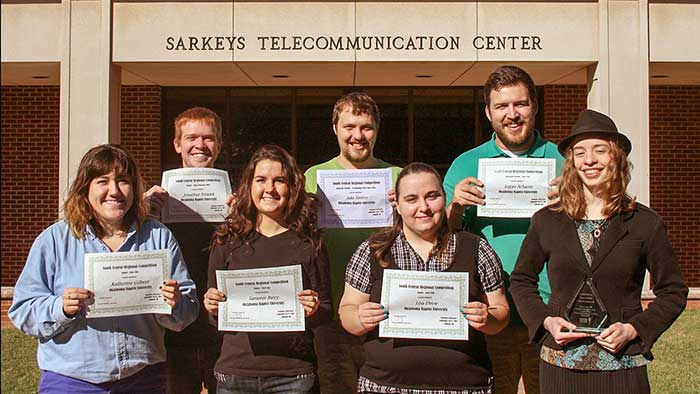 Pictured, front row, left to right: Katie Gilbert, Laramie Batey, Lisa Drew and Andrea Johnson. Back row, left to right: Jonathan Polasek , Jake Embry and Logan Schantz. Not pictured: Chandler Smith.
"There are three categories of recognition in the SCBS competition: Honorable Mention, Finalist and Grand Prize," explained Dr. Jeffrey Wells, chair of the division of communication arts." It is helpful to think of the 'finalist' recognition as equivalent to a nomination, like the Emmys or Oscars. There may be more than one finalist in a category. Likewise, judges are allowed to give more than one 'honorable mention.' However, judges are not required to award a 'grand prize' in a category. It is equivalent to a best of show award in a category at the discretion of the judges. If awarded, only one is awarded in that category. The well-recognized work by our DMAR students has provided OBU's strongest regional performance in broadcasting and video competition in recent years."
Andrea Johnson, a senior from Shawnee, Oklahoma, was awarded the grand prize for her "C-Bar Horsemanship" corporate marketing video. She is an interdisciplinary major with a focus in digital media arts, theater and creative writing, and a minor in French. Her production was entered in Open Category Long Film. Her video was an honors service project during 2013-14 and required more than 80 hours of volunteer service. C-Bar Horsemanship offers therapeutic horsemanship programs in the Shawnee area, and C-Bar has used her video to solicit grant funding and increase donor support.
Laramie Batey, Lisa Drew and Katherine Gilbert's short film "Sugar" was named a finalist in the Short Film category. The film is a quick romantic comedy about a young woman who asks to borrow a cup of sugar from her neighbor. Batey is a junior digital media arts major from Sasakwa, Oklahoma. Drew is a junior digital media arts major from Harrah, Oklahoma. Gilbert is a junior digital media arts major from Sapulpa, Oklahoma.
Jake Embry, Jonathan Polasek and Logan Schantz were also named finalists in the sports production category for the 10th episode of "Bison Insider." In the episode, Polasek talks with the Bison football team's head coach Chris Jensen about a recent loss and the road ahead. Embry is a senior digital media arts major from Crandall, Texas. Polasek is a senior digital media arts major and church music minor from Pampa, Texas. Schantz is a senior digital media arts major from Yukon, Oklahoma.
The short film "Driver's Ed" by Andrea Johnson, Logan Schantz and Chandler Smith received an honorable mention. The film features a student driver and an overqualified driving instructor.
Jake Embry, Jonathan Polasek and Logan Schantz also received an honorable mention in the promotional video category for their entry, "GO Week." The video consists of testimonies of OBU students who participated in Global Outreach (GO) mission trips across the world. Smith is a senior digital media arts major with a marketing minor from Aledo, Texas.