Outstanding Seniors Nominated for 2014 Harvest Court
October 30, 2014
OBU will honor outstanding seniors in the annual Harvest Court ceremony Saturday, Nov. 8, during halftime of the OBU Bison football game versus Bacone College. The game will begin at 1 p.m. The event is part of OBU's homecoming celebration happening on campus throughout the weekend.
Senior students were nominated by their peers in six different categories: harvest king, harvest queen, best all-around male, best all-around female, most servant-like male and most servant-like female. The student body will vote Monday, Nov. 3, on the finalists, and the winners will be announced during the Harvest Court ceremony.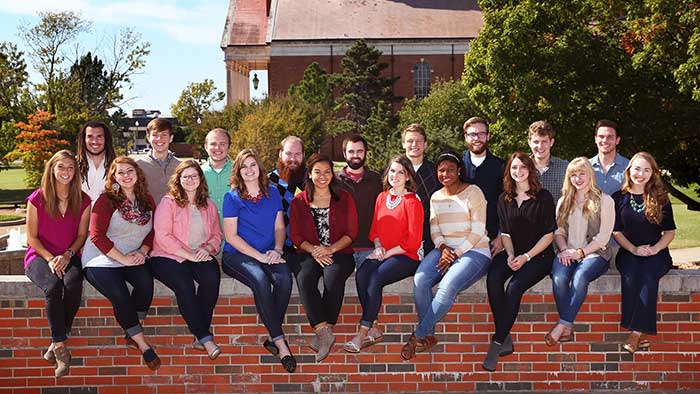 Pictured above, harvest court candidates, front row, left to right: Allie Preston, Katlin Medlin, Hannah Johnson, Katy Wells, Lexi Masters, Hannah Burnett, Chelsea Abinah, Mary Criner, Karleigh Schrick and Emily Elkins. Back row, left to right: Khalil Benalioulhaj, Zach Cramer, Cody Moser, Parker Hunt, Cullen Swearingen, Jordan Davis, Micah Keeney, Keaton Nye and Sammy Andrews. OBU photo by Bill Pope.
Harvest court finalists include:
Harvest Court King: Sammy Andrews, a musical arts major with a voice emphasis from Checotah, Oklahoma; Parker Hunt, an English major from Cypress, Texas; and Cody Moser, a biblical languages and student ministry major from Noble, Oklahoma.
Harvest Court Queen: Chelsea Abinah, a pre-counseling major from Edmond, Oklahoma; Hannah Burnett, a family and community service major from Richardson, Texas; and Emily Elkins, an elementary education major from Tulsa, Oklahoma.
Best All-Around Male: Micah Keeney, a Bible major from Bartlesville, Oklahoma; Keaton Nye, a digital media arts major from Shawnee, Oklahoma; and Cullen Swearingen, an anthropology and Bible double major from Topeka, Kansas.
Best All-Around Female: Mary Criner, a marketing major from Haskell, Oklahoma; Lexi Masters, a psychology major from Carbondale, Kansas; Allie Preston, a biology major from Abilene, Texas; and Karleigh Schrick, a communications studies major from Montrose, Colorado.
Most Servant-Like Male: Khalil Benalioulhaj, an international business major from Norman, Oklahoma; Zach Cramer, a Bible major from Topeka, Kansas; and Jordan Davis, a Bible and philosophy double major from Oklahoma City.
Most Servant-Like Female: Hannah Johnson, a nursing major from Bartlesville, Oklahoma; Katlin Medlin, a nursing major from Olathe, Kansas; and Katy Wells, a family and community service major from Paoli, Oklahoma.