OBU to Showcase Fine Arts Musical Gala Nov. 7
October 31, 2014
OBU's annual Fine Arts Musical Gala, showcasing the Warren M. Angell College of Fine Arts, will take place Friday, Nov. 7, at 8:45 p.m. in Raley Chapel's Potter Auditorium. The event is part of OBU's homecoming activities. Tickets are available for purchase at the door and are $6 per adult and $3 per child. Faculty, staff and students are admitted free with an OBU ID. The annual benefit concert raises money for the university's endowed music scholarship fund.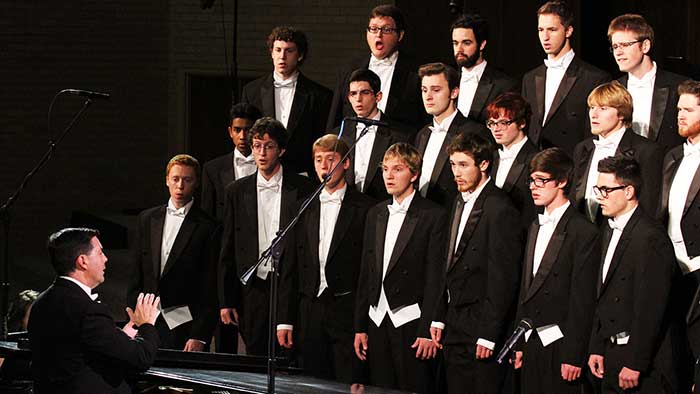 Dr. Brent Ballweg leads the Bison Glee Club during the 2013 Fine Arts Musical Gala. OBU photo by Bill Pope.
Participating in the gala are the Bison Brigade, the Bison Jazz Orchestra, the Bison Glee Club, University Chorale and the OBU/Shawnee Community Orchestra. During the ceremony, OBU will also confer an honorary Doctor of Music degree to Mrs. Kathryn Timberlake, professor emerita of music at OBU.
The Bison Brigade, under the direction of Ryan Meeks, will perform "Ode to Joy" by Ludwig Van Beethoven, arranged by Tom Wallace.
The Bison Jazz Orchestra, directed by Justin Pierce, will perform "Spain" by Chick Corea, arranged by Victor Lopez; "Queen Bee" by Sammy Nestico; and "Precious Lord, Take My Hand" By George Allen and Tommy Dorsey, arranged by Graham Breedlove.
Dr. Brent Ballweg will direct the Bison Glee Club as they perform "Fight the good fight with all thy might" by John Gardner; "Loch Lomond" arranged by Jonathan Quick; and "The Music of Living" by Dan Forrest.
The University Chorale, also under the direction of Ballweg, will perform "Jubilate Deo" by Peter Anglea; "Prayer" by Rene Clausen; and "Praise to the Lord" arranged by F. Melius Christiansen.
The OBU/Shawnee Community Orchestra will perform under the direction of Dr. Jim Hansford. The orchestra will perform "What's Up at the Symphony" arranged by Jerry Brubaker and the iconic 60's song "MacArthur Park" written by native Oklahoman Jimmy Webb and arranged by Bill Holcombe. The orchestra will feature guest performers Richard Huggins, '69, on piano; Pat Vandertook, '89, on drums; Graeson Griffin on piano; Richard Stevenson, '91, on vocals; Ken Gabrielse, dean of the Warren M. Angell College of Fine Arts, on vocals; Jonathan Isaacs on lead guitar; and the Bisonettes Ensemble.