OBU to Host Mathena Center Ribbon Cutting and Open House Oct. 25
October 17, 2014
OBU will host a ribbon cutting ceremony and open house for the newly constructed Mathena Center Saturday, Oct. 25. The ribbon cutting will be held at 1:15 p.m., with the open house to follow from 1:30 to 2 p.m. The event will take place before the 2 p.m. kickoff for the Bison football game versus Texas College.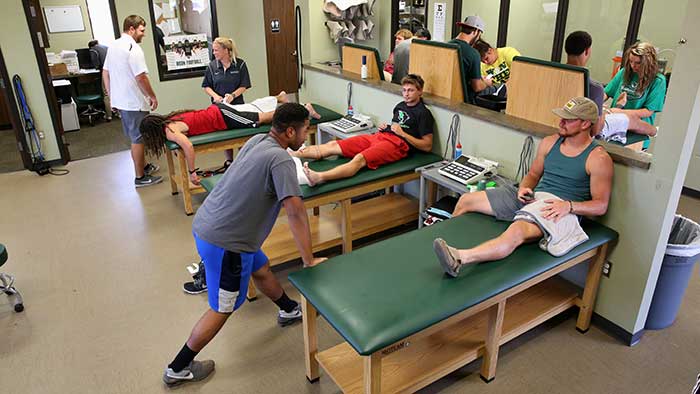 The Mathena Center is a freestanding sports medicine and training facility located inside the Eddie Hurt Athletic Complex between the Jay P. Chance Track Building and Hurt Field. Visitors will have the opportunity to tour the 2,381 square foot space. It features an office for the sports medicine specialist, an exam room, a whirlpool room with two whirlpools, a hot and cold polar pool, a large treatment area with taping tables and a garage for medical vehicles used at athletic events. It also houses the Mary Lou Davenport Training Room, named for the late mother of OBU Director of Athletics Robert Davenport, who was a close personal friend to the Mathena family.
Prior to the groundbreaking ceremony held May 16 of this year, Robert Davenport spoke of the excitement he has for the new facility. "I'd like to start off by expressing my gratitude to the Mathena family," he said. "This facility will allow us to give top-notch care to our student athletes in ways we haven't been able to before."
The ribbon cutting ceremony and open house are open to alumni, staff and the general public.