OBU to Host Family Weekend Oct. 24-26
October 21, 2014
OBU will host its annual Family Weekend Oct. 24-26 on the OBU campus in Shawnee. Family Weekend is an opportunity for families of current students to visit their sons and daughters on campus and catch an inside glimpse of life on Bison Hill.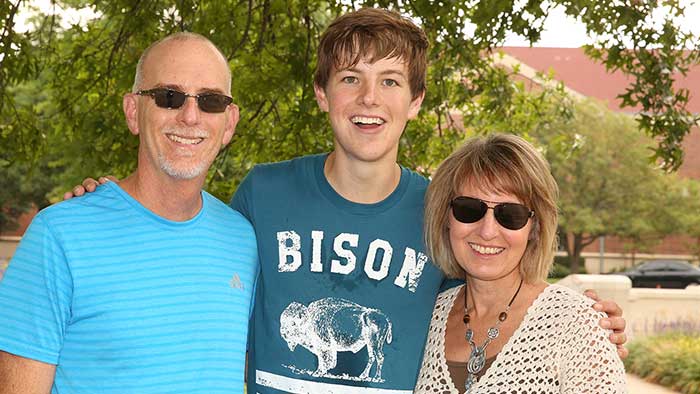 The weekend kicks off Friday, Oct. 24 at 5 p.m. with a campus-wide chili cook off. There will be live music and fun for the whole family, sponsored by OBU social clubs. At 7 p.m., a Family Fun Night will be held in the lower level of the Geiger Center (G.C.). Friday and Saturday night, younger siblings of the same gender are invited to stay with their older sibling for the night during "Sibling Sleepover." Siblings must be 9 or older to stay in campus housing.
On Saturday, families may use the Recreation and Wellness Center (RAWC) for free. Registration begins at 9:30 a.m. in G.C. 219, followed by family pictures from 10 a.m. to noon. At 10:30 a.m., students and parents can meet with professors in G.C. 218-220. Lunch will be served at Cafe on the Hill in the upper level of the G.C. beginning at 11:45 a.m. Lunch is $15 per person and includes a t-shirt.
Several sporting events will take place Saturday afternoon, including women's soccer against Wayland Baptist at 1 p.m., football against Texas College at 2 p.m., and men's soccer against Wayland Baptist at 3 p.m. Saturday evening, Freshman Follies variety show, sponsored by Campus Activities Board, will be held in Raley Chapel's Potter Auditorium at 8 p.m. Night of Jazz will be in the Mabee Suite in the Noble Complex from 9:30 p.m. to 12:30 a.m.
No formal events are planned for Sunday, Oct. 26, but families are encouraged to stay in Shawnee, worship with their students in a local church and enjoy the afternoon together before the weekend ends.