OBU Hosts Ribbon Cutting and Dedication for Cargill Center
October 3, 2014
OBU hosted a ribbon cutting and dedication for the Cargill Advancement and Alumni Center Thursday, Oct. 2. The facility is located on the north side of MacArthur Street just east of Taylor Residence Center on the OBU campus in Shawnee.
The Cargill Center houses the offices of University Advancement and the OBU Alumni Association. The facility is the former home of the OBU president and was renovated for its current purpose during the 2013-14 academic year. The renovation was made possible through a generous gift made by Dr. Robert L. and Mrs. Sara Lou Cargill.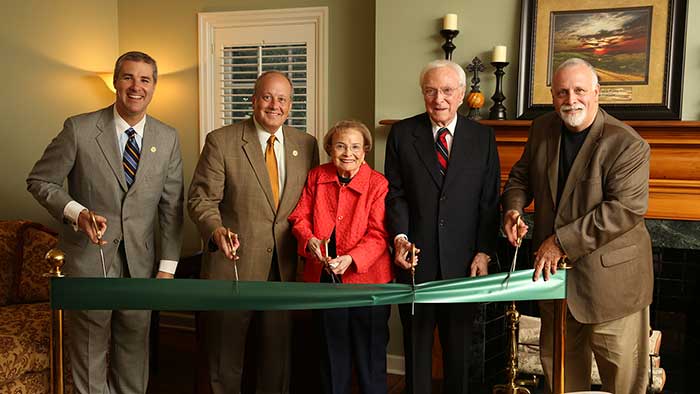 Pictured, left to right: Will Smallwood, Vice President for University Advancement; Dr. David W. Whitlock, OBU president; Sara Lou Cargill; Dr. Robert L. Cargill; and Dr. David Lawrence, chairman of the OBU board of trustees and pastor of Emmanuel Baptist Church, Weatherford, Oklahoma.
The Cargills were on hand for the event, honored by university administration and the OBU Board of Trustees for their generous donation and their years of dedicated service to the university. The Cargills are OBU alumni and longtime university supporters. Dr. Cargill is a former OBU administrator, having led fundraising for the university during his time on Bison Hill.
"We are so thankful to you for your long-term investment in Oklahoma Baptist University," said Will Smallwood, vice president for university advancement. "Dr. Cargill led fundraising at Oklahoma Baptist University, and I'm standing here proudly knowing our offices are in this place bearing his name."
Dr. David W. Whitlock, OBU president, shared about the impact the Cargills have made on the university through their generous gift. "This facility stands as an ongoing testimony to the Cargill family, and to the difference you've made in the lives of thousands upon thousands of students who've come and gone through this marvelous place on Bison Hill, and who in turn have transformed the lives of hundreds upon hundreds of thousands of people. Thank you to the Cargill family."
"You have made this a place for students, alumni, prospective students, and so many important things," said Dr. Robert L. Cargill. "We want to thank Dr. Whitlock, the trustees and everyone involved in honoring us by naming the facility after us. We are grateful and proud to have a hand in it. God bless OBU."