OBU Announces Revive the Roof Campaign for Raley Chapel
October 14, 2014
Raley Chapel is a picturesque landmark on the campus of OBU. Sunsets trace its silhouette. New students march there, beanies on, waiting to launch their OBU journey during Welcome Week. Seniors repeat "The Walk" to the chapel steps at Commencement, entering a student and leaving a graduate, ready to engage the world for Christ.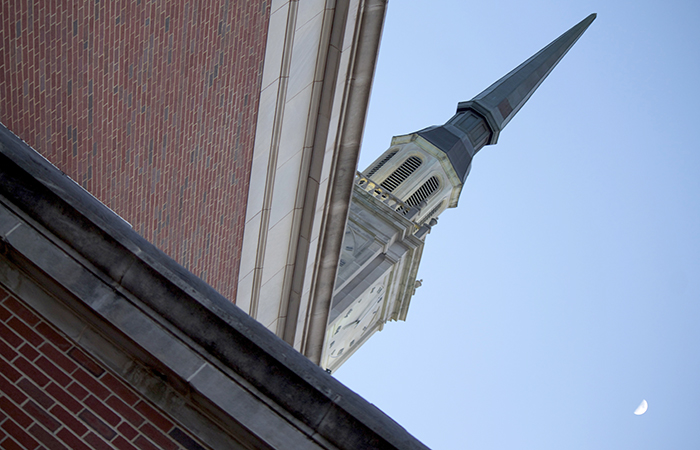 Photo by Joshua Hale
Aside from its beauty and symbolism, the facility is also a highly functional hub for campus life in many ways. Weekly chapel services are held in Potter Auditorium. The Division of Music is housed inside the building along with the offices for the Warren M. Angell College of Fine Arts. Outside meetings, concerts and graduations are also frequently held in the main auditorium.
OBU is launching a new campaign to "Revive the Roof" of Raley Chapel, generating funds to replace the building's roof tiles. The campaign launched in October, with hopes to reach the target goal by late spring 2015.
"It is my pleasure to announce the launch of the Revive the Roof campaign for Raley Chapel," said Will Smallwood, vice president for university advancement. "After more than 50 years, the original tiles on the roof of Raley Chapel will be replaced in summer 2015. The current roof has served its purpose, protecting the chapel for over 50 years. It's simply time to replace it, so the chapel can serve the OBU community for the next half-century and beyond."
Raley Chapel is the most prominent landmark on the OBU campus in Shawnee. It is named after Dr. John Wesley Raley, who served as university president from 1934-61. Since its construction in 1961, Raley Chapel has been the launchpad for students' educational and spiritual journeys at OBU. From this iconic building, more than 18,000 graduates have been sent out to transform the world for God's glory.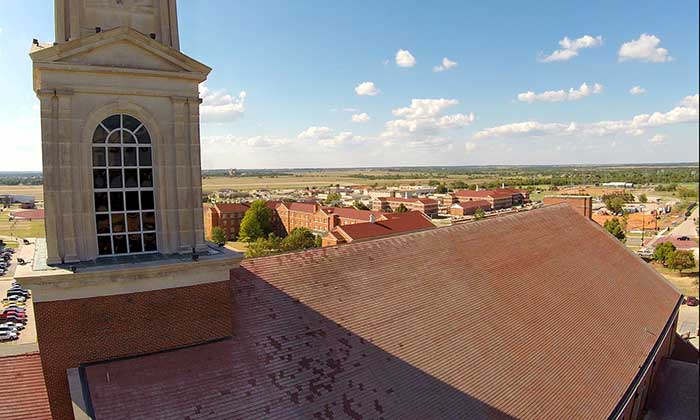 The roof of Raley Chapel in mid September. Photo by Coy Cypert.
The campaign to "Revive the Roof" will restore the signature red to the chapel's roof while more importantly providing needed protection from extreme Oklahoma weather. The project will take 42,000 roof titles to complete, at a cost of approximately $20 per tile, bringing the campaign's total goal to $840,000.
"Everyone can be a part of the Revive the Roof Campaign," Smallwood said. "Each person who chooses to support this campaign makes an impact toward reaching the goal. A simple $20 gift makes a difference and helps purchase one of 42,000 tiles needed to complete the project and revive the roof of our beloved Raley Chapel."
Donors who give $100 or more will receive a commemorative ornament of Raley Chapel. With a $500 gift, they will receive a framed print of the chapel. Gifts of $1,000 or more will receive a recognition brick, laid in front of the chapel, with the donor's name or an "in honor or memory of" dedication. A replica brick may be purchased for an additional $50.