'Much Ado About Nothing' Hits the Stage Nov. 6-15
October 29, 2014
OBU Theater Opens its 2014-15 with "Much Ado About Nothing," by William Shakespeare, Nov. 6-15. The production will be directed by senior Stephen Kerr from Moore, Oklahoma, and Carly Conklin, former interim director of theatre at St. Gregory's University.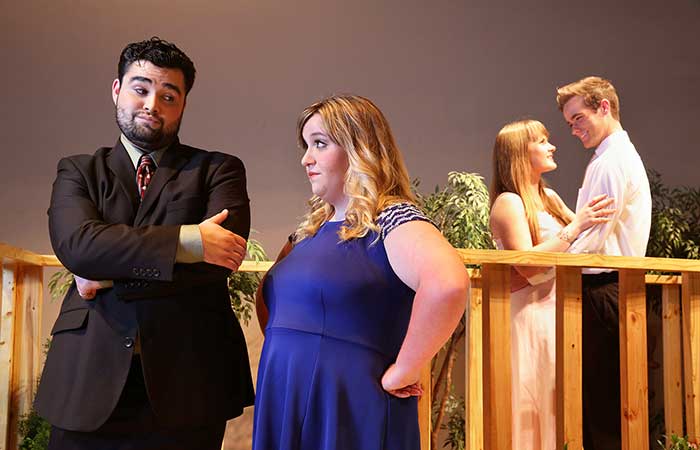 Benedick and Beatrice (left front) portrayed by Trevor Rodman and Bethany McWilliams, and Claudio and Hero portrayed by Taylor Lasseigne and Conner Gilbert.
The witty and heartbreaking comedy will be placed in a modern setting against the backdrop of political candidates returning from the campaign trail. The production debuts in Craig-Dorland Theatre on OBU's campus in Shawnee Nov. 6 at 7:30 p.m. The show will also run Nov. 7 at 7:30 p.m., Nov. 8-9 at 2:30 p.m. and Nov. 14-15 at 7:30 p.m. The production is most appreciated by ages 12 and up.
"Much Ado About Nothing" is a classic tale of romance and deceit. The narrative follows the romantic endeavors of Leonato's household, specifically of bickering banterers Beatrice and Benedick. In this romantic storyline, the family plays cupid and tricks each into thinking one is in love with the other. Parallel to this storyline is the romance between Leonato's daughter, Hero, who is wooed and subsequently falls in love with the young Count Claudio. Soon to be married, this young couple's hopes are dashed by the villainous Don John who brings misery for sport. The true comic nature of misinterpretation shows itself through shenanigans within the household and Shakespeare's clever use and misuse of language in this classic comedy.
OBU Theatre's adaptation hits the stage in a locale closely resembling our own with cell phones, iPads and digital cameras in abundance. While pointing to the pervasive nature of media in current culture, directors Conklin and Kerr manage to capture the spirit of this classic story of romance and deceit. Playing on this modern staging, the directors have also created a live studio audience setting similar to a television production, creating a more interactive audience experience. This device further reinforces the idea of media's pervasive nature in contemporary society.
While Shakespeare's original work was set in Messina, Italy, after a military skirmish, this fresh take replaces the battlefield of war with the landscape of a hard-fought political campaign. While the issues of the young bride, Hero's, purity may seem irrelevant to a 2014 audience, when viewed in the light of society's fascination with "media scandal," it becomes far more significant. Shakespeare's relevance in a modern setting is additionally evident as this play points to the U.S. trend of first marriage at an older age. To this end Much Ado's joint protagonists, Beatrice and Benedick, embark on their first committed romantic relationship well past their teen years, even after a lifetime of publicly swearing off marriage.
"I am thrilled to have the opportunity to work on Much Ado About Nothing at OBU," Conklin said. "The play is witty, fast-paced and very, very fun. I'm most excited about setting the classic Shakespeare play in the present day, the specific idea being that the audience is watching the play being filmed to be broadcast live. This will cause the audience to feel more involved in the excitement of the world of the play."
"The play has a great deal of relevance to our world today, where sarcasm is used both as an instrument for comedy, as well as a mask to hide insecurities behind," she said. "While sarcasm makes the world a little bit funnier and more interesting, it also has a tendency to keep us from revealing our true selves and being vulnerable with each other."
Trevor Rodman, a junior theatre major from Tulsa, Oklahoma, will play the role of Benedick, while Bethany McWilliams, a psychology: pre-counseling senior from Shawnee, will play Beatrice. Conner Gilbert, a sophomore theatre / education major from Shawnee will portray Claudio, and Taylor Lasseigne, a sophomore theatre major from Frisco, Texas, will play the role of Hero.
Tony Quintana, a junior theatre / youth ministry major from Oklahoma City will play Don Pedro; Brayden Lans, a senior psychology major from Fort Collins, Colorado, will play Leonato; and Jonathan Brown, a senior theatre major from Yukon, Oklahoma, will play Don John.
The remaining cast includes Nina Longhofer, sophomore theatre major from Wichita, Kansas; Matthew Martin, freshman theatre / psychology major from Irving, Texas; Lara Gatton, freshman theatre major from Oklahoma City; Samantha King, sophomore theatre / psychology: pre-counseling major from Burleson, Texas; Kymber Sage, sophomore theatre major from Broken Arrow, Oklahoma; Brenna Bergeron, freshman theatre major from Wichita, Kansas; Caity Cullison, sophomore digital media arts major from Lempsten, New Hampshire; Caleb Schantz, freshman worship arts major from Yukon; Olivia Seamans, junior theatre major from Oklahoma City; Haylee Dowler, a continuing music education / theatre student from Tulsa, Oklahoma; Lizzy Grimes, freshman theatre major from Midwest City, Oklahoma; Stephen Whitmore, junior biochemistry major from Shawnee; Kayla Marshall, freshman theatre major from Ft. Worth, Texas; LuToria McDaniel, junior psychology: pre-counseling major from Chickasha, Oklahoma; Cherish Parker, sophomore theatre major from Tahlequah, Oklahoma; and Christian Givens, sophomore creative writing major from Plainview, Oklahoma.
The show is part of OBU Theatre's 2014-15 season, "A Season of Fragile Innocence." "Radium Girls," written by D.W. Gregory, is the second production of the season. It tells the story of Grace Fryer, a woman who fell ill after working in a factory where she painted watch dials with radium, as she fights for her day in court. The show runs March 27-29. "The Glass Menagerie," by Tennessee Williams will end the theatre season with performances April 30-May 2. The production is a semi-autobiographical American classic which takes audience members into the middle of three fragile family members struggling to maintain innocence, independence and fulfillment.
Season tickets for all three productions are available to adults for $27 and students for $12. Tickets for "Much Ado About Nothing" are on sale now, and are $11 for adults and $5 for students.