Homecoming Week Activities Nov. 3-8 for Current Students
October 31, 2014
Current students at Oklahoma Baptist University have a full week of homecoming activities to look forward to. The events run Nov. 3-8.
Follow @OBUStudentLife and @OBUNews for all your homecoming updates. Share your posts on social media by using #obuhoco.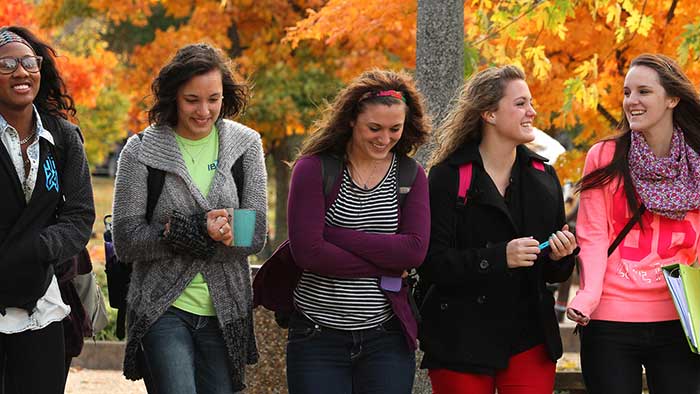 Students enjoy a stroll through campus during Homecoming Week 2013. OBU photo by Bill Pope.
The Spirit Assembly will be held Monday, Nov. 3, at 10 a.m. in Raley Chapel's Potter Auditorium. Harvest Court nominees will be introduced during this time, and students may vote for all award categories, including harvest king and queen, in the Geiger Center from 11 a.m. to 5 p.m. The men's basketball team will face off against Tabor College that night at 7 p.m. The Wallow bonfire will follow the game at 9 p.m., and the Midnight Roll, a walk from Raley Chapel to the fountain, will be held at midnight.
Tuesday features "Coffee & Canvas," held in the downstairs GC from 3-8 p.m. with a painting class at 6 p.m. All art supplies and coffee will be provided by Student Life. The volleyball team will play its final home match of the season that night against Southwestern Assembly of God at 6 p.m. in the Noble Complex.
Wednesday features "The Bison Tug," a tug-of-war event for all students. "The Bison Tug" will take place on the lawn outside of the GC at 6 pm.
The "HOCO Crawl" begins Thursday evening at 5 p.m. Residence halls, social clubs and other organizations will create lawn art around campus in advance of the event. Students can enjoy a live band and food while they check out all of the creations around campus.
On Friday, the Harvest Festival dinner will be held at 6:30 p.m. in the Mabee Suite in the Noble Complex. This event is for harvest court nominees and their families and friends and is by invitation from the nominees only.
Harvest court winners will be announced on Saturday during halftime of the OBU football game. The Bison kick off against Bacone College at 1 p.m.
Numerous other activities and events will take place during homecoming from Nov 6-8. For a full list of those events, visit www.okbu.edu/alumni/.