Switchfoot to Perform Nov. 14
September 30, 2014
Switchfoot, the popular band with hits like, "Dare you to Move" and many others, will perform in concert Friday, Nov. 14 in Raley Chapel's Potter Auditorium on the campus of Oklahoma Baptist University in Shawnee. The concert will start at 8 p.m. Tickets are $18 and are available www.okbu.edu/switchfoot.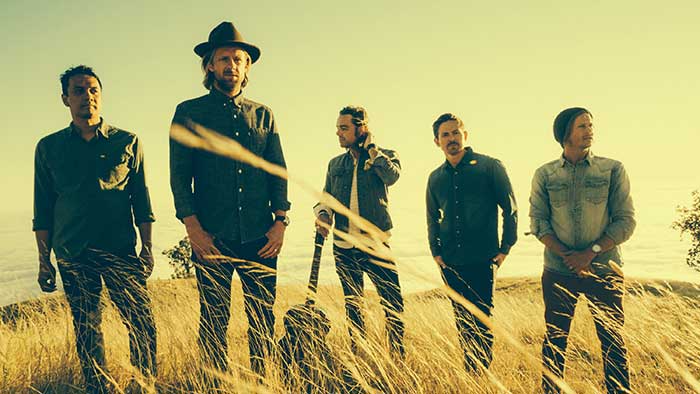 The group is made up of Jon Foreman, vocals and guitar; Tim Foreman, bass; Chad Butler, drums; Jerome Fontamillas, keyboard and guitar; and Drew Shirley, guitar.
Switchfoot has achieved a level of success that they never anticipated when forming in San Diego in 1996. The southern California natives have sold 5.5 million copies worldwide of their eight studio albums, including their 2003 double-platinum breakthrough "The Beautiful Letdown" and 2009's Grammy Award-winning "Hello Hurricane." They have also racked up a string of alternative radio hit singles with "Meant to Live," "Dare You To Move," "Mess of Me," "The Sound (John M. Perkins' Blues)," "Dark Horses," and "Afterlife." The band has performed sold-out world tours, visiting five continents in the past year alone, and has earned a global fan base devoted to their emotionally intelligent and uplifting brand of alternative rock.
"We weren't chasing anything in particular when we started the band," Jon said. "We simply had these songs that we loved playing. It's that joy that fueled us and it's that joy that has kept us going and brought us to here."
Since their origin, Switchfoot has made it a priority to give back. They regularly donate to charities such as Habitat for Humanity, To Write Love on Her Arms and Invisible Children. Switchfoot also created their own event, Bro-Am, in 2005. The Bro-Am includes a surf contest, live beach concert, charity auction and after-party. Through the event, Switchfoot has raised more than $715,000 for local children's charities that aid homeless and at risk youth.
"We've got a really young fan base and some of the kids who come to our shows are homeless," Tim said. "You'd never know it, but they are. I think we've always been drawn to the underdog, and I can't think of a bigger underdog than a kid who's fighting for his life at the age of 12."
Tickets are $18 and are on sale now and expected to sell quickly.