OBU to Present 'Backwoods Biggie' Variety Show Sept. 13
September 9, 2014
OBU's Campus Activities Board (CAB) will host the 51st annual "Biggie" show, this year with an outdoors and camping theme. The show, titled "Backwoods Biggie," features musical acts and skits performed by upperclassmen. The performance will take place Saturday, Sept. 13, in Raley Chapel's Potter Auditorium.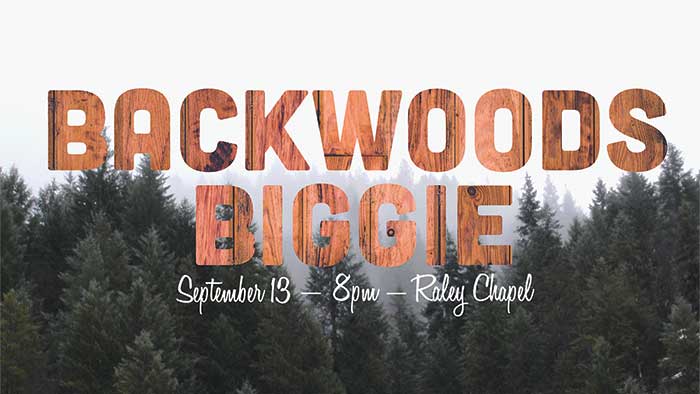 The pre-show event will begin at 7 p.m., where students and the general public will have an opportunity to enjoy s'mores and entertainment in front of Raley Chapel. The doors open at 7:30 p.m. and the show will begin at 8 p.m. Admission to the event will be free so that all of OBU and the general public can experience the university's first variety show of the year.
This year's "Biggie" will be directed by senior students Hannah Burnett, from Garland, Texas, and Matt Stephens, from Haskell, Oklahoma.
CAB hosted auditions for the roles of emcees and performers more than a week in advance, and the acts have been practicing for perfection. One goal of CAB is to maintain the longstanding tradition of quality performances by OBU upperclassmen.
The emcees, who are responsible for writing and performing skits which take place between each act, include senior students Malcolm Baker and Hannah Johnson; juniors Sabra Edwards and Hayden Burnett; and sophomores Blake Randolph and Meg Reeder.
The show will open with a performance by Intensely Outdoorable, a band featuring Sam Castles, Travis DeWall, Zander Holland, Chris Thrutchley, Matthew Welborn and Michael Wilson. The act will be followed by (Inner) Fear, featuring Jordan Davis, Bre Love, Peter McHaney and Seth Wright.
The Shovel Brigade, featuring Brandon Handy, Jesse Monday, Marina Monano and Emma Patton, will follow. Musica, featuring Mary Crone, Iveth Luna and Thomas Whitmore, will play after.
Black Dahlia will perform next, featuring Hannah Helbig, Kristen Lee, Amanda Moore, Kirsten Scarbrough and Kirstina Ward. Cuppies and Bros, featuring Sammy Andrews, Evan Blackburn, Chelsea Cannedy and Hillary Williams will follow. The show will conclude with Barefoot Brothers, featuring Drew Bowsher, Ben Burke, Ryan Ellington, Graeson Griffin, Jeff Jolly and Jake Valdez.
CAB will put on two more variety shows, Freshman Follies and Spring Affair, later in the school year.