OBU to Host Annual Winter Bible Study Clinic
September 16, 2015
The annual OBU Winter Bible Study Clinic will be held Friday, Oct. 24, from 9 a.m. to 4 p.m. This year's clinic is designed to assist pastors, preachers and laymen prepare to teach from the book of Deuteronomy as a series. The clinic will also be a time for personal spiritual growth. Dr. Ish Mudliar, Dr. Scott Pace, pastor Shane Hall and Dr. Stan Norman will lead the sessions.
| | | |
| --- | --- | --- |
| | | |
| Dr. Ish Mudliar | Dr. Scott Pace | Dr. Stan Norman |
"Each year, the OBU Winter Bible Study Clinic emphasis is selected to coincide with Lifeway's January Bible Study offering," said Dale Griffin, dean of spiritual life. "Deuteronomy: A Challenge to a New Generation is this year's Lifeway piece produced as both a Learner Guide and a Leader Guide. These guides provide supplemental material to the wisdom and insights that will be provided by OBU Professors and guest lecturers who are experts in their fields of theology and ministry."
"Each of the clinicians will provide excellent guidance that unpacks the selected passages of scripture in powerful ways for the seasoned minister and for the individual approaching the challenge of teaching scripture for the first time."
Mudliar, associate professor of religion, will lead the first session over Deuteronomy 1:1 to 6:25. He joined the faculty of OBU's Hobbs College of Theology and Ministry in 2012. He earned a bachelor's degree in theology from Union Biblical Seminary; a Master of Arts degree from Johns Hopkins University; and a Master of Divinity from Trinity Evangelical Divinity School. He received his doctorate in Hebrew Bible and Northwest Semitic Languages from Johns Hopkins University in Baltimore. Prior to his teaching career, he served as an associate pastor, youth minister and associate pastor of family ministry and outreach.
The second session will be led by Pace, Reverend A.E. and Dora Johnson Hughes Chair of Christian Ministry, over Deuteronomy 7:1 to 18:22. He joined the Hobbs College of Theology and Ministry faculty in 2009. He earned a bachelor's degree in accounting from North Carolina State University; a Master of Divinity from Southeastern Baptist Theological Seminary; and a doctorate in applied theology from Southeastern. He served for more than a decade as a student pastor, associate pastor of doctrine and as teaching pastor and administrator at First Baptist Church of Daytona Beach, Florida.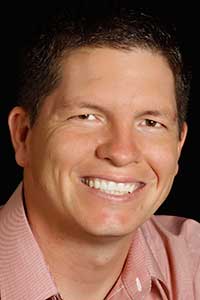 Shane Hall
The third session, covering Deuteronomy 19:1 to 28:68, will be led by Hall. He is senior pastor of Del City First Southern Baptist Church. A 1993 graduate of OBU, he went on to earn a master of divinity degree at the New Orleans Baptist Theological Seminary. He has served as pastor in Oklahoma and Louisiana for over 20 years.
The final session will be led by Norman, provost and executive vice president for campus life, over Deuteronomy 29:1 to 34:12. Norman has served in administrative and teaching roles in higher education for 13 years. Before coming to OBU in 2009, he served as vice president for university relations at Southwest Baptist University in Bolivar, Missouri. He previously served on the faculty of New Orleans Baptist Theological Seminary for eight years. While on the seminary faculty, he created and directed the Baptist Center for Theology and Ministry, which provided resources and programs to further the integration of theology and ministry. He also served on the research doctorate oversight committee, which administers the NOBTS Ph.D. programs. Norman completed a bachelor's degree in biblical studies from The Criswell College in 1987, a Master of Divinity degree from Southwestern Baptist Theological Seminary in 1990, and a Ph.D. in systematic theology from the seminary in 1997.
"The book of Deuteronomy offers a message of hope and challenge, a message relevant for today when passing the torch of faith from generation to generation," Griffin said. "The challenge rings clear through these passages as we are all called to live holy lives reflecting God's character in all we say and do, both as churches and as individuals."
The clinic is free of charge; however, on-campus lunch will be $8 and can be paid at the door. For more information, please contact Kelley Chlouber in the spiritual life office at (405) 585-5700 or kelley.chlouber@okbu.edu. Advanced registration is not required.