OBU / Shawnee Community Orchestra to Hold Auditions
August 12, 2014
The OBU/Shawnee Community Orchestra will open auditions for its 14th season Monday, Aug. 25, at 7 p.m. in Raley Chapel on the OBU campus in Shawnee. The orchestra is under the direction of Dr. Jim Hansford, Burton H. Patterson professor of music and director of bands emeritus, as well as founding conductor.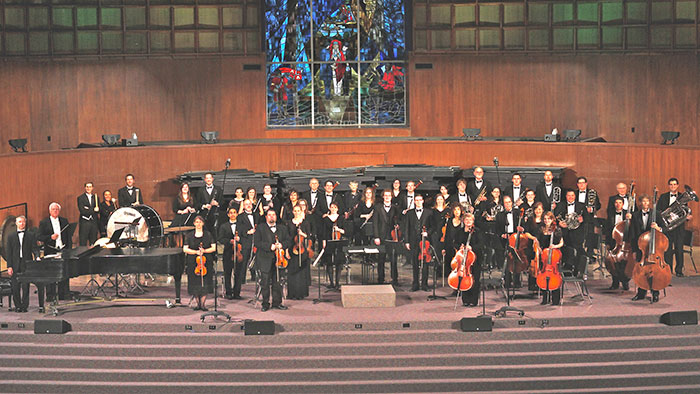 This particular audition date is primarily for string players, while interested performers on wind and percussion instruments should contact Hansford at (405) 585-4334 for additional information.
Auditioners should come prepared to play an appropriate excerpt of a solo or an etude to demonstrate his or her skills. The principal players in the string section, who are graduate students or professional players from the area, will conduct string auditions. Each auditioning player will also be asked to sight-read a short excerpt of music.
"We do our best to make this a "low-pressure" audition situation," Hansford said. Returning wind and percussion players do not need to re-audition at this time.
Funding for the first few years of the OBU/Shawnee Community Orchestra was provided through a grant from the Kirkpatrick Foundation in Oklahoma City. The grant became a reality through the work of Dr. Paul Hammond, former dean of the Warren M. Angell College of Fine Arts, and it provided funds necessary to form a graduate string quartet that was shared jointly by the University of Oklahoma and OBU. That quartet served as the principal players in the string section. In recent years, corporate and private donors in the Shawnee area have stepped in and supported the ensemble with generous gifts.
"Without the assistance of our loyal local donors, this orchestra would likely not be a reality," Hansford said.
Through the years the orchestra has averaged about half of its membership from the community and the remainder composed of OBU students, faculty, alumni and staff. More than 80 different musicians from the community and region have participated in the orchestra over the years. Likewise, numerous OBU wind, percussion and string majors have had an orchestral experience necessary for continued success in their chosen profession.
"The membership of the group is quite diverse, including doctors, educators, homemakers, retired military and students ranging in age from 15 to 75 years," Hansford said. "The beautiful thing about musical skill is that one can utilize and enjoy it for a lifetime."
Four current members have been with the group since its inception. They include Sherry McWilliams, flute; John King, trumpet; Ada Sewell, violin/viola; and Thresa Swadley, cello.
The orchestra is scheduled to perform at OBU's annual Homecoming Musical Gala Friday, Nov. 7, featuring all the major ensembles in the Warren M. Angell College of Fine Arts. The orchestra will be joined by guest alumni musicians from the class of 1969 in a special performance of the popular Jimmy Webb classic "MacArthur Park." Confirmed participating alumni musicians include Richard Huggins and Hart Morris.
Regular orchestra rehearsals are scheduled on Mondays from 7-9 p.m. in the instrumental rehearsal hall (room 104) in Raley Chapel. The first rehearsal will be Sept. 8. For more information, contact Hansford at jim.hansford@okbu.edu or (405) 585-4334.