Bison Dance Team Wins Second Place at NDA Competition
August 22, 2014
The OBU Bison Dance Team took second place at a regional camp and competition held Aug. 16-17 at Oklahoma City University. The team earned a bid to the National Dance Alliance Championship in April in Daytona Beach, Florida. The group is in its first full year of performance and competition.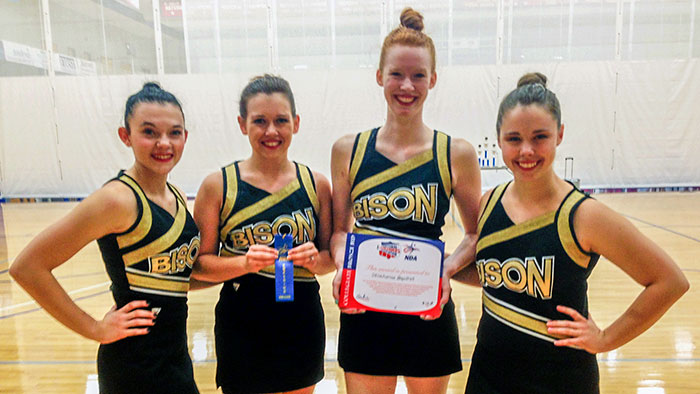 Pictured, left to right, team officers Kymber Sage, Cami Gower, Sophia Stanley and Maile Hopkins receive their competition trophy.
Four members of the Bison Dance Team competed at the OCU contest, including Sophia Stanley, senior captain and co-founder from Tulsa, Oklahoma; Cami Gower, junior captain and co-founder from Edmond, Oklahoma; Maile Hopkins, junior public relations chair from Shawnee, Oklahoma; and Kymber Sage, sophomore secretary from Broken Arrow, Oklahoma.
NDA has been hosting camps with their sister company, the National Cheer Association, since 1976. The Bison Dance Team competed alongside teams from other institutions including Cowley College and Northeastern State University. The teams worked throughout the weekend to learn dances and improve technique. At the end of camp, they performed and competed.
The Bison Dance Team also includes sophomore Thayamie Cortes, freshman Amber Troppman, sophomore Lauren Ledbetter, sophomore Kelsey Croy, sophomore Rendi Neese, sophomore Sydney Weber and sophomore Alyssa Richmond.
Gower and Stanley founded the Bison Dance Team in November 2013. The students enjoy praising God with dance and wanted to share that with the university community. This year, the team will perform sideline and halftime routines at football and basketball games, host a showcase in the spring and hopes to attend two competitions in Oklahoma City and Florida.