Students Share God's Love in Uganda
July 21, 2014
Nine OBU students and one staff member journeyed to Uganda May 23-June 13 to share God's love by teaching children at a Ugandan primary school. The team also spent time serving at a local organization for poverty-stricken children.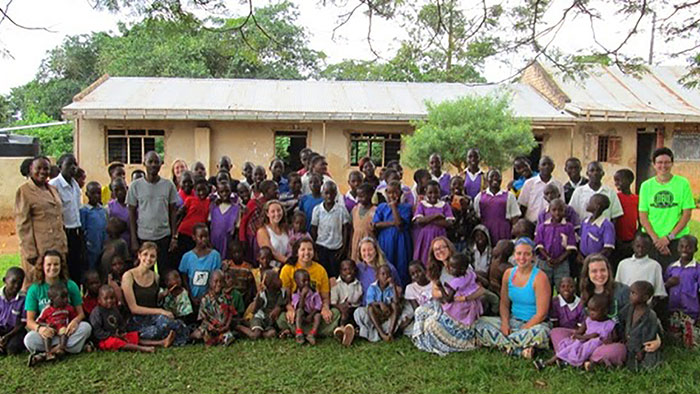 Each year, dozens OBU of students, faculty and staff take Global Outreach (GO) Trips which enforce OBU's mission to transform lives by equipping students to pursue academic excellence, integrate faith with all areas of knowledge, engage a diverse world and live worthy of the high calling of God in Jesus Christ. OBU's Avery T. Willis Center for Global Outreach mobilizes, trains and sponsors GO Trips.
The team was led by Monica Mullins, director of student success at OBU. Students participating in the trip included Jen Sturm, Megan Mattke, Kailey Shuler, Kimberly Robinson, Kari Callahan, Sienna Golden, Haylee Dowler, Raquel Dudzevich and Emma Beck.
For Mullins, this was a return trip to a land and people she spent the previous summer serving. For others, such as OBU student Kimberly Robinson, the trip was her first time to travel out of the country. Robinson, a sophomore communications studies major from Krum, Texas, was speechless when she stepped off the plane onto Ugandan soil. "I couldn't believe just how beautiful the scenery was," she said. "On the contrary to the stereotypical impressions of Africa being a dry, desolate area, Uganda is the opposite. Everything in Uganda is lush and green. The roads are made out of red dirt, and the contrast between the two colors is extraordinary."
The country of Uganda, which sits on the equator, is home to a veritable melting pot of ethnic groups and cultures. The landlocked country, roughly the size of the state of Oregon, boasts a population of more than 35 million people, many of which who do not have a personal relationship with Christ. Several of the families the OBU team met live in small houses with dirt floors and could fit all of their possessions in a single suitcase.
During the first week in Uganda, the team spent their mornings at a local school for children. "I am happy to see our team return to this school which we so enjoyed last summer," Mullins wrote in a blog describing the team's first morning at Busuubizi Primary School. "This rural government school has limited resources and we are thrilled for the opportunity to encourage and bless these students and teachers."
The team used translators to tell Bible stories and share the Gospel with the children. Two of the children accepted Christ. "Nothing is more rewarding than seeing salvations happen, and it made my heart so full to see some accept Christ while we were there," Megan Mattke said, a junior piano major and English minor, from Broken Arrow, Oklahoma.
In the afternoons, the team hiked about a mile to serve at 100% hOPE's "Hope Village" property. 100% hOPE is a Christian non-profit organization, established to give children in developing countries a future and a hope through creating self-sufficient communities. They partner with local, poverty-stricken communities in Uganda to promote the spiritual, economic, physical and emotional development of children.
Currently, they are cultivating 12 acres to build Hope Village. The village will include nursery, primary, secondary and vocational training schools; agriculture; a football oval; a piggery; and homes for the students. The OBU team spent a week at their piggery clearing the property of stumps and debris, cleaning pig stalls and building a retaining wall to prevent erosion. "The team demonstrated their work ethic and strength, once again proving that OBU girls are a tough bunch," Mullins said concerning her all-girl team.
One afternoon while traveling to the piggery, the group stopped at a local shop that sells homemade shoes and sandals. Their host later explained that the shoemaker usually sells one pair of shoes per week, on a good week. Kari Callahan, a junior communications major from Tulsa, Oklahoma, said that buying shoes from the shoemaker was the most rewarding part of her trip. "We were able to bless her by purchasing six pairs in one day," Callahan said. "That is six weeks of living income in one day. She was filled with joy and just continued to repeat, 'I do not have words.' Not only did I get beautiful shoes, but I also was able to provide for her."
The next few days were spent fellowshipping with their host family and the locals, worshiping and sharing their testimonies. The team also hosted a festival for the local children. They played games together, did face painting, sang songs together, and acted out the story of David and Goliath, complete with water balloon "stones."
On Sunday, the team attended the church built by last summer's OBU team. They were able to see the work and lift up the pastors and congregation while there. Seeing the continued impact of past GO trips is a huge motivation to continue sending out teams. Students who participate in GO trips experience the need for global outreach and develop a passion for sharing the Good News of Christ.
"It truly is incredible to witness the vast number of people that have never heard the name of Jesus before," Robinson said. "We forget that in America. GO Trips enable students to take another look at America as well." Robinson, who had never been out of the country, hopes to return to Africa in the future.
Kallahan, who also hopes to return to Uganda soon, said saying goodbye was extremely difficult. "It was hard to leave those sweet smiles … I think I speak for the whole team when I say that we would gladly go to the airport and get on a plane right now to return to Uganda."
During her time in Africa, Mattke said her faith was strengthened. "The Lord really taught me about loving others during my time there and worked so much in my heart," Mattke said. "We saw firsthand the power of prayer, too. It enriched and widened my perspective of the world, and it gave me a spark to continue the work in America and see people come to know the Lord here too."
Learn more about GO Trips at OBU, or call (405) 275-2850 for more information.