OBU Hosts 33 Students at STEM Summer Institute
July 22, 2014
Thirty-three students attended the annual STEM Summer Institute at OBU July 7-18.
The ten-day camp featured hands-on learning in science, technology, engineering and math (STEM) for middle school and high school students from Pottawatomie and Lincoln counties. The program is directed by Dr. Renita Murimi, assistant professor of computer science in OBU's Paul Dickinson College of Business, and taught by OBU faculty and undergraduates.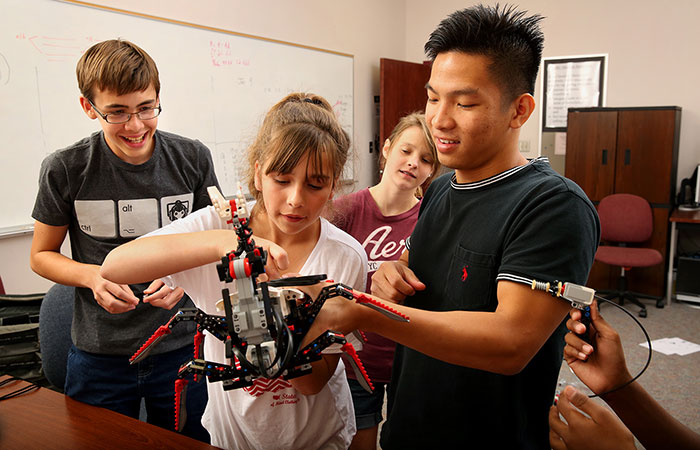 The camp began out of Murimi's vision to inspire middle school and high school students to experience STEM subject matter in a fun, creative way. "We designed the curriculum for the Summer Institute where students could learn through play," Murimi said.
Students learned about various career paths in STEM areas, experienced creative educational techniques and were introduced to "learning via discovery" while studying modules in physics, electrical engineering, computer science, mechanical engineering and math. Students learned about robotics, engineering and computer programming, while developing leadership skills and learning the value of teamwork.
Students completed projects including constructing a roller coaster; designing and building a suspension bridge; creating a tow truck; building a wind machine; creating a solar powered machine; computer programming, including creating a 'space invaders' style game; and creating Lego robots, including programming to control the robots with iPhones. On the final day of camp, the students showcased their projects for each other and their parents and played a game of Jeopardy featuring information they learned during the two week camp.
Lori Ann Stacy, whose daughter Maggi attended the camp, said she was impressed with the quality of the STEM camp and the knowledge gained by the students. "The camp was amazing because our daughter came home every night with something new she learned that day," Stacy said. "Middle schoolers don't usually want to talk about their day, but she told us everything she did and was excited about it. She wanted to teach us."
During the Friday session, numerous awards were given to outstanding students in various areas, as well as camp completion certificates to all campers. Awards were given to the best male camper -- Chase Wilson; best female camper -- Maggi Stacy; best Programmer -- Gage McCollum; best all-around camper -- Markus Houghton; most persistent camper -- Ewan O'Grady; most independent camper -- Grant Smith; most improved -- Jack Colvin; most energetic camper -- Noah Black; best team member - Ryan Mouser; best personality -- Kaylee Peace; and best builder -- Jake Smith.
Murimi joined OBU as assistant professor of computer science in January 2011. She received her Ph.D. and master's in electrical engineering from New Jersey Institute of Technology, and a Bachelor of Engineering in Electronics and Communications from Manipal University, India. Prior to joining OBU, she served as the head of the summer engineering component of the Consortium for Pre-College Education in Greater Newark, New Jersey, for four years. She is also the recipient of the Bill and Melinda Gates Grand Challenges Explorations award in 2011.
Nichole Turnage, assistant professor of computer science, served as assistant director for the camp. She joined OBU as assistant professor of computer information science in the Paul Dickinson School of Business in 2010. She earned a bachelor's degree in computer information science from Southwest Baptist University in Bolivar, Missouri, and earned her master's degree and completed work toward a doctorate in instructional systems technology from Indiana University in Bloomington, Indiana. She served as an assistant instructor in instructional systems technology at Indiana University and was a teacher's assistant in the College of Business and Computer Science at Southwest Baptist University.
Murimi and Turnage were aided by three student teaching assistants, Ryan Gay, Wookjin Sim and Khoi Ngo. Ngo is a junior biochemistry major. This was his first summer to help with the camp.
"I had a lot of fun," he said. "Overall it was a good experience. I learned new teaching skills, communication skills, and how to interact with the kids and adults as well. The students really enjoyed all of the tasks we gave them, and it made them more excited when we got involved with them and did the project along with them."
Research on trends in education and jobs in the United States strongly suggests the need for an increased number of college graduates in the United States. The U.S. needs to educate nearly 800,000 more college graduates each year from now until 2025 to meet the growing needs of the workforce. Various initiatives are being enacted to reach this goal including a campaign to increase STEM literacy, through collaborative efforts from the federal government, companies, foundations, nonprofits and science and engineering societies to work with young people across America to excel in science and math. The Summer Institute is one such program that lies at the intersection of efforts to increase both college graduates and STEM literacy. At OBU, the Summer Institute educates for college, as well as improves science and math awareness through innovative learning approaches.
For more information on the OBU STEM Summer Institute, contact Renita Murimi at renita.murimi@okbu.edu or call (405) 585-4415.