Music Preparatory Department Celebrates with Recitals
July 29, 2014
Students in OBU's Music Preparatory Department celebrated the conclusion of a year of lessons and competitions with annual awards recitals May 10-11 in Raley Chapel's Yarborough Auditorium on the OBU campus in Shawnee.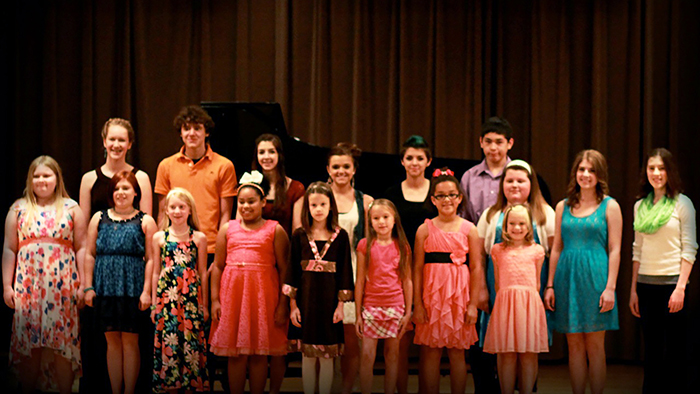 The celebratory events included five recitals by students studying piano, voice, string and instrumentals. The Young Singers of Central Oklahoma - including the Discovery Singers, Shawnee Honor Choir and Concert Choir - presented spring concerts the previous weekend on Sunday, May 4. Over 100 children were featured in the choirs.
At the end of each recital, students were recognized for their accomplishments throughout the year in any of the following auditions or festivals: National Guild auditions; Oklahoma Music Teachers Association district and state achievement auditions; Federated Music Festival; Hymn Festival; Junior and Senior Auditions; state theory tests; and district solo and ensemble instrumental contests.
Piano teachers for the 2013-14 academic year included Conchita Hansford, director of OBU's Music Preparatory Department; Mary Chung, assistant professor of piano; Dr. Michael Dean, associate professor of piano; Davis Dorrough; Jo Lewis; Ron Lewis; Amy Seibert; Nicole Johnson Stackhousse; and Jeannie Tyler.
Instrumental teachers included Carlos Feller, flute; Kathleen Gallagher, violin; Jim Hansford, trombone; Jonathan Isaacs, guitar; Rebecca Panayiotou, violin; George Toumayan, percussion; and Thresa Swadley, cello. Student teachers included Terry Banks, guitar; Kayla Curtsinger, bassoon; Amanda Merrick, voice; Bryan Shuler, guitar; Jessica Stone, saxophone; and Thomas Whitmore, percussion.
Voice teachers were Don Clark and Norma Partridge. Amanda Johnson served as the art teacher.
Registration is now open for students wishing to study through the OBU Music Preparatory Department during the 2014-15 academic year. For more information about OBU's Music Preparatory Department, visit the Prep Department webpage, call (405) 585-4329 or email prep@okbu.edu.