Profile in Excellence: Andy Harrison
June 5, 2014
Editor's Note: Oklahoma Baptist University alum Andy Harrison, a 1989 graduate, is a 2014 recipient of the OBU Alumni Association's Profile In Excellence Award. The award is given to a former student who has "demonstrated recognizable accomplishment in his or her profession, business, avocation, or life service in such a way as to bring pride and honor to the University." Each year, Profile In Excellence recipients are featured in OBU Magazine.
Finding himself outside the bounds of convenient proximity to the Shawnee campus, Andy Harrison traveled the nearly two-hour commute to OBU for classes three times a week during the 1988-89 academic year. The trusty 1967 AMC Rambler may not have been the most typical mode of transportation at that time -- but then again -- Harrison is no ordinary man.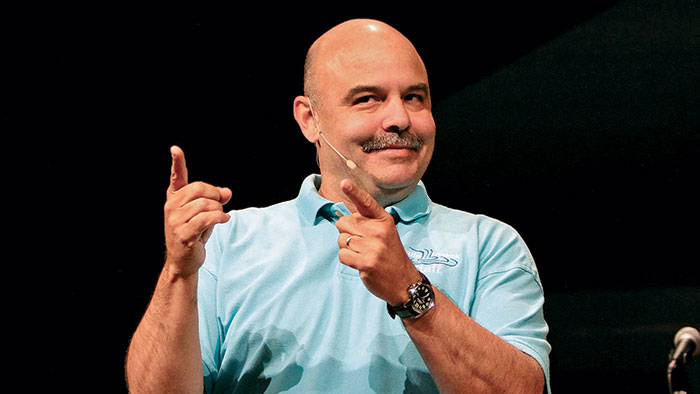 Harrison has devoted over 28 years of his life to youth ministry, and as Falls Creek program director and student ministry specialist for the Baptist General Convention of Oklahoma, he oversees the operation of Falls Creek, a camp that hosts over 50,000 students and 900 churches each summer in Davis, Okla.
He and his wife, Kim, authored "The Discipling Cycle," a three-year series of in-depth discipleship studies for high school students, sold through LifeWay Publishing. He also has contributed to several curriculums and projects such as the Moral Compass parent ministry strategy; "Sumpherö," a youth discipleship curriculum; and "Project:LOVE," a purity and integrity project for teenagers.
Harrison attended OBU following high school in the fall of 1979, but left after the fall semester of 1981. Taking a short hiatus from school, he continued classes at Tulsa Junior College, spent a year at the University of Nebraska-Lincoln, and returned to OBU his final year, earning a bachelor's degree in history with a journalism minor.
Harrison said he is grateful for history professors such as Dr. Glenn Sanders and Dr. Carol Humphrey, who were instrumental in helping him complete his degree in one year.
"I appreciate both their professionalism and their individual care in helping me reach his goal. "I never really knew my professors at other schools, but I did at OBU, and it made a big difference," he said.
From his time at OBU, Harrison said one of his favorite experiences was writing a column for The Bison, OBU's student newspaper, titled "Ask Andy." The column's satirical look at life on campus was popular enough that he was asked to continue while in seminary, which was then renamed "The Ramblin' Theologian" to match his Rambler vehicle and seminary studies.
"I think the experiences I had at OBU helped me learn to work with people," Harrison said. "Education -- in an academic sense -- is necessary and indeed helpful, but what I learned by working with others, applying myself to projects bigger than myself, and caring about the needs of others has served me very well."
In 1991, he was called to First Baptist Church of Durant as full-time youth pastor and minister to senior adults. "[Serving in] Durant was a phenomenal time of ministry as God used those years to mature my skills as a minister and raise up disciples in our church," said Harrison.
In 2000, Harrison joined the BGCO as student ministry education specialist, focusing on assisting Oklahoma churches in the areas of youth Sunday school and discipleship.
James Lankford, previous director of Falls Creek and now U.S. Congress-man, left the BGCO in 2009 to run for Congress. Harrison initially became interim director of Falls Creek, and then accepted the position on a permanent basis in 2010.
"We are blessed to have Falls Creek, and I am twice blessed to lead it," he said.