Vocal Music Students Excel at NATS Competition
May 1, 2014
OBU vocal music faculty members, Drs. Louima Lilite, Jennifer McQuade, and Mark McQuade entered fifteen students in the 2014 Oklahoma District Conference and Student Auditions of the National Association of Teachers of Singing (NATS) hosted April 11-12, by Oklahoma City University in Oklahoma City, Okla.
Opening the conference on April 11, junior Ben Hopkins and seniors Joy Knight and Elizabeth Youngblood were among six singers in the state of Oklahoma selected to participate in a special master class conducted by opera director David Herendeen.
Fourteen OBU singers advanced to the final round of the competition, accompanied by Dr. Michael Dean, associate professor of music; Dr. Keith Whitmore, assistant professor of music;and collaborative pianist Chase Anderson. The OBU singers consisted of freshman Dakota Unruh; sophomores Christin Fairchild and Courtney King; juniors Ariel Hawkins, Bailee Rogers, Sammy Andrews, and Ben Hopkins; seniors Kaitlin Slothower, Joy Knight, Breana White, Haylee Dowler, and Elizabeth Youngblood; as well as OBU alumni Andrew Barker and Courtney Bryant.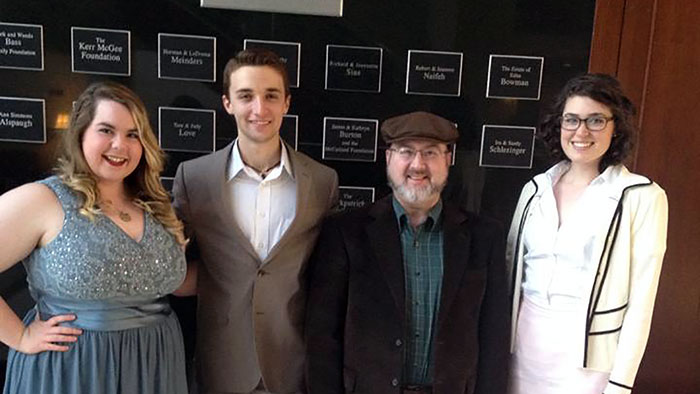 Unruh won first place in the freshmen men division, Barker won third place in the sophomore men division, Rogers won second place in the junior women division, Slothower won first place in the senior women division, Youngblood and Bryant won first and third, respectively, in the graduate division.
"This achievement is a superb recognition for OBU and a clear testimony of the university's mission to pursue academic excellence," said Lilite. "With a total of 43 teachers and 155 singers participating in this district, we rejoice over the evident acknowledgment NATS has granted to the efforts of the Department of Vocal Studies at OBU."
For more information on vocal music at OBU, contact the division of music at 405-585-4301.