Reeder Receives Distinguished Teaching Award
May 20, 2014
Dr. Dan Reeder, Albert J. Geiger Professor of Finance, received OBU's Distinguished Teaching Award during the university's 100th Spring Commencement May 16.
Reeder, who joined the OBU faculty in 1991, received the award from OBU President David W. Whitlock before an overflow audience of more than 1,800 in Raley Chapel's Potter Auditorium on the OBU campus in Shawnee.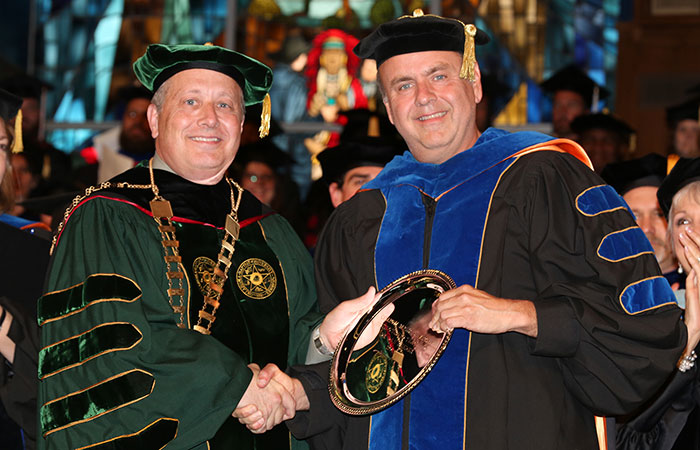 The highest honor for OBU faculty members, the Distinguished Teaching Award is presented to a faculty member who has taught at OBU for five consecutive years or more. This faculty member has exemplified in his or her teaching career those characteristics of superior instruction delineated in the "Commitment to Excellence," a statement of teaching expectations and objectives adopted by OBU's faculty, administration and Board of Trustees.
In presenting the award, Whitlock said Reeder has earned the admiration of his peers, his students and the administration, as evidenced by previously receiving OBU's PromisingTeacher award.
"As a professor, he is committed to developing Christian business leaders," Whitlock said. "Former students laud his teaching and his ability to make a finance classroom fun."
Whitlock said Reeder inspires and encourages students outside the classroom as well, being there to guide them along the way to academic, personal and spiritual growth.
Reeder earned both his bachelor's degree and MBA from the University of Tulsa and his doctorate from Oklahoma State University. He joined the OBU faculty in the Paul Dickinson School of Business in 1991. In 1995, he received the Promising Teacher Award. Other awards include the Indian Fellowship Award from the United States Department of Education and OBU Faculty Chairman. He has filled the role of both dean and interim dean for business at OBU.
In addition to teaching finance courses and hosting the annual Fine Arts Christmas Chapel, he has presented papers and speeches on "Modern Portfolio Theory," "Financial Institutions and Markets" and "The Wealth Impact of Private Placement of Debt" among others.
Each year at Spring Commencement, OBU presents three important awards to recognize quality teaching and faithful, productive service: the Promising Teacher Award, the Meritorious Service Award and the Distinguished Teaching Award. Nominations for the awards are made by alumni, current students, faculty and administration. In addition to public recognition and a token of the university's appreciation, the recipients receive cash awards provided by OBU graduates John and Janet Hudson of Edmond, Okla.