Pace Receives OBU's Promising Teacher Award
May 20, 2014
Dr. Scott Pace, assistant professor of applied ministry, received OBU's Promising Teacher Award during the university's 100th Spring Commencement May 16.
Pace, who joined the OBU faculty in 2010, received the award from OBU President David W. Whitlock before an overflow audience of more than 1,800 in Raley Chapel's Potter Auditorium on the OBU campus in Shawnee.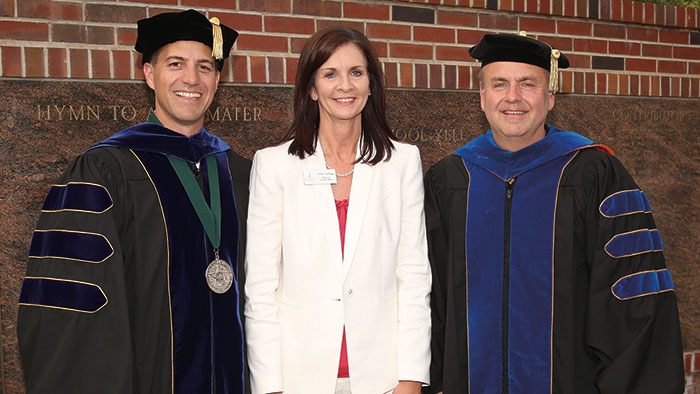 The Promising Teacher Award is presented to a junior faculty member who has taught at OBU less than six years and has demonstrated outstanding potential as a teacher. The recipient must have the characteristics of one who may be a future recipient of the Distinguished Teaching Award, demonstrating superior instruction delineated in the "Commitment to Excellence," a statement of teaching expectations and objectives adopted by OBU's faculty, administration and Board of Trustees.
In presenting the award, Whitlock said Pace has earned the admiration of his peers, his students and the administration.
"This year's recipient exemplifies Christ-like character, passionate service to the church, and innovation in scholarship," Whitlock said. "He has taken the applied ministry department to one of the fastest growing and healthiest programs on campus."
Whitlock said Pace inspires and encourages students outside the classroom as well, spending countless hours investing in students' academic, personal and spiritual growth.
Pace joined the OBU faculty in 2010 as assistant professor of applied ministry and holds the Reverend A.E. and Dora Johnson Hughes Chair of Christian Ministry. He established The Preachers Guild on campus to allow students the opportunity to preach to, be heard by, and receive evaluation and encouragement from peer preachers. He preaches and teaches across the state in churches and at Falls Creek. He has lead prayer for the Oklahoma State Senate and at an Oklahoma City Thunder basketball game.
He earned a bachelor's degree in accounting from North Carolina State University in 1997. He completed a master of divinity degree from Southeastern Baptist Theological Seminary in 2002 and earned a Ph.D. in applied theology from the seminary in 2007.
He has more than 15 years of pastoral ministry experience having served churches in North Carolina, Florida and Oklahoma. His international missions experience includes ministry, instruction and preaching in Malaysia, Kenya, Mexico, Jordan and Puerto Rico. He also has served as a worship speaker for World Changers mission projects through the North American Mission Board.
Each year at Spring Commencement, OBU presents three important awards to recognize quality teaching and faithful, productive service: the Promising Teacher Award, the Meritorious Service Award and the Distinguished Teaching Award. Nominations for the awards are made by alumni, current students, faculty and administration. In addition to public recognition and a token of the university's appreciation, the recipients receive cash awards provided by OBU graduates John and Janet Hudson of Edmond, Okla.