OBU to Break Ground for Mathena Center and Building Four of Residential Village May 16
May 13, 2014
OBU will host groundbreaking ceremonies for two facilities Friday, May 16. The ceremonies will occur in the morning, prior to the university's 100th Spring Commencement at 3 p.m. that afternoon.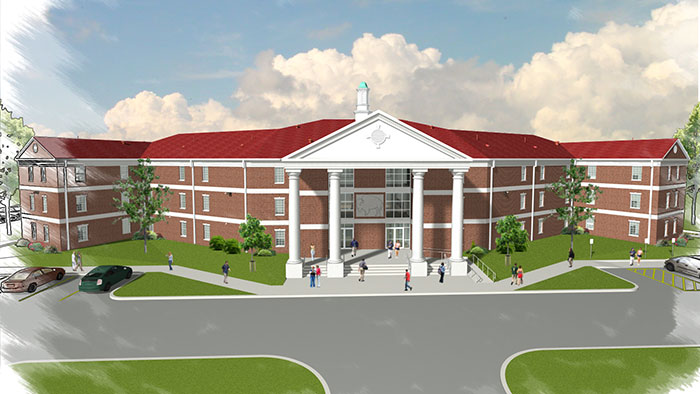 At 9 a.m., OBU will host a groundbreaking for building four in the student-housing village. This building is a 41,810 square foot suite-style housing facility that will hold 162 students. Separated by a student complex, the two wings of the building allow flexibility in how OBU manages its growing student population. The groundbreaking will take place north of MacArthur Street near Raley Drive.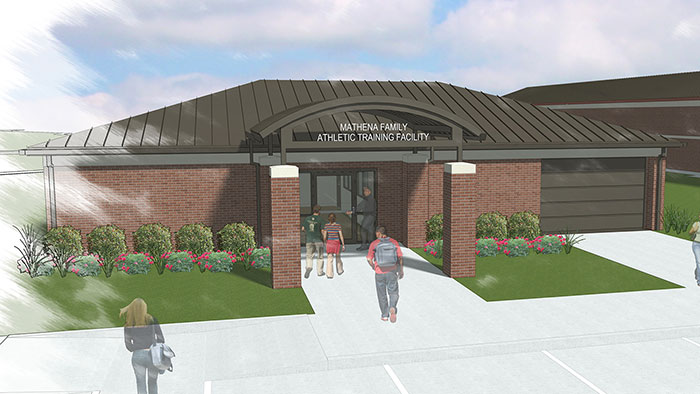 Architectural rendering of the Mathena Center
At 11 a.m., OBU will host a groundbreaking for the Mathena Center. This freestanding and cutting-edge athletic training facility will be constructed inside the Eddie Hurt Athletic Complex between the Jay P. Chance Track Building and Bison Field. The facility will feature a cold plunge pool, whirlpools, taping tables, and a garage for medical vehicles used at athletic events.
Event parking for building four will be available at the OBU Soccer Complex, the OBU Baseball and Softball Complex, and the Noble Complex. Parking for the Mathena Center will be in the Noble Complex and the parking lot immediately south of the Jay P. Chance Track Building on the corner of University Avenue and Airport Road.