OBU Recognizes Retirees for 46 Years of Service
May 19, 2014
OBU recognized two retiring faculty and staff members during the annual Awards Convocation Wednesday, May 7, in Raley Chapel's Potter Auditorium, and during Spring Commencement May 16. Cynthia Hicks and Dr. John Nichols were honored for a combined 46 years of service at OBU.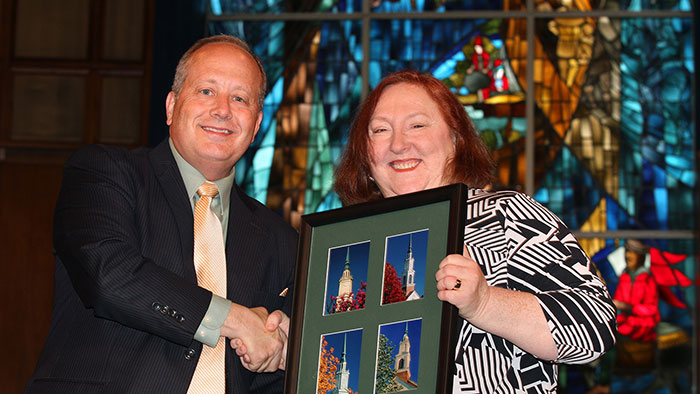 Hicks served as supervisor of media services in the Mabee Learning Center. She joined the staff at OBU in 1985. She received her diploma from Norton Memorial Infirmary School of Nursing, and earned her library technician certificate from Rose State College. She began her career at OBU as listening center assistant.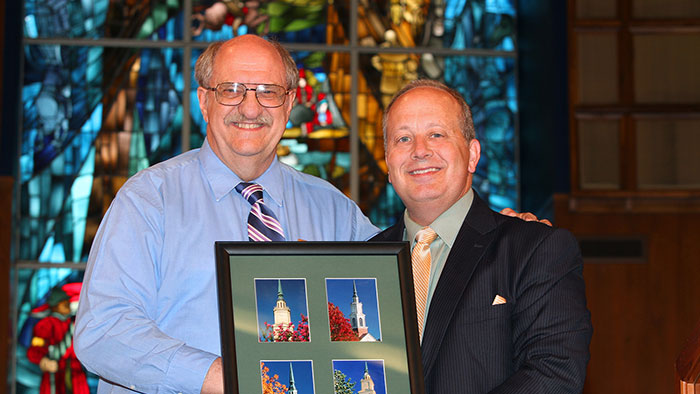 Nichols served as associate professor of mathematics. He joined the OBU faculty in 1997. He earned his Bachelor of Science from Union University, his Master of Science from the University of Kentucky and his doctorate from the University of Tennessee. In 2002 and 2007, he received the Seven Who Care Award from OBU. He has also been named to Who's Who in the South and the Southwest. In April 2004, he was named Area 3 Director for the Oklahoma Gideons. In April 2007, he was selected as the State Chaplain for the Oklahoma Gideons, and in April 2010, he was selected as the State Secretary.
"In June, 1997, when I was named dean of the College of Arts and Sciences, God sent us a gift in the form of Dr. John Nichols to teach mathematics to OBU students," Dr. Debbie Blue, dean of the James E. Hurley College of Science and Mathematics, said. "He has been a blessing to hundreds of students each semester since then, sharing the many ways that God's Word and creation are connected. Dr. Nichols will be sorely missed, but we wish him and his wife Edna all the best in his well-earned retirement."