OBU Honors Graduating Nurses at Pinning
May 16, 2014
OBU honored 40 graduating nurses at the College of Nursing's Pinning Ceremony Thursday, May 15, at 3 p.m. The ceremony was hosted in Raley Chapel's Potter Auditorium on the OBU campus in Shawnee.
Dr. Tony Yates, assistant professor of natural science, led the invocation.
OBU President David W. Whitlock welcomed the graduates and their guests.
"I can't think of an area that we study on the OBU campus that is more directly associated with, and that more directly illustrates the calling we have as a great commission university than the nursing college," Whitlock said. "Everything you are about in your calling as nurses is meeting people at the point of their greatest needs. What a privilege, what an opportunity you're going to have to minister in the name of Jesus and to meet people at the point of their need - a true intersection of ministry and vocation."
Dr. Lepaine Sharp-McHenry, dean of the College of Nursing, gave the address to graduates.
McHenry detailed the impact and value of preparation, perseverance, passion and principles. She challenged the students to strive for these ideals and hold fast to their character in their profession.
"Here at OBU, you've been equipped to pursue academic excellence, to integrate your faith with all areas of knowledge, engage in a diverse world and live worthy of the high calling of God in Christ," McHenry said. "You have been prepared to pursue platforms of influence for Christ in any work environment as a nursing leader."
"As you transition from education to practice, embrace your new platform of influence and don't let any obstacle, trial or disappointment prevent you from being a beacon for Christ."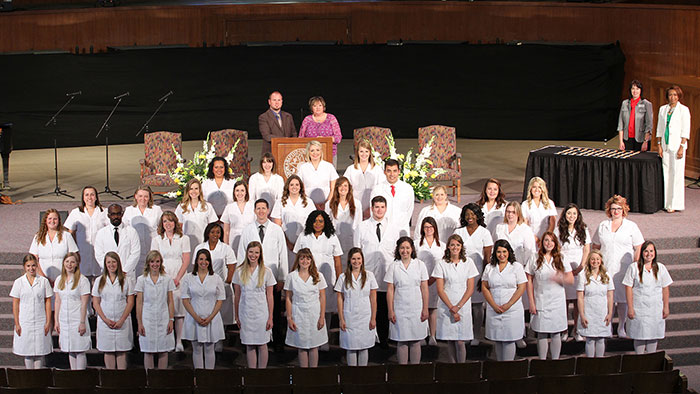 Following the address, 40 graduating nurses received their pins from McHenry, including Shannon Anderson Choctaw, Okla.; Christina Michelle Applegate, Fort Worth, Texas; Sarina Mae Barr, Kansas City, Mo.; Sarah Anne Bolton, Bolivar, Mo.; Rachel Gracelyn Burkhardt, Oklahoma City; Emily Elizabeth Christensen, Cañon City, Colo.; Alyssa Danae Collins, McKinney, Texas; Skylar Christine Alexandra Comodeca, Overland Park, Kan.; Michelle Anne Dennis, Salina, Kan.; Abby Marie Fuller, Panama City, Panama; Kelsey Ann Funkhouser, Buena Vista, Colo.; Elizabeth Ashley Gallaway; Morrison, Okla.; Alexis Jordan Gomes, Douglass, Kan.; Keelie Jo Hall, Aurora, Colo.; Melissa Marie Hall, Owasso, Okla.; Lacy Nicole Haren, Royse City, Texas; Iyke Igbokwe, Plano, Texas; Sally Susanna Jeffers, Tulsa, Okla.; Helina Endale Jimma, Addis Ababa, Ethiopia; David Richmond Jones, El Dorado, Kan.; Titilope Joyce Komolafe, Arlington, Texas; Kyle Motsenbocker, Callisburg, Texas; Staci Renee Moyer, Norman, Okla.; Modupeoluwa Odu-Onikosi, Dallas, Texas; Sarah Payne, Midwest City, Okla.; Christina Noel Perkins, Mound City, Kan.; Haley Ann Rapp, Tulsa, Okla.; Cynthia Jean Reeves, Shawnee; Katherine Elyse Robertson, Richardson, Texas; Jade Ashley Schappell, North Richland Hills, Texas; Carley Elizabeth Sell, Omaha, Neb.; Josiah Soap, Jenks, Okla.; Jessica Jo Tait, Duck Creek, Utah; Danielle Yvette Taylor, Shawnee; Lauren Blake Taylor, Centennial, Colo.; Kathryn Elizabeth Tyler, Bedford, Texas; Kelly Vedera, Albuquerque, N.M.; Taylor Mackenzie Wallar, Rowlett, Texas; Katherine Wilson, Shawnee; and Brandy Nicole Working, Bethel Acres, Okla.
Dr. Juanita Johnson, professor emerita of nursing, delivered the charge to the students.
"Take the word of God with you," she said. "The Bible is the number one selling book in the world. It has a lot of good advice, a lot of good role models, and a lot of good guidelines."
"Before you go to work, assess what kind of follower you are and what kind of leader you are," she said. She stressed the importance of taking the time to do this, as it will help in relationships with bosses as well as other team members.
"There are some Christian characteristics that you need to carry with you in the workplace. One of those is patience. One of them is knowledge. Another is humility," she said.
Dr. Bobby Kelly, Ruth Dickinson Chair of Bible and professor of religion, closed with the benediction.
The OBU nursing program was the first baccalaureate nursing program in Oklahoma and the first baccalaureate program in Oklahoma accredited by the National League of Nursing. It has maintained continuous accreditation (currently through the Commission on Collegiate Nursing Education) throughout its history. Founded in 1952, the first graduation took place in 1956 with 10 students. Since then, the OBU College of Nursing has graduated more than 1,200 nurses with baccalaureate nursing degrees. The College of Nursing broke ground on their future home, Stavros Hall, earlier in the day. The building will be located north of Shawnee Hall on OBU's campus.