OBU College of Nursing to Host Groundbreaking for Stavros Hall May 15
May 12, 2014
OBU will hold a groundbreaking ceremony Thursday, May 15, at 11 a.m., for the Jane E. and Nick K. Stavros Hall. The facility will be the future home of the OBU College of Nursing. This free-standing and cutting-edge nursing education facility will be constructed immediately north of OBU's Shawnee Hall, on the southwest corner of MacArthur Street and Kickapoo Avenue. The public is invited to attend the free event.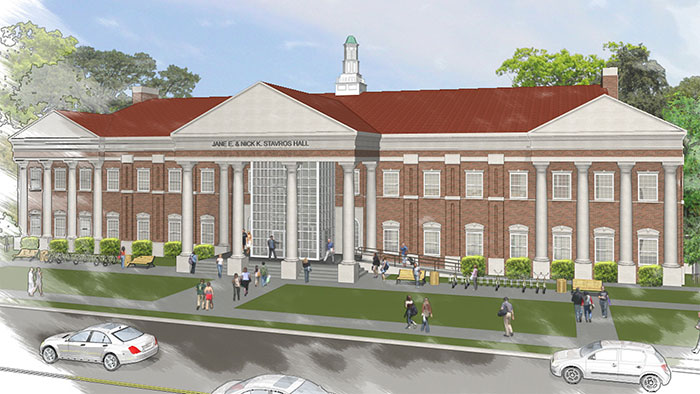 Nick Stavros, founder and CEO of Metro Appliances and More, provided the lead gift for the building. Stavros was married to the late Jane Eleanor Stavros, daughter of Victor C. Hurt, legendary OBU athletic director and football, basketball and track coach.
Stavros Hall will be a two story 31,000 square foot nursing education facility. It will contain five classrooms, with a 30 seat classroom, three 65 seat classrooms and a 109 seat lecture hall, as well as a state-of-the-art computer lab. The facility will feature six state-of-the-art, high-tech skills simulation labs, with 22 beds. These will include a medium skills lab, a health assessment skills lab, a low risk skills lab and a home health and bathing training room.
The building will also include the administrative office suite for the College of Nursing, a conference room, faculty offices and office space for adjunct faculty.
The OBU nursing program was the first baccalaureate nursing program in Oklahoma and the first baccalaureate program in Oklahoma accredited by the National League of Nursing. It has maintained continuous accreditation (currently through the Commission on Collegiate Nursing Education) throughout its history. Founded in 1952, the first graduation took place in 1956 with 10 students. Since then, the OBU College of Nursing has graduated more than 1,000 nurses with baccalaureate nursing degrees.
Event parking will be available at the OBU Soccer Complex, the OBU Baseball and Softball Complex, and the Noble Complex. A shuttle service will be provided from the Noble Complex and Athletics parking lots. In case of inclement weather, the groundbreaking ceremonies will move to the Mabee Arena inside the Noble Complex.
Visit the OBU College of Nursing website for more information, or call (405) 275-2850.