OBU Breaks Ground on Mathena Center in Athletic Complex
May 17, 2014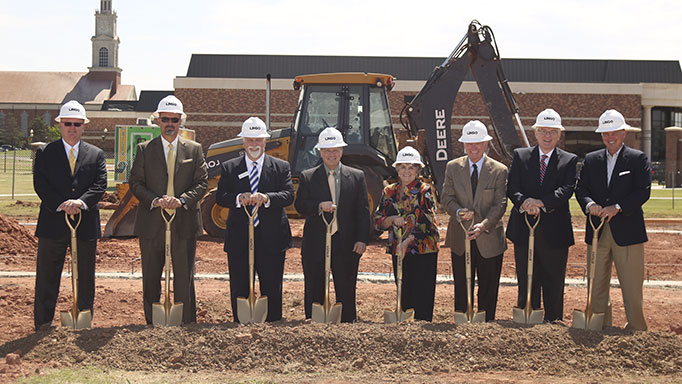 OBU broke ground for the Mathena Center Friday, May 16, at 11 a.m. in the Eddie Hurt Athletic Complex at OBU.
Will Smallwood, OBU vice president for university advancement, welcomed the crowd of roughly 130 to the event. Dr. Hance Dilbeck, senior pastor of Quail Springs Baptist Church in Oklahoma City, led the invocation.
Randy Smith, executive vice president for business and administrative services, gave an overview of the project. The Mathena Center will be a freestanding sports medicine and training facility located inside the Eddie Hurt Athletic Complex between the Jay P. Chance Track Building and Bison Field. The facility will feature 2,381 square feet of space for an office for the sports medicine specialist, an exam room, a whirlpool room with two whirlpools, a hot and cold polar pool, a large treatment area with taping tables and a garage for medical vehicles used at athletic events.
Robert Davenport, OBU director of athletics, spoke of the excitement he has for the new facility and the personal connection he has with the Mathena family. "I'd like to start off by expressing my gratitude to the Mathena family," he said. "This facility will allow us to give top-notch care to our student athletes in ways we haven't been able to before."
"Brother Harold [Mathena] was my first pastor, and Patricia, his wife, was friends with my mom," he said. "My mom passed away when I was six. Mrs. Patricia took care of me like a son. I'm as excited for the opportunity to reunite with this family as I am for anything they could do for us. From the bottom of my heart, I just want to say thank you again. I'm touched that all of you are here. That means more to me than you will ever know. Thank you."
OBU President David W. Whitlock spoke of his gratitude to the Mathenas and the impact they are making at OBU.
"What we do on Bison Hill matters," he said. "It matters to the kingdom, it matters to our state, it matters to the world, it matters to the local church. What we do has great significance beyond the halls and walls of Bison Hill."
"What better family name to associate with Bison Hill than the Mathenas, because what you do matters, and what you've done for your whole career has mattered," he said. "I can't thank you enough because you are making a difference through the students, faculty, staff and athletes here on Bison Hill."
Whitlock then honored the Mathena family, who provided funding for the entire project. He presented the family with a limited edition Harold Holden sculpture, "Bison Spirit," in recognition of their generous gift.
University administration, students, members of the Mathena family and representatives from Lingo Construction participated in the groundbreaking. Participants included Whitlock; Dr. David Lawrence, chairman of the OBU board of trustees and pastor of Emmanuel Baptist Church, Weatherford, Okla.; Davenport; Harold and Patricia Mathena; Stan Lingo, president of Lingo Construction; Dr. Anthony Jordan, executive director / treasurer of the Baptist General Convention of Oklahoma; and Dr. Hance Dilbeck, senior pastor, Quail Springs Baptist Church, Oklahoma City.