OBU Breaks Ground on College of Nursing Stavros Hall
May 15, 2014
OBU broke ground Thursday, May 15, for Jane E. and Nick K. Stavros Hall, the future home of the OBU College of Nursing. This free-standing, cutting-edge nursing education facility will be constructed immediately north of OBU's Shawnee Hall, on the southwest corner of MacArthur Street and Kickapoo Avenue.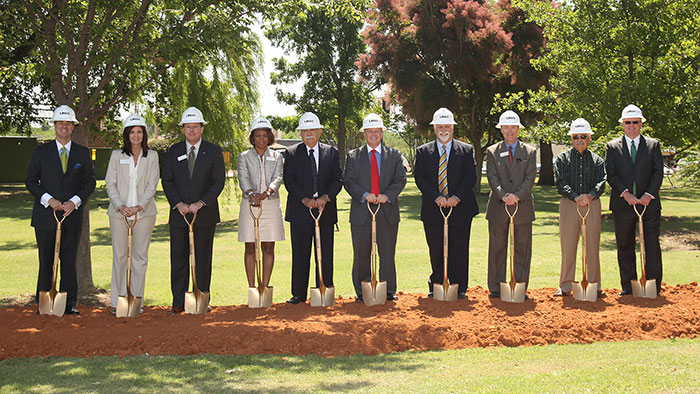 Nick Stavros, founder and CEO of Metro Appliances and More, provided the lead gift for the building. Stavros was married to the late Jane Eleanor Stavros, daughter of Victor C. Hurt, legendary OBU athletic director and football, basketball and track coach.
Will Smallwood, OBU vice president for university advancement, welcomed the crowd of roughly 180 to the event, saying, "It is my privilege to welcome you to the campus of Oklahoma Baptist University. This is truly an historic day for OBU."
Dr. David Lawrence, chairman of the OBU board of trustees and pastor of Emmanuel Baptist Church, Weatherford, Okla., led the invocation.
Smallwood greeted guests, including former deans of the college of nursing as well as one former student who was a member of the first graduating class for the OBU College of Nursing in 1956. "I want to thank all of you who have prayed, who have worked, who have sacrificed for this day to become a reality. Thank you," Smallwood said.
Randy Smith, executive vice president for business and administrative services, gave an overview of the project. Stavros Hall will be a two story 31,000 square foot nursing education facility. It will contain five classrooms, with a 30 seat classroom, three 65 seat classrooms and a 109 seat lecture hall, as well as a state-of-the-art computer lab. The facility will feature six state-of-the-art, high-tech skills simulation labs, with 22 beds. These will include a medium skills lab, a health assessment skills lab, a low risk skills lab and a home health and bathing training room. The building will also include the administrative office suite for the College of Nursing, a conference room, faculty offices and office space for adjunct faculty. The project was designed by CJC Architects and will be built by Lingo Construction.
Dr. Lepaine Sharp-McHenry, dean of the College of Nursing, shared her vision for the program's place in leading the state in nursing education. "We are so excited about this opportunity to participate in the groundbreaking of Stavros Hall," she said. "The new nursing facility will allow us to build on an already solid tradition in nursing. There will be world class simulation labs, presenting an opportunity for our students to be educated and trained in an environment that will replicate what they would experience were they in the hospital, intensive care unit, emergency room or labor and delivery room."
"We were on the cutting edge in 1952, and we plan to reclaim that role in nursing education here in Oklahoma and beyond," she said.
OBU President David W. Whitlock recognized Nick Stavros, who provided the lead gift for the project in honor and memory of his late wife, Jane E. Stavros. "As we began to talk about a way that he could honor his wife and his family, we talked about the nursing facility. He just lit up when we talked about the nursing facility," Whitlock said. "Over the next few weeks, he [Stavros] determined that he wanted to honor his wife in this way, by providing the lead gift for Stavros Hall."
"We are proud, Nick, to have her name and your name forever linked to Oklahoma Baptist University," Whitlock said, addressing Stavros. "What we've been doing well since 1952, we'll do even better with this facility that you and your family have made possible."
University administration, Stavros, and representatives from CJC Architects and Lingo Construction participated in the groundbreaking. Participants included Whitlock; Stavros; McHenry; Smallwood; Lawrence; Smith; Tonia Kellogg, director of the executive offices; Dr. Stan Norman, provost and executive vice president for campus life; Larry Johnson, CJC Architects; and Stan Lingo, president of Lingo Construction.
Dr. Michael Gabbert, member of the OBU board of trustees, closed with the prayer of commitment. He is the senior pastor of Evergreen Baptist Church in Bixby, Okla.
The OBU nursing program was the first baccalaureate nursing program in Oklahoma and the first baccalaureate program in Oklahoma accredited by the National League of Nursing. It has maintained continuous accreditation (currently through the Commission on Collegiate Nursing Education) throughout its history. Founded in 1952, the first graduation took place in 1956 with 10 students. Since then, the OBU College of Nursing has graduated more than 1,000 nurses with baccalaureate nursing degrees.
Learn more about the OBU College of Nursing.