OBU Breaks Ground for Building Four of Student Housing Village
May 16, 2014
OBU broke ground for Building Four in the student-housing village Friday, May 16. The ceremonies occurred at 9 a.m., prior to the university's 100th Spring Commencement at 3 p.m.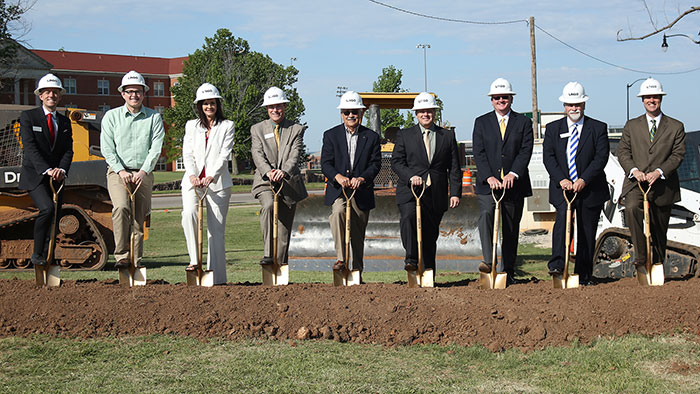 Dale Griffin, dean of spiritual life, welcomed guests and led the invocation.
Randy Smith, executive vice president for business and administrative services, gave an overview of the project. The facility will be a 41,810 square foot suite-style housing facility that will hold 162 students. The construction will be lodge style, with a large rock fireplace with cedar trim in the common area. It will feature an apartment for a faculty member to live in residence, mentoring and aiding students. It will also feature a tornado safe room.
Separated by a student complex, the two wings of the building allow flexibility in how OBU manages its growing student population. The facility will be located north of MacArthur Street west of Raley Drive.
Brandon Skaggs, dean of students made remarks on the campus perspective and positive impact the new facility will have on student life on campus. "I'm very excited that construction is literally happening all around us. What a testimony to God's glory and to Him truly blessing OBU," he said. "We are pleased to welcome a new residence center. Our prayer is that this is a place where gospel-centered community can flourish and truly transform lives for God's kingdom."
Cody Moser, student government association president, gave insight to the excitement among the student population for all of the forward motion and new construction on the OBU Campus.
OBU President David W. Whitlock spoke of the excitement for the future of Bison Hill and the impact this facility will have for the university. "The OBU family is one that grows together through shared experiences and one that holds together through shared memories," he said. "We're excited that the students who live in this building will enjoy some new and enhanced features, but the common thread remains that members of the OBU family learn best and grow best when they learn and grow together. This demonstrates the commitment of the trustees and the administration to keep moving OBU forward, as we continue to see lives transformed on Bison Hill."
University administration, students and representatives from CJC Architects and Lingo Construction participated in the groundbreaking. Participants included Whitlock; Will Smallwood, OBU vice president for university advancement; Dr. David Lawrence, chairman of the OBU board of trustees and pastor of Emmanuel Baptist Church, Weatherford, Okla.;
Smith; Tonia Kellogg, director of the executive offices; Skaggs; Moser; Larry Johnston, CJC Architects; and Stan Lingo, president of Lingo Construction.
Dr. Allison Huebert, member of the OBU board of trustees, closed with the prayer of commitment.