Kellogg Receives Meritorious Service Award
May 21, 2014
Tonia Kellogg, director of the executive offices, received OBU's Meritorious Service Award during the university's 100th Spring Commencement May 16.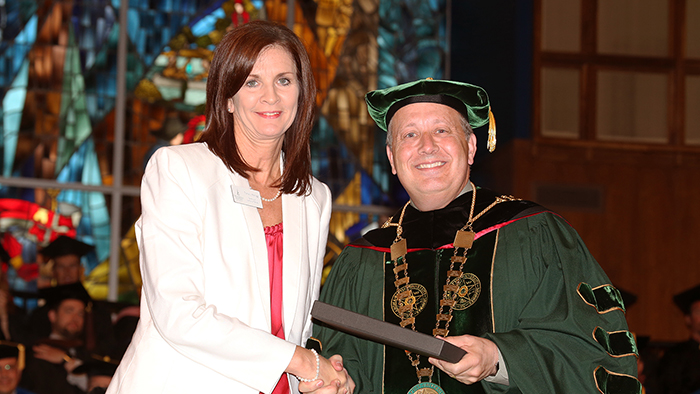 Kellogg received the award from OBU President David W. Whitlock before an overflow audience of more than 1,800 in Raley Chapel's Potter Auditorium on the OBU campus in Shawnee.
The Meritorious Service Award is presented annually to a faculty or staff member who has made a substantial commitment of years, service, and who has been a loyal and faithful faculty or staff member.
In presenting the award, Whitlock lauded Kellogg's service to OBU, noting she has served OBU in her current role through three different administrations on Bison Hill.
"Her knowledge of OBU history has provided stability during each transition," Whitlock said. "She is an invaluable connection between OBU's administration and the Board of Trustees. She represents OBU with excellence in Shawnee and across the state."
Kellogg joined the OBU staff in 1991 as the director of the Geiger Center. She was later promoted to her current position as director of the executive offices.
Each year at Spring Commencement, OBU presents three important awards to recognize quality teaching and faithful, productive service: the Promising Teacher Award, the Meritorious Service Award and the Distinguished Teaching Award. Nominations for the awards are made by alumni, current students, faculty and administration. In addition to public recognition and a token of the university's appreciation, the recipients receive cash awards provided by OBU graduates John and Janet Hudson of Edmond, Okla.